Although I have spent most of my life in Montenegro and I have crisscrossed it numerous times, it is obvious that there are still many things to discover.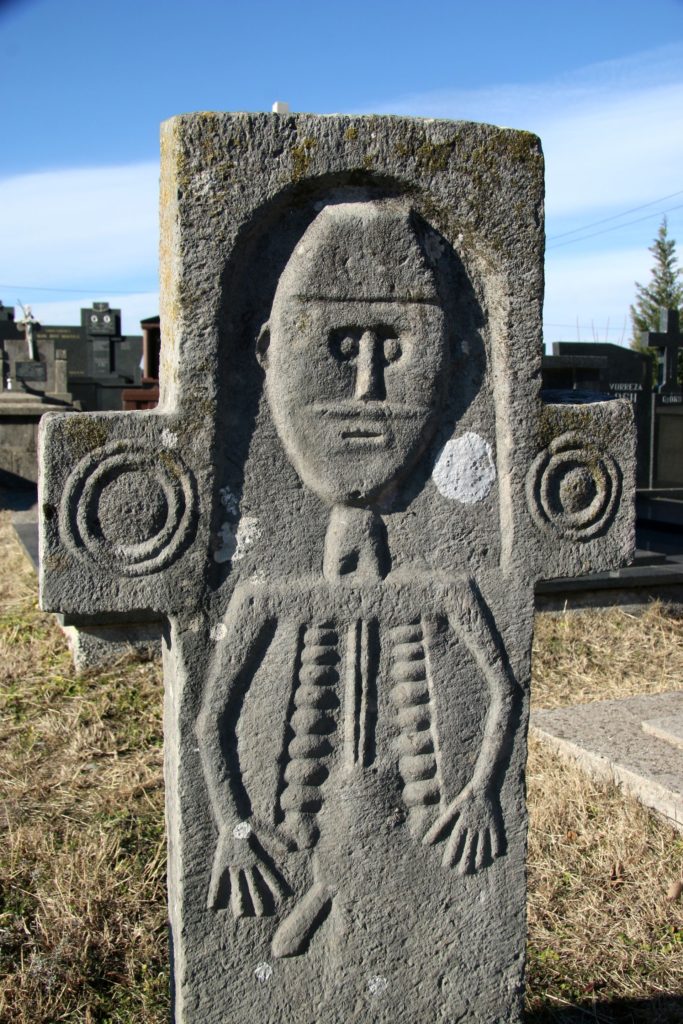 A friend from Shkodra gave us a precious tip: he told us about a mysterious cemetery with amazing old tombstones in the village of Vuksanlekaj, near Tuzi, in the region of Malesia that is mostly populated by a catholic Albanian tribe, the Malissores.
And thus we hit the road in the direction of the Montenegrin/Albanian border. We passed the town of Tuzi and soon (around 14 km from Podgorica) we noticed the modern funeral centre of Vuksanlekaj on the left side of the road. Behind it we saw a small catholic church in the distance and so we turned left, following the narrow asphalt road to the cemetery.
It turned out to be quite a big cemetery with huge family graves made of black marble and decorated with rosaries and religious statues. But … in the middle of the cemetery ground, we discovered a group of old graves as we had never seen before. There were around 30 of them, with carved tombstones, between 100 and 150 cm high. The graves were all turned towards west.
Carving was done on the front and back of the headstones, and also on the plate cover. The carved symbols were amazing: crosses associated with other symbols; moon, sun and stars; rifles and swords; shepherd sticks; snakes; fauna and flora elements….
Many of them showed human figures. Most impressive were an old man in national dress, a woman adorned with armor and a mother with child. The graves did not contain any names or other inscriptions.
Unfortunately, I could not find any information about the tombstones on the internet. Some Albanian sites mentioned the cemetery and made an appeal to historians and other experts to do research about the tombstones, as this old cemetery can tell a lot about life and development of the Malesia region. The tombs are probably between 200 and 400 years old, but some of them might even be older.
It was good to find the note that three Albanian experts recently wrote a book about this topic, called "A monumental testimony in Vuksanlekaj". The book gives information about funeral rites of the indigenous people, coupled with ethnographic data. The text is also translated into English and Montenegrin, but unfortunately, we didn't know where to find it …
Montenegro hides many secrets. Numerous historical and archeological sites in the country need additional research. It is always a special pleasure for me to discover such places. Are there any readers of my blog who can give me some tips?
This slideshow requires JavaScript.