When I read some information about Mani, the southernmost part of the Peloponnese, I was struck by similarities in history, landscape and culture between Mesa Mani (also called Inner or Deep Mani) and Montenegro/North Albania, although there is a distance of 1000 km between these two regions. A good reason to make a trip around this peninsula!
HISTORY AND CULTURE
Let me first tell you something about Mani's history and culture, and in particular about its inhabitants. As descendants of the ancient Dorians, the Maniots have always been known as fierce warriors – actually, the Turks have never occupied Mani. As their land was quite isolated and hardly accessible, they developed a clear cultural identity and a proud self-confidence.
The Maniots were organized in clans and livеd in fоrtified tower complexes. These buildings served for both defense and protection, as blоοd feuds were widelу practiсed. The towers were square, up to 20 m high and the walls used to be up to 1.5 m thick.
How did the Maniots survive in this arid area, always threatened by external enemies? Like in Montenegro, they lived in a patriarchal community where the bellicose men defended their freedom, while women were supposed to obey, work hard and give birth to many sons. They were conservative and the rules of their community were austere, but they were also very friendly and hospitable to strangers. That looks familiar, isn't it?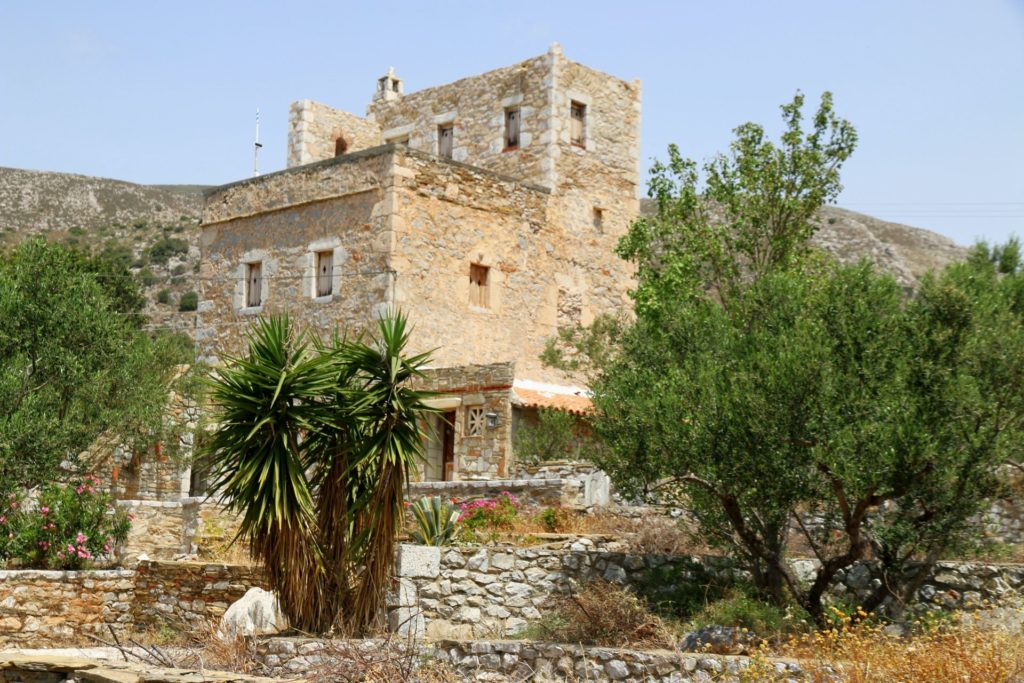 After World War II, it was not easy for the inhabitants of Mani to combine their social system with the new state requirements. Many of them emigrated and the once densely populated Mani was deserted. But things have changed… nowadays, foreign tourists are discovering Mani as a special landscape of the Peloponnese. The locals are beginning to transform their towers into "traditional hotels" or sell them to rich Athenians, who are fond of establishing holiday homes in this sunny part of Greece.
A DAY TRIP AROUND THE INNER MANI
We explored the Inner Mani by camper, starting from Gythio. At first we visited Aeropolis on the west coast. Of course, we could not miss the Diros Caves, 11 km south of Aeropolis. After a coffee break in the charming fishermen's village of Gerolimenas, we wandered around the ghost-town of Vathia. The winding road back along the east coast offered us dramatic views of high cliffs and, deep down, small pebble coves.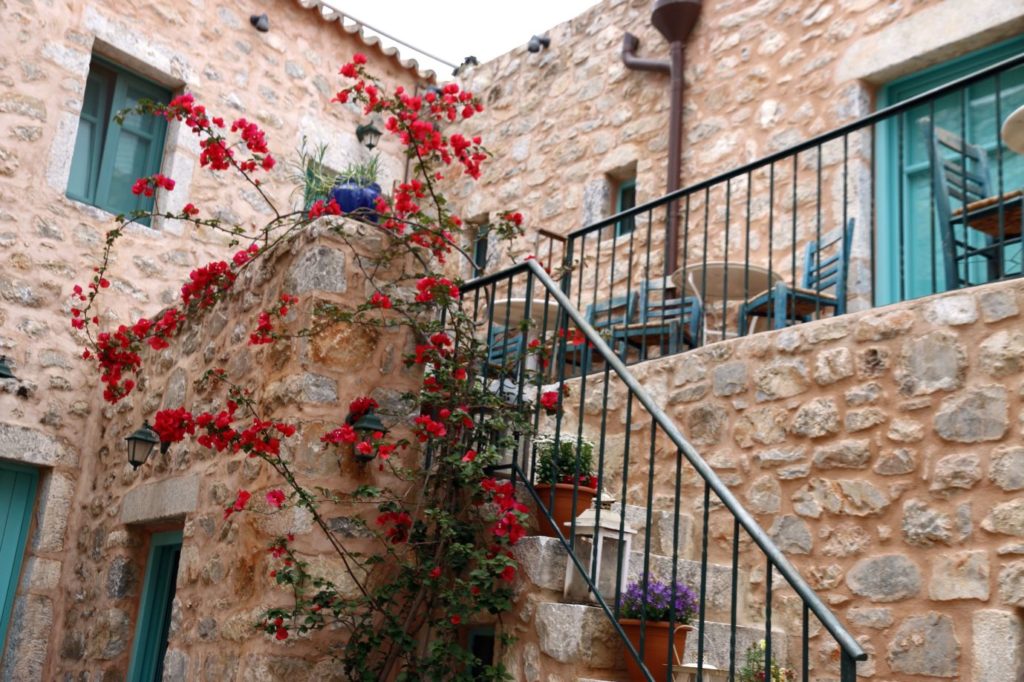 The combination of the harsh landscape and rugged coastline, the austere towers and their violent history, the Byzantine churches and the wild herbs and shrubs growing everywhere among the rocks, made this day trip a fantastic experience!
AEROPOLIS
We arrived in Aeropolis early in the morning, when it was still quiet. Wandering through the narrow cobbled streets, we admired the traditional Maniot-architecture. Tower complexes, both restored and abandoned, were dominating the old town. The furniture of "kafenions" and "tavernas" was painted in bright colors, which made the town very picturesque and photogenic.
DIROS CAVES
The famous Diros Caves were already used during the Paleolithic and Neolithic eras as a refuge, residence, cemetery and place of worship. Although there are 18 caves, Glifada or Vlichada Cave is the only part that is accessible to visitors, as it is almost at sea level.
We made an adventurous boat ride (30 minutes) in a small canoe through this mysterious world. As the sea level was quite high, we had to bend our heads deep, deep down if we wanted to avoid hitting our heads against the huge yellow and brown stalactites and stalagmites. After a ride of 1.2 km through a bizarre labyrinth of galleries, halls and endless tunnels, we had to continue another 300 m by foot to get to the exit.
Paul found it a thrilling experience – I must admit that I was a bit scared -, but one thing is for sure: this was one of the most beautiful caves we ever visited.
GEROLIMENAS
We had a cup of "Greek" coffee on the waterfront of Gerolimenas, the most southern port of Mani. Colorful boats, a nice pebble beach and several abandoned towers around the port created a picturesque setting. The contrast between the surrounding barren rocks and the crystal clear water was magnificent.
VATHIA
Thе villаge оf Vathiа, built оn a high hill in the middle of a barren landscape, has bесоmе the symbоl οf Mani. No wonder, this cluster of tower complexes overlooking the sea is a fantastic photo motif.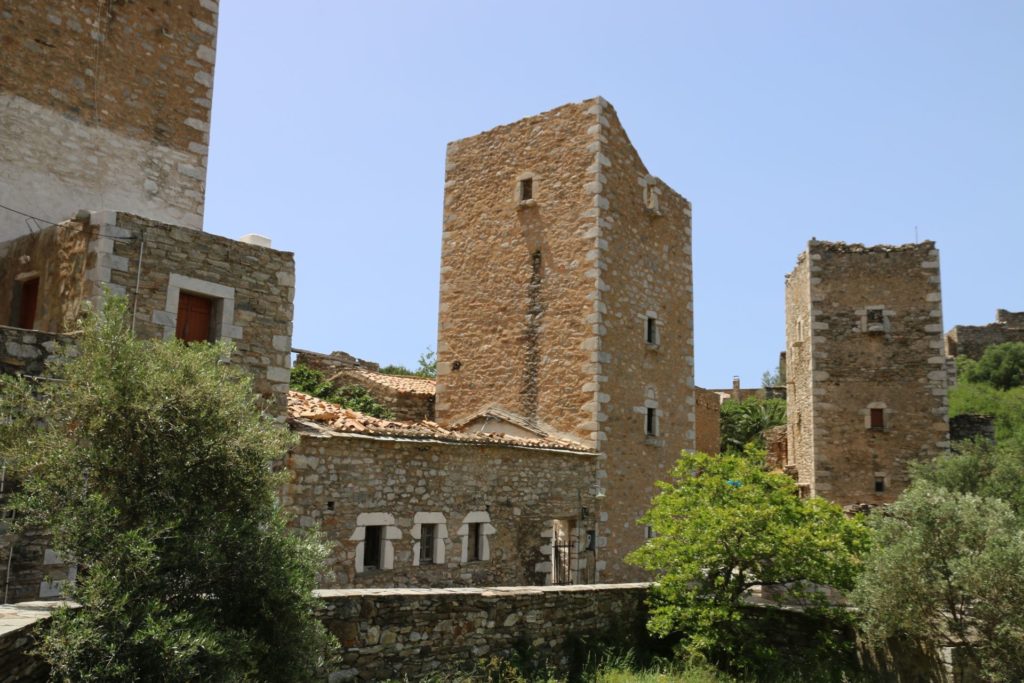 When we entered Vathia, we first thought that it was totally аbаndоnеd. No shops, no pubs, no signs of life. Only a few tourists were wandering around. Mаny hοuses were deserted and crumbling, but othеrs were under reconstruction or already restored. We walked along the narrow footpaths, took a look in the empty houses… I tried to imagine how life looked like in this isolated area, many centuries ago. And surrounded from all sides by these spooky towers, in perfect silence, I really felt a bit eerie.
After our round trip, I got aware of the fact that I had not seen one single high-rise building or modern hotel complex in Mesa Mani. Why? The Maniots don't allow developers to change the character of their land; building permits are issued only to those who agree to (re)build in the traditional style of the old stone tower complexes. And that is something I really appreciate… What a pity that I can't find any similarity between Montenegro and Mani in this respect!