I have always been attracted to exotic and indigenous places. That is one of the reasons why Paul and I decided to make a round trip through the countries of Indochina. Moreover, as I didn't know much about the wars that were waged there during the 60s and 70s, I thought it very interesting to learn more about the history of this part of Asia. What do Europeans know about the "secret war" that was going on in the "Land of a Million Elephants" in those times? Are you aware of the fact that the Americans bombed it more than entire Germany during WWII? Not to forget that, since the end of the war, some 35,000 Laotians have been killed or maimed by unexploded ordnance…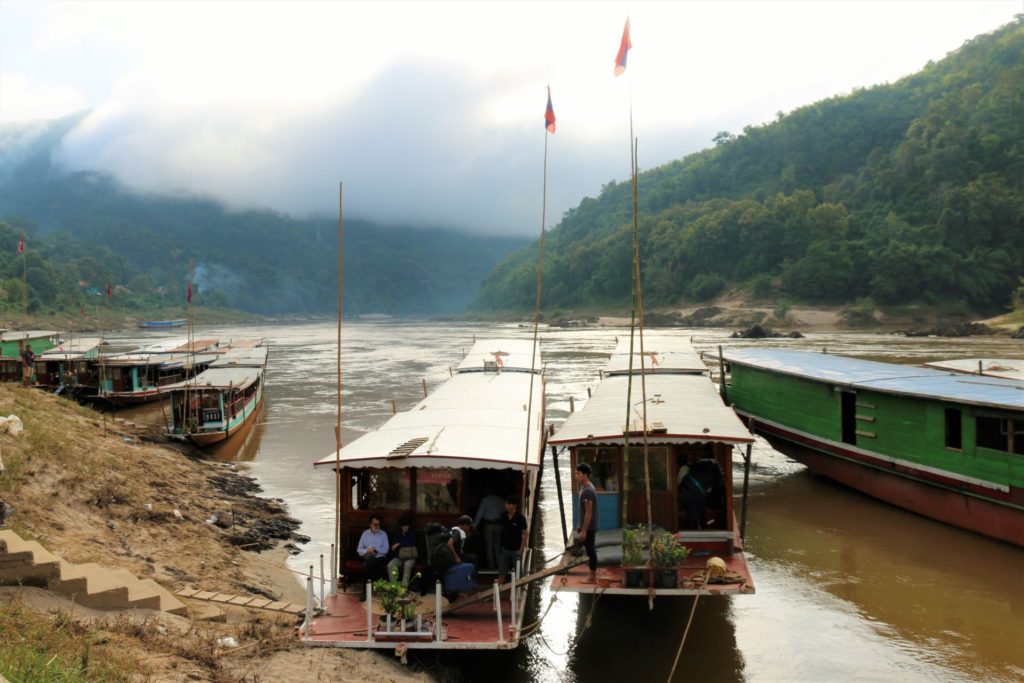 When we arrived in Laos with a small group of Dutch travelers, we had to face a totally different culture. Honestly speaking, I was shocked by the reality of the poor villages along the Mekong river, but I was also struck by the beautiful nature and the friendly people. Life goes in a totally different pace here. No one is in a rush.
Why is Laos called "Asia's forgotten country"? Well, as it is landlocked among Thailand, Vietnam and Cambodia, it has long been isolated from the rest of the world. Nowadays,  Laos is slowly getting onto its feet, although most of the country is still untouched and authentic.
Tourists started to visit the country only in the mid 1990s, but each year there are more and more travelers who discover the beautiful karst mountains and scenic rivers, the charming colonial towns and the excellent cuisine. Adventure tourism is developing fast and cultural highlights like Luang Prabang and Vientiane are attracting more and more foreign visitors.
As Laotian roads are in a very bad shape, we traveled by "slow boat" from the Thai border to Luang Prabang. It took us two days to drift down the Mekong River on this typical long and narrow boat. It was a relaxing tour and we enjoyed the scenery, as the river is surrounded by lush jungles and amazing mountain landscapes.
Most of the 6 million Laotians live in the Mekong valley. Dozens of national minorities live along the river and many of them are still untouched by civilization. It was very interesting to get some insight into their life and thus we visited several communities. Although most villages have got electricity and water pumps, poverty is obvious. The population often lives in primitive bamboo huts, there are no roads and we could see many women carrying heavy loads on their back. Are there schools? Yes! Most families have at least 5-6 children and it was really nice to see them playing in the school yard. It struck me most of all that they looked so happy with their old-fashioned and primitive toys.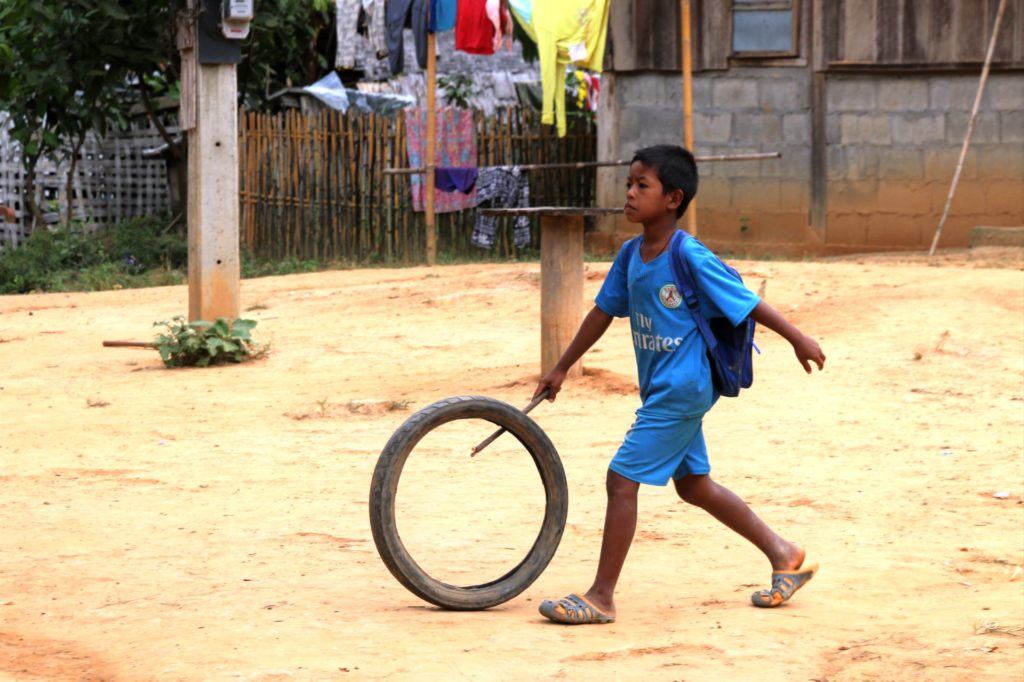 Along the Mekong river we also visited the Pac Ou Caves, a Buddhist pilgrimage site. Spread over two caves, we found more than 4000 Buddha statues, left there by pilgrims to celebrate the new year.
Finally we arrived in Luang Prabang, the cultural center of the country. This place is among the most interesting UNESCO heritage sites in the region, with its amazing French colonial architecture and many unique temples.
We strolled the night market and watched the sunset over the Mekong river. We enjoyed the typical Laotian food, visited a traditional dance performance and made an excursion to the wonderful Kuang Si waterfalls. We also visited several gold-roofed temples, among which the glittering Wat Paa Huak.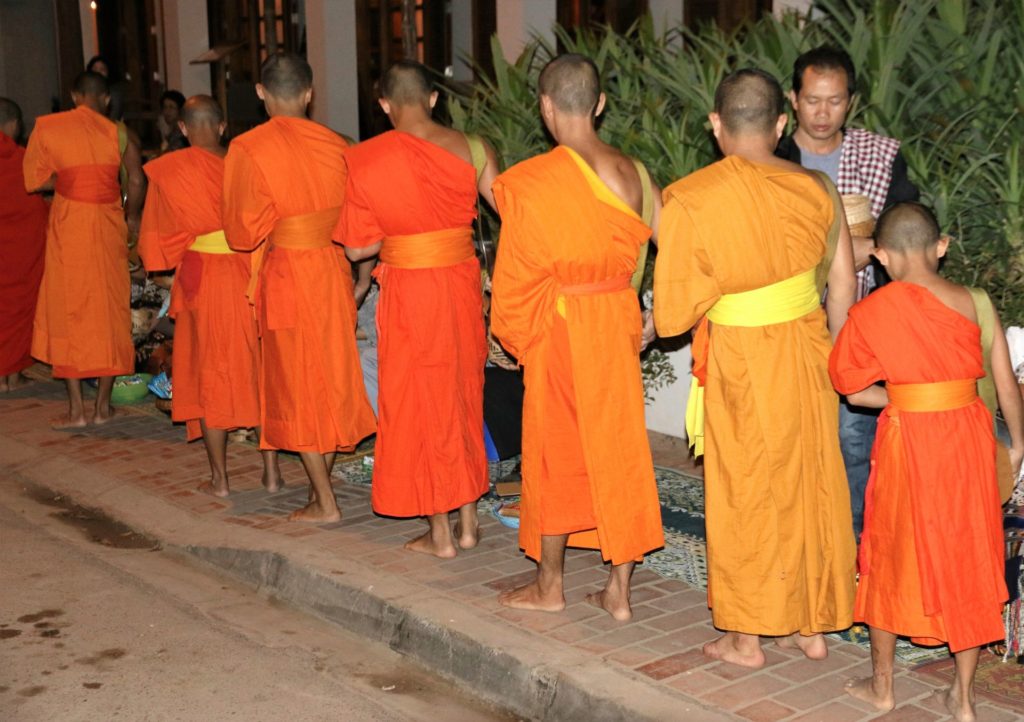 But most impressive was the monks' alm giving ceremony. Just imagine, every morning at sunrise the monks come out of their temples and walk through the main streets collecting alms from the local residents for their only daily meal. We had to get up very early for this experience, but I am glad I didn't miss this ceremony!
We continued our trip by bus and arrived in Vang Vieng, located by a picturesque river and surrounded by mountains. This little town is famous as one of the best adventure (and party) destinations in Laos. And indeed, it was overcrowded with backpackers and other young foreigners who were eager to make boat and kayak trips, explore caves, go bungee jumping and make balloon tours… Of course, this should be quite profitable for the population, but what a pity that tourism is developing so chaotically here. Not to speak about the huge quantities of litter and dirt we found everywhere along the river and on the streets!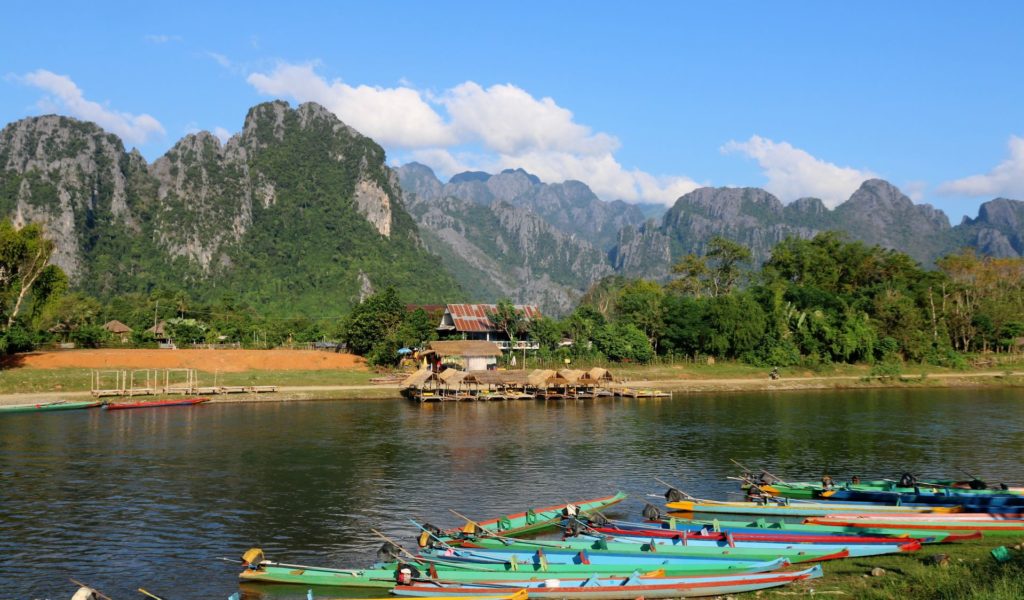 Our last stay was in Vientiane, sometimes called "the most laid-back capital city in Southeast Asia". Vientiane is also developing very fast and the traffic – with thousands of scooters on the streets – is quite chaotic. The city itself is a mix of French colonial buildings and Buddhist temples. As the town center is small, we could visit many tourist attractions on foot, but for a visit of the gold-covered That Luang, the Great Sacred Stupa, we had to hire a tuk-tuk, the most popular means of transportation in Laos. And did you know that Vientiane has its own Arc de Triomphe? Patuxai (Victory Gate) was completed in 1969 in memory of the Lao people killed in wars before the Communist revolution.
Through the impressive mountains and green jungles of Laos, we continued our journey to Vietnam. It's true, Laos is a country off the beaten track, but it is fascinating to visit, as it has retained its culture and authenticity, traditional village life and beautiful countryside..