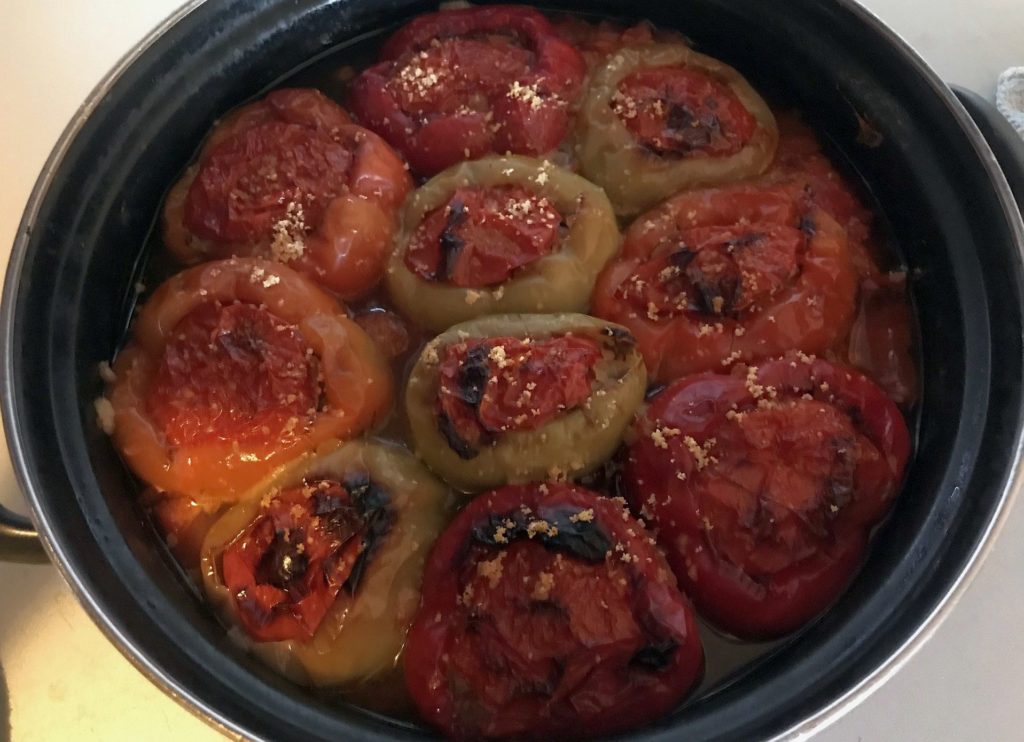 Montenegrin cuisine… does it really exist? Yes, but it is specific for each region, reflecting the country's geographic position, culture and history. It goes without saying that the influence of the cuisine of several other nations – Serbia, Italy, Croatia and Turkey – makes it rich in the most varied dishes and tastes.
Of course, there are a lot of traditional dishes to try. Perhaps one of the better-known is "priganice" (photo 1). These fritters or small airy doughnuts are served with home-made honey, but sometimes also with jam or cheese. Guests arriving in a Montenegrin home will often be welcomed with "priganice", but they are also offered by national restaurants, and their popularity is still rising among the tourists. A wonderful snack with a bottle of Nikšić beer, a glass of home-made "lozovača" (grape brandy) or a cup of herbal tea!
What else can you eat in Montenegro? If you know in which region somebody lives, you can guess what s/he eats, as people usually take what the environment has to offer. But when you are invited in a Montenegrin home, take care, don't eat or drink too much: the Montenegrins are exceptional hosts who will always try to offer you a varied selection of traditional meals and drinks in enormous quantities!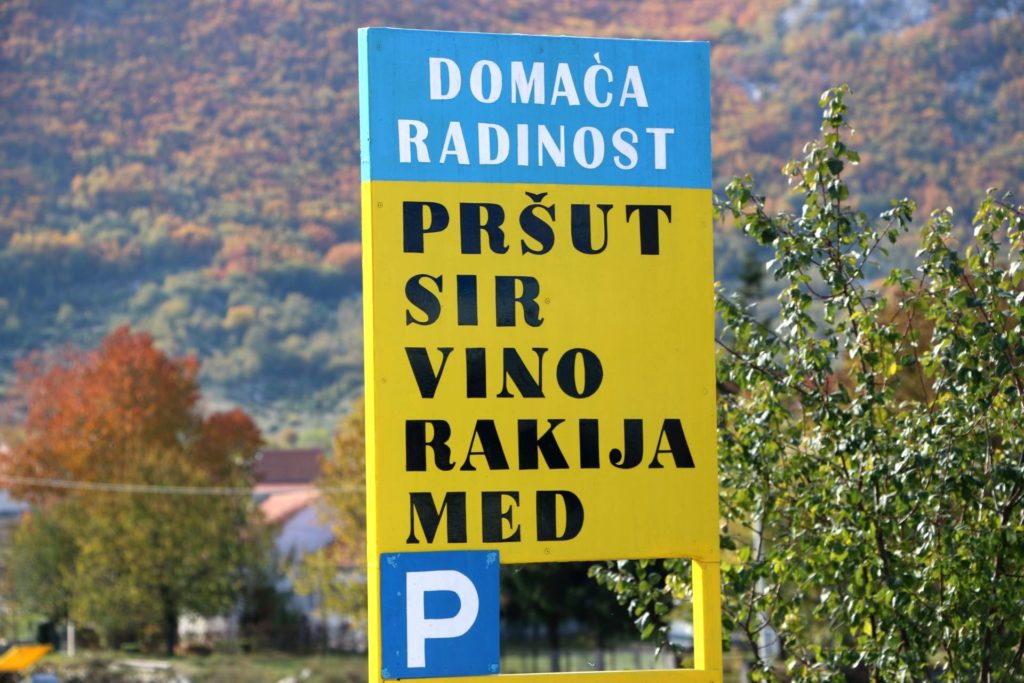 I must say that I prefer the light food that is served in the central part of Montenegro (lake cuisine) and along the coast. But that doesn't mean that I don't like to eat specialties from the mountains: for instance, "kačamak" (polenta with buttered potato and kajmak, served with yoghurt) or "raštan" (a slightly bitter, sturdy vegetable from the cabbage family) that is cooked into a stew with white potatoes and "kastradina", i.e. smoked mutton or sheep. And of course, I love lamb "under the bell", which means that the meat is put under an iron pan, the so-called "sač", and then covered by ember and ashes. Very tasty indeed, especially if you combine it with a glass of Vranac, the famous red wine produced in the central part of Montenegro.
A traditional meal that is served in our home at least once a month is "stuffed peppers" (photo 2). It's true, this food is also typical for some other countries of the Balkans, but I would warmly recommend you to try the Montenegrin variant during your stay in the country. This also applies to grilled meat: čevapčići (small meat balls) and pljeskavica (a kind of hamburger) with onions that can be found on the menu of both national restaurants and fast food establishments. Maybe that is the reason why Montenegro is one of the very few countries in the world without a McDonald's restaurant?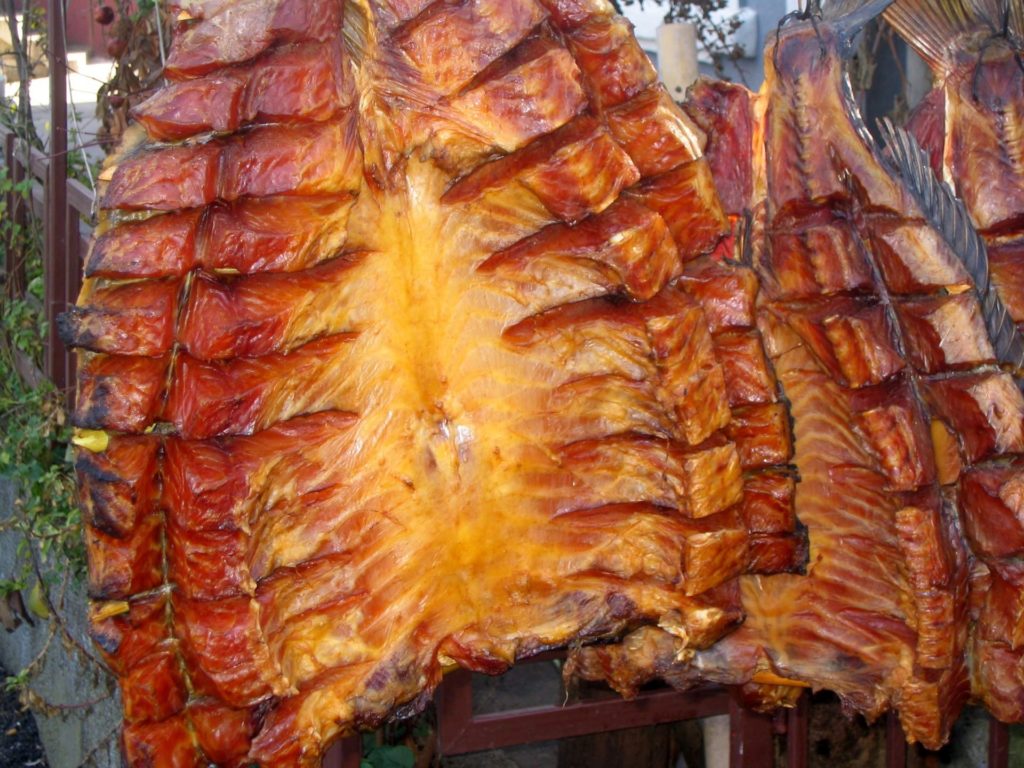 Apart from its key traditional dishes, Montenegro is also famous for its prosciutto, known locally as "Njeguški pršut", and its cheese, "Njeguški sir". Both of these products come from the village of Njeguši that is situated under the peak of Mount Lovćen, on the road between Kotor and Cetinje. If possible, you should buy these products directly from the villagers (photo 3). What makes the prosciutto so special? Well, its particular taste and aroma are the result of the mixture of sea and mountain air, and the beech wood used for smoking it.
The area around Skadar Lake is well-known for its carp, eel and small bleak, which is caught in large quantities. Specialties of the lake cuisine are carp in a frying pan, prepared with dried plums, apples and quince; carp fried with onions; eel with rice; thick fish soup; smoked bleak… Tourists from Western Europe are often reluctant to eat carp, but believe me: carp from Skadar Lake is really delicious, in particular smoked carp (photo 4). Give it a try!
After mentioning all these delights from the continental part of Montenegro, I must admit that I adore the fine Mediterranean cuisine on the seaside, which is based on seafood, fish, cereals and olives. Fish (bream, sea bass, barb, mullet, etc.) is mainly grilled, boiled, stewed and fried. Especially grilled fish is superb, as it is sprinkled with aromatic herbs and served with a topping made of garlic, parsley and olive oil, boiled potatoes and chard. But also sea food like octopus, mussels, squids, oysters and prawns are an excellent choice in all fish restaurants on the coast (photo 5). And don't forget to order a glass of Krstač, a wonderful Montenegrin white wine.
So, now you can finally relax with a dessert. Do you like "kolači"? This is a general name for different types of cookies and cakes (photo 6). Of course, there are many of them: apple pies, butter biscuits with powdered sugar topping, fruit tarts, waffle cakes with fillings, nut cookies and different types of Turkish pastry. Or maybe you prefer "palačinke"? These thin pancakes are popular in many countries of Eastern Europe. In Montenegro they are filled with honey and chopped walnuts, jam or chocolate. Palačinke are made in almost every café, restaurant and often at street stands as take-away.
Visitors of Montenegro, if you love food, I am sure that you will be happy to experience the country through its cuisine, as the culinary delights of Montenegro represent the country's culture, its identity and its turbulent history in a very special way.