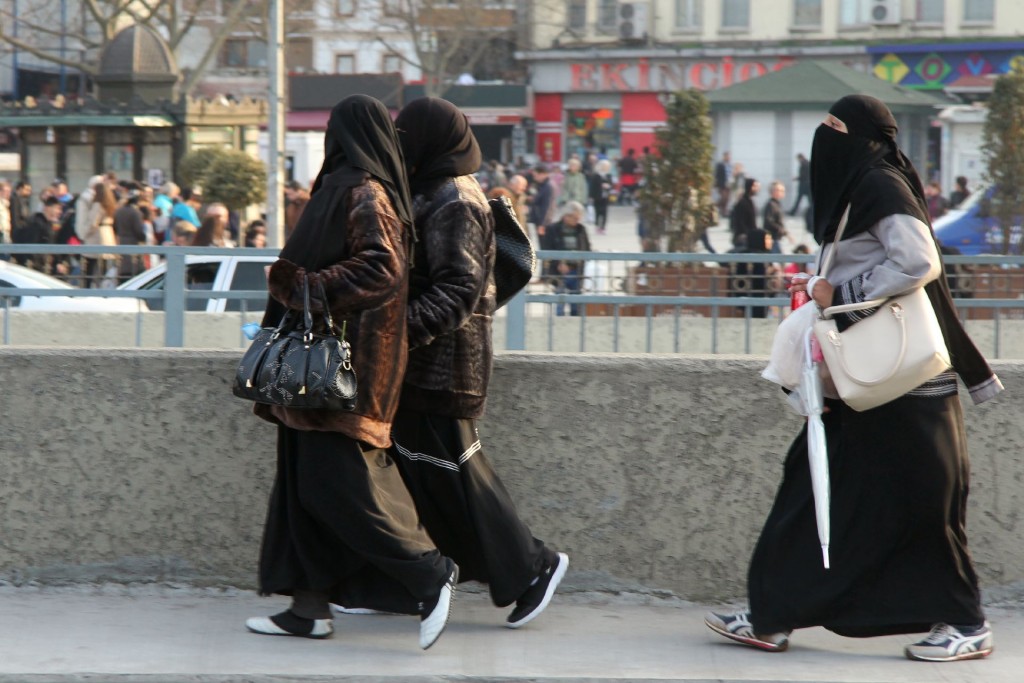 A city trip to Istanbul is a special experience. And now I am not only talking about the famous cultural and historical monuments that each tourist should visit: Aya Sophia, the Blue Mosque and the magnificent Topkapi Museum. Of course, it was great to see the splendor and wealth of the Ottoman Empire. But the most important goal of our trip was to experience every-day life, to meet ordinary people, to see where the locals hang out.
From our cozy hotel in the Sultanahmet district, we started to explore the surroundings. And our first impression was: What a fascinating city! Everything seemed to be contradictory: the chaotic urban traffic vs. the perfectly organized Atatürk Airport; young girls with covered faces dressed in black chadors vs. modern European-like women; magnificent palaces and mosques vs. old and shabby residential buildings; small shops in Grand Bazaar vs. fashionable boutiques in Istiklal street …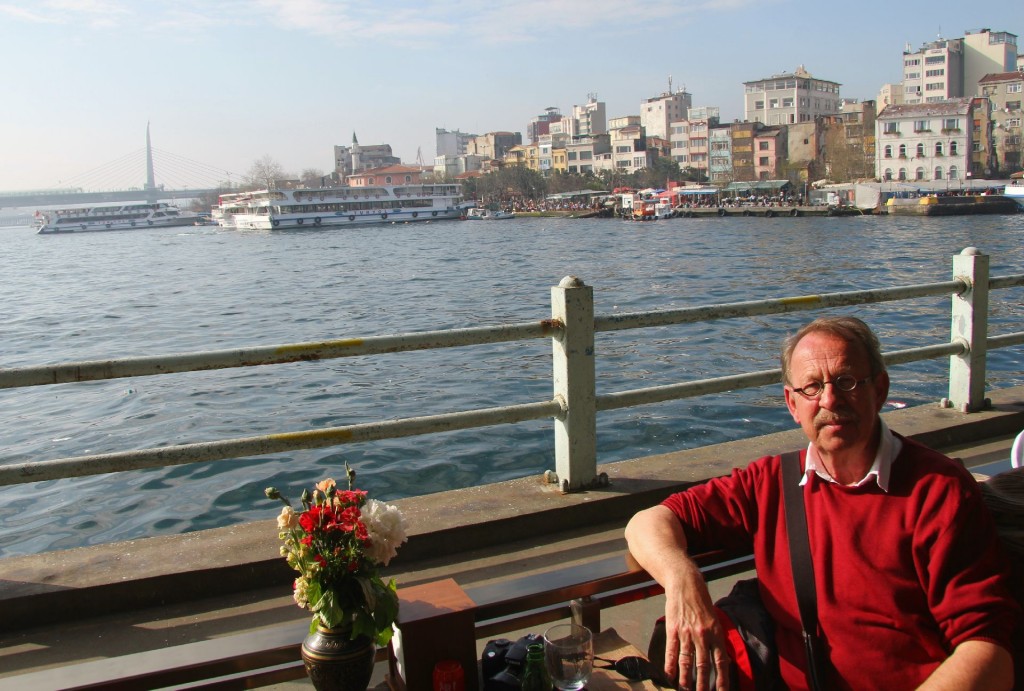 We walked through the crowded streets, found little food shops selling Turkish pastries and spices, observed locals going about their normal routine. We listened to the calls to prayer coming from every mosque, five times a day. We admired the marvelous historical buildings, bought some souvenirs in the Grand Bazaar and took the commuter ferry to Kadikoy in Turkish Asia. But there was one place we liked most: the Galata Bridge (photo 1).
Galata Bridge appeared to be the place where the locals spend their time. This I where they eat their fish sandwich, smoke nargile pipes and play tavla. This is where they catch the ferry boats and spend a day out with their families. It is a bustling place full of traffic and people going about their business. No one will notice you; you can simply blend in and observe daily Turkish life.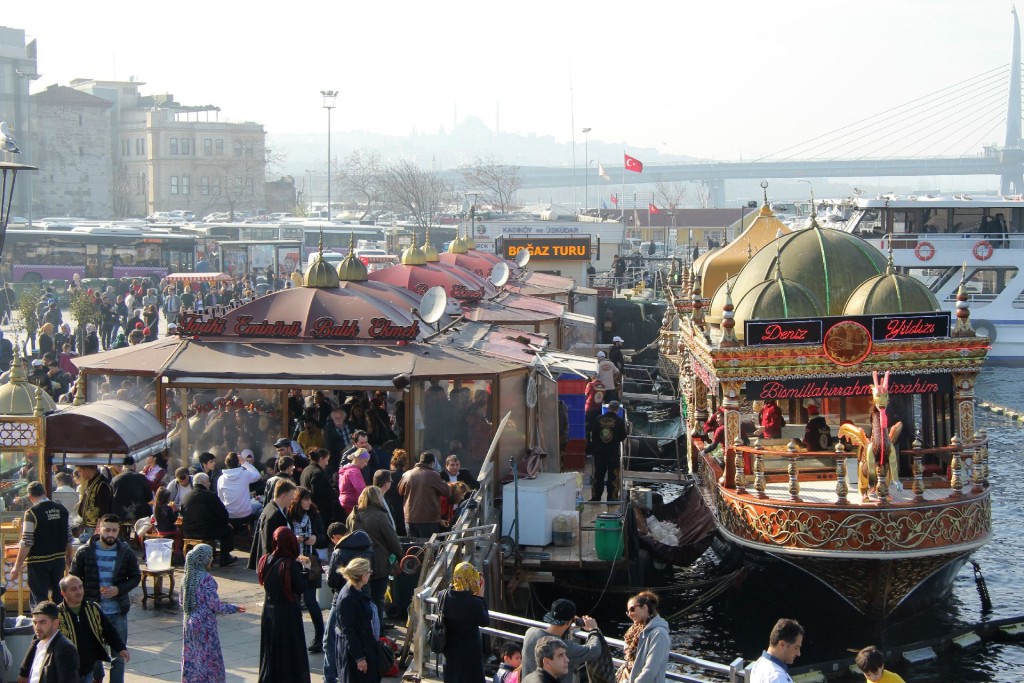 For us, hanging out around the bridge – we did it each afternoon – was a great opportunity to experience life in Istanbul. Shop owners were drinking their traditional tea from tulip-shaped glasses, laughing and joking. Women in black, covered from head to toe, were hurrying to the other side of the Golden Horn (photo 2), in the direction of the Galata Tower, Istiklal Street and Taksim Square. Young people sat on the stairs in front of the New Mosque, listening to a guitar band playing Turkish music…
Of course, we have passed the bridge several times. It was always full of fishing men, lined up against the railings and angling for a lucky catch. They were quite friendly and, obviously, they are used to tourists. From time to time, they threw some fish in the air and birds swooped to catch it before it hit the ground. As a matter of fact, they didn't catch a lot of fish – most of it seemed to be mackerel. But they sold it immediately to passers-by and for many of them this was obviously a way to earn some additional money.
Along the lower part of the bridge we found many restaurants and pubs. In one of them, we enjoyed Turkish coffee and apple tea, smoked a nargile pipe and spent an hour or so, totally relaxed, on a terrace in the sun (photo 3).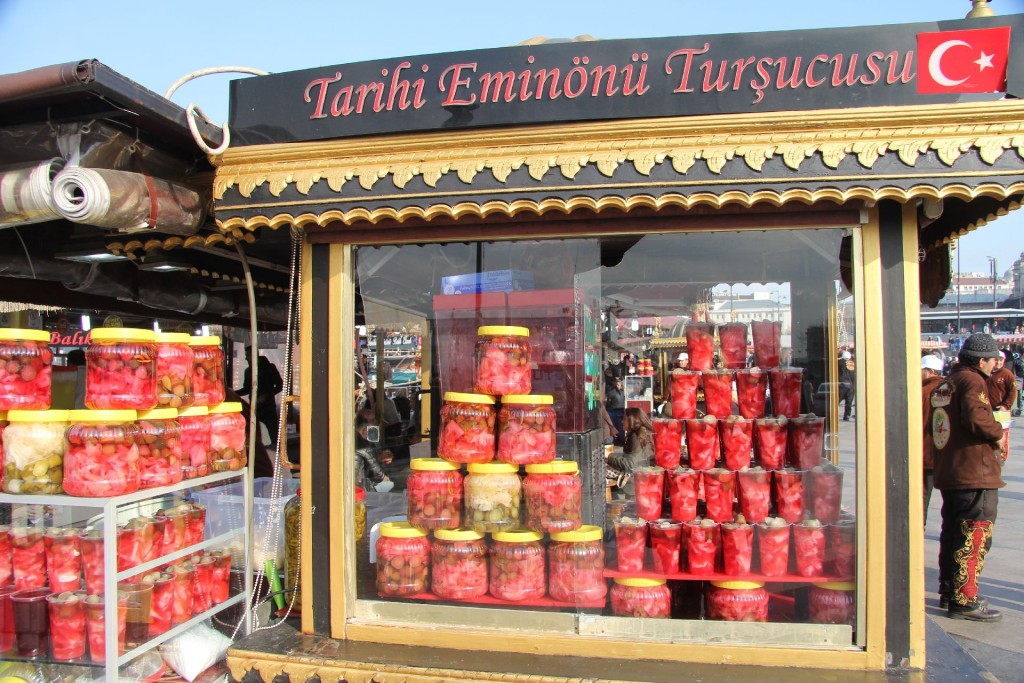 But there was another attraction, located near the bridge. Eminönü fish sandwich boats are famous throughout the country (photo 4) – nowadays, only three boats are licensed to sell fish sandwiches. They have got a life-long concession, for which they have paid the total amount of around € 240,000! Fish sandwich is the only piece on the menu: it is stuffed with a fish, green salad and onion and dressed with lemon juice. In front of all three boats here are low stools and tiny tables. We saw many people here, coming from their work or from one of the ferries. They were drinking water or lemonade (alcoholic drinks are not served at all) and accompanied their fish sandwich with pickles. Plastic glasses filled with pickle juice and pickles were sold separately just in front of the boats (photo 5). And those who didn't like fish bought some corn or chestnuts from the street vendors!
Altogether, Istanbul was an unforgettable experience. And we would certainly like to go back to this fascinating city, where East meets West, and Asia greets Europe!