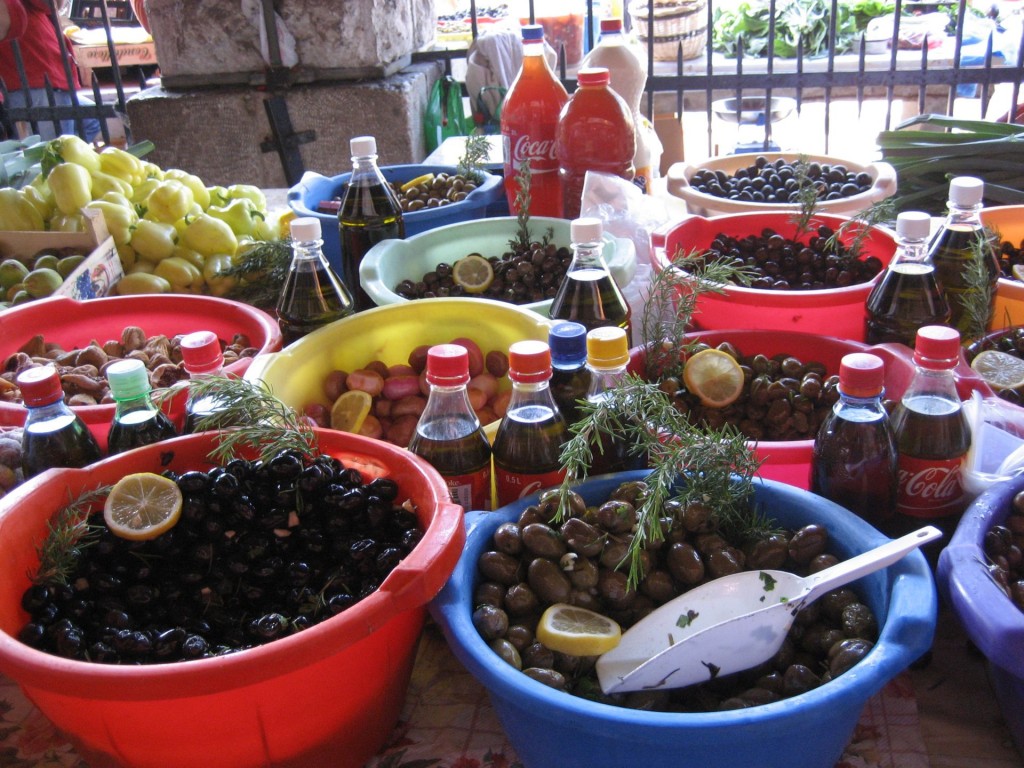 Spring is in the air and the Saturday market in Kotor has become a paradise for slow food fans. The market stalls outside the town walls are made of stone and the Venetian lion – a magnificent stone relief on the city wall – is watching over the vendors, who have not only come from the coast, but also from other areas like Skadar Lake, the Krivošije mountains and Njeguši on Mount Lovćen.
It was the first time this year I visited the Old Town Market. The weather was sunny and the booths overflowed with fruit and vegetables, flowers, all kinds of fish, cheese and smoked ham… I bought a bottle of olive oil, made by a private oil factory in Stari Bar. Delicious!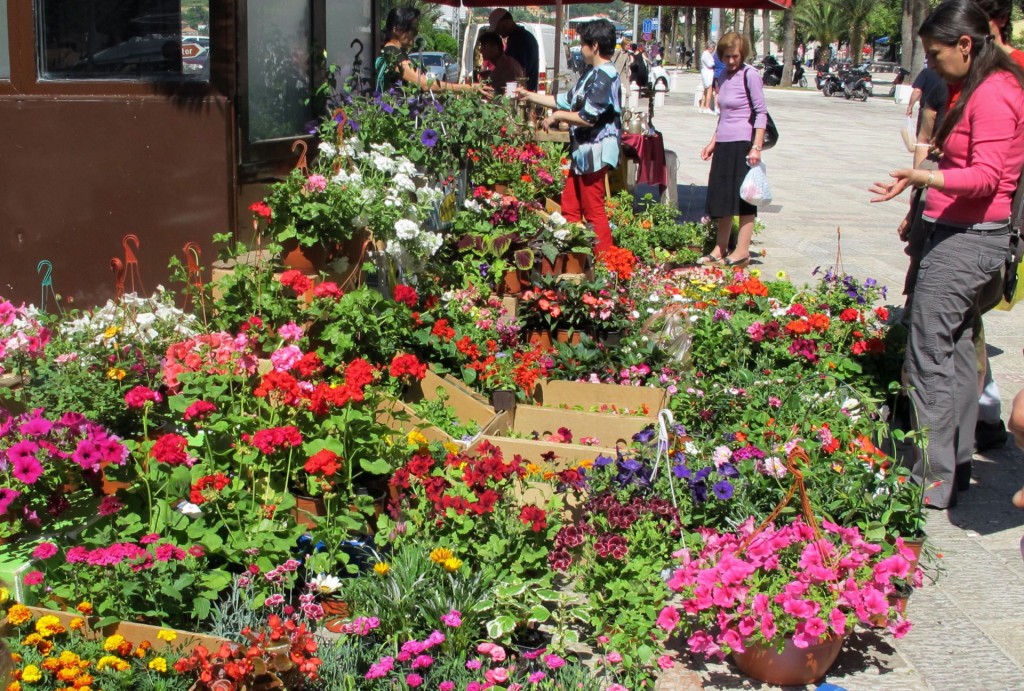 But on this market you can also find very special products. What about smoked carp and smoked bleak from Skadar Lake? Or the famous Njeguši cheese and ham? There is also home-made cheese studded with olives or walnuts, made on the basis of a centuries-old recipe. Dried funghi porcini, dried cranberries and figs are stored in big bags. Olives – green or black, but also brown – are prepared in different ways. Just try and make a choice!
Old men and women, who had arrived early in the morning from the high mountains around the Bay of Kotor, offer cheese and vegetables, but also fresh eggs and free-range chickens. On their way down they had picked wild asparagus and black bryony or "kljuke" (Tamus communis), but also stinging nettles which are traditionally used as wild vegetables.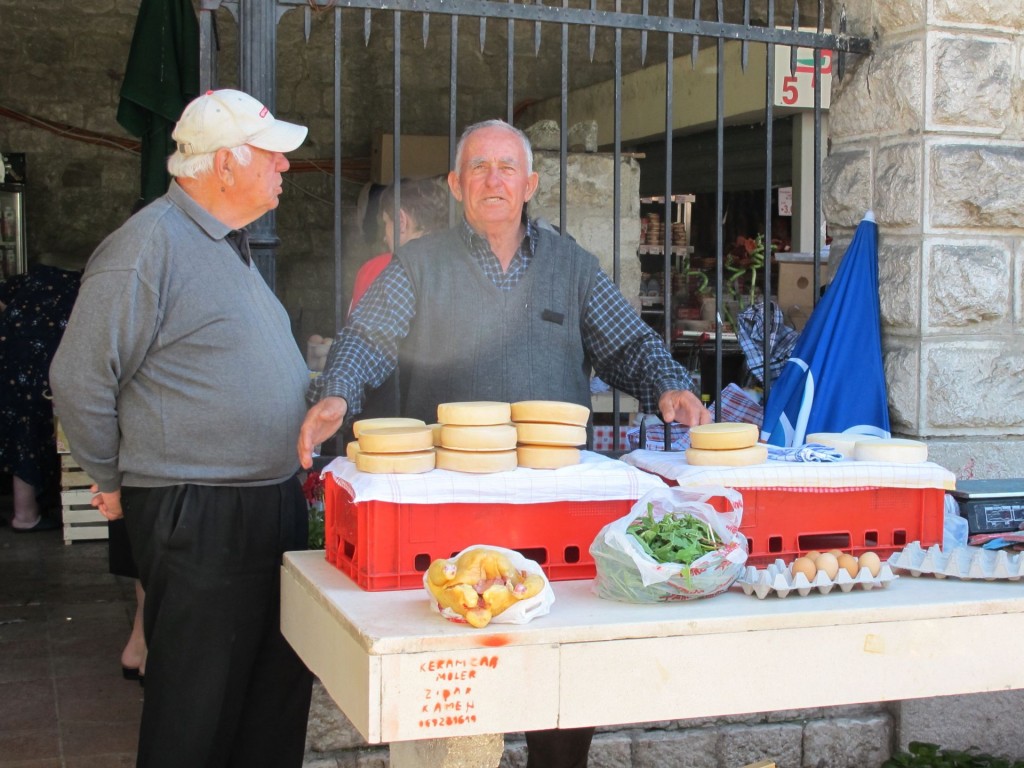 I asked a kind old lady with white hair under a black scarf and a black dress how to prepare them. She recommended "kljuke" (see picture 5) boiled with potatoes. The young shoots should be broken in pieces of 4-5 cm each and boiled just 5 minutes. Then they should be added to boiled potatoes with salt, pepper and olive oil. Mashed potatoes with a very delicate taste indeed! But "kljuke" and wild asparagus can also be used as salad with boiled eggs.
Nettles are used for a very healty soup, the preparation of which takes you only 15 minutes + 20 minutes cooking time. Here is the recipe: Melt a tablspoon of butter, add a chopped onion and some salt. Cook until the onions are soft, about 3 minutes. Add 50 gr. potatoes and 1 liter chicken or vegetable broth and bring to boil. Cook 15 minutes on a moderate fire, add 250 gr. nettles and cook until very tender, about 10 minutes. Add pepper. Puree soup with an immersion blender and stir in some sour cream, if liked. Good for 4 persons.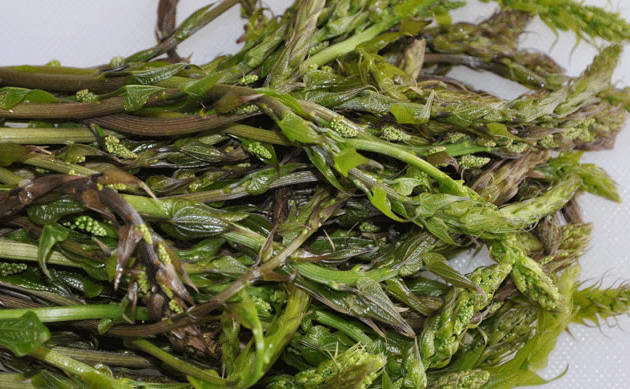 And finally, I would like to tell you an interesting story about the Kotor market. In the beginning of the 20th century – whenn Kotor was part of the Austro-Hungarian Empire – the serpentine donkey trail that leads from Mount Lovćen to Kotor was used a lot, mostly by Montenegrin women from the mountains going to the "bazaar" in Kotor to sell their farm products there. The trail was steep and they had very heavy burdens on their back. They entered the town carrying wine, ham, cheese and agricultural productes. This was bartered against salt, olive oil, clothes and other luxurious goods. And in the afternoon they returned home, uphill, to their villages at an altitude of 1000 meters or more…