When I remember my life in former Yugoslavia, I have the feeling that solid waste management was at a high level at that time. The situation has deteriorated since then. Of course, things have changed: nowadays we produce much more waste, and plastic bags from the supermarkets have become an unavoidable part of the landscape (by the way, there was a time when we had to pay for such bags!).  Of course, investment is needed to handle this problem, but – on the other hand – I have also visited some countries in Europe that gave me the impression of "cleanliness", although their lack of money for investment in this field is obvious.
I think that the waste problem, visible at every step, is caused both by the irresponsibility and lack of living culture of the citizens and a lack of regular inspection and the absence of sanctioning.
Twenty years after the proclamation of the "Ecological State", Montenegro remains full of litter, illegal dumps and worse. How to explain the piles of trash along the roads, even in the surroundings of national parks? The trees full of plastic bags fluttering in the wind? The empty beer and Coke cans, pet bottles and used tissues on the panorama parking lots? What about the cows "grazing" on an improvised garbage dump behind the Velika Plaža of Ulcinj ? Or the cats and dogs digging for food in open containers?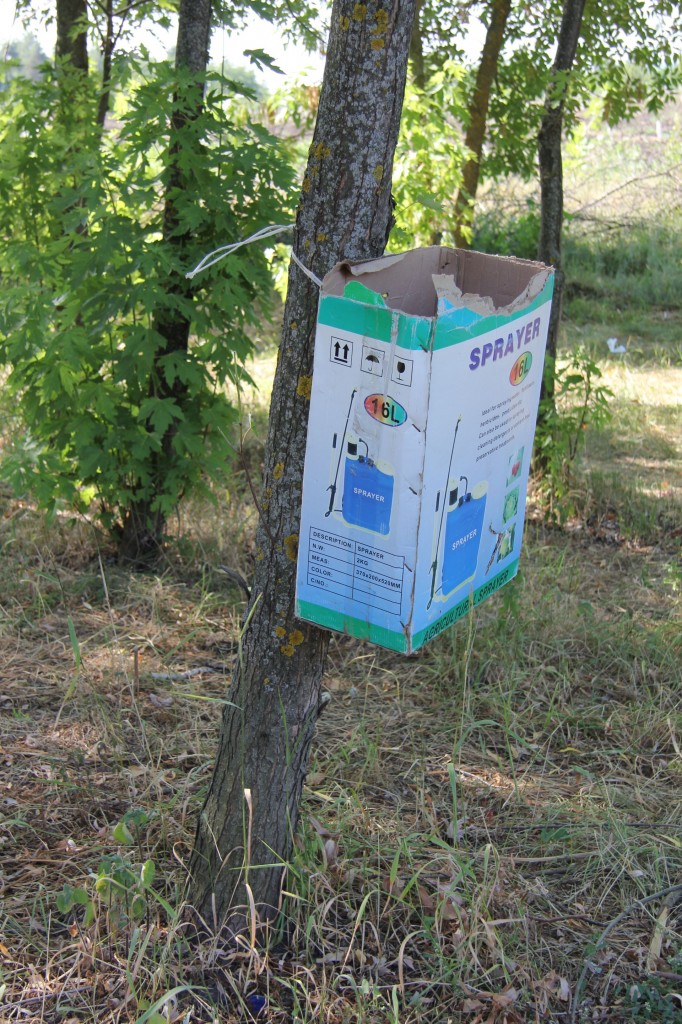 During my trip through Moldova – the poorest country of Europe – this summer, I have never seen any garbage in the towns or villages, on the roads or at other places. Even the rural bus stations are absolutely free of litter. Although each village disposes of a common water well, often also equipped with some benches and a table to rest, the garbage is without exception disposed in a bin, which is regularly emptied. On some remote spots I even saw a bin in the form of an empty cardboard box, tied to a tree! This means that EDUCATION is on a very high level in Moldova. And when this is possible in Moldova, why would it be impossible in Montenegro?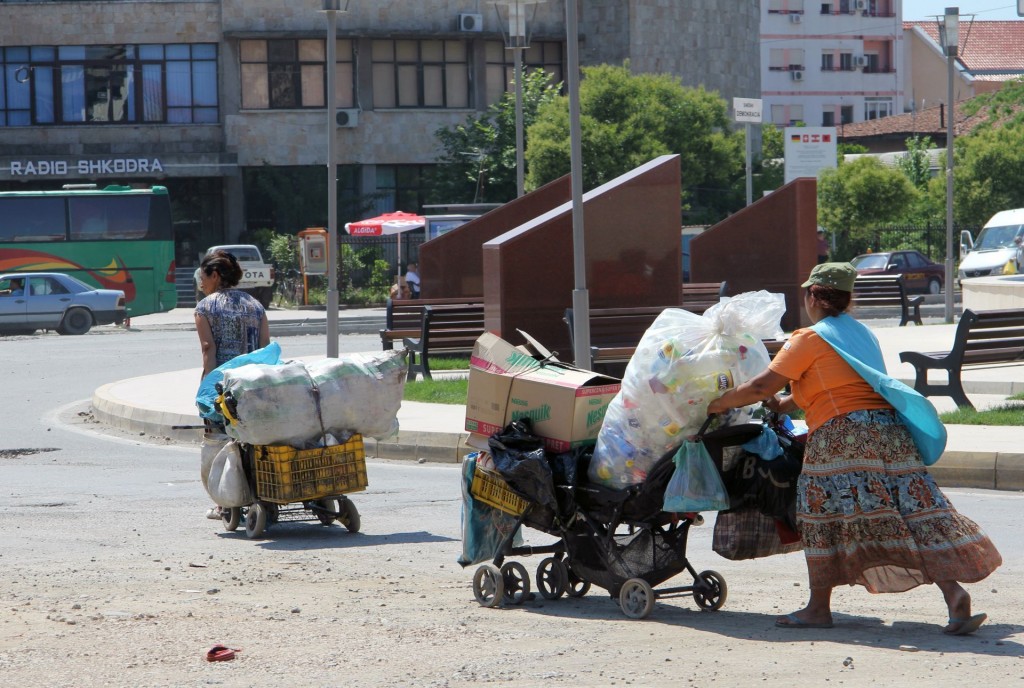 But neither Albania has resolved its waste problem yet. This beautiful country is spoilt by impromptu dumps wherever you go. I had the feeling that the people just don't mind to see trash around. Like other towns in Albania, Shkodër has its own way of recycling (similar to Podgorica, I would say). Roma gather paper, cans, bottles, old iron and other valuable material from the waste containers and sell them. This is certainly a kind of solution, but it reminds you of third-world countries!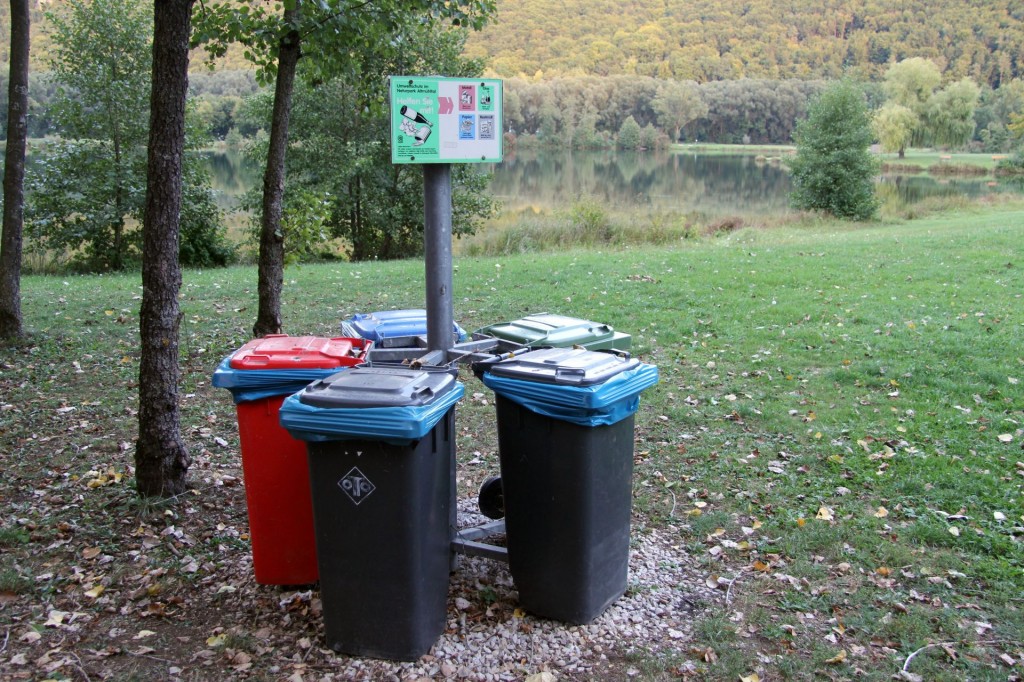 What a difference with most countries in Western Europe, although their rules and regulations in this field can also be exaggerated. I have lately visited Germany and made a walk through a beautiful recreation area with an artificial lake, where people could enjoy nature, do sports and have a picnic in the green park. Each picnic site, equipped for about 10-12 people, disposed of a group of FIVE waste containers placed in a circle like a flower. A bin for glass, one for organic waste, one for bottles, for plastic …… just unbelievable and in my opinion, even a little bit ridiculous!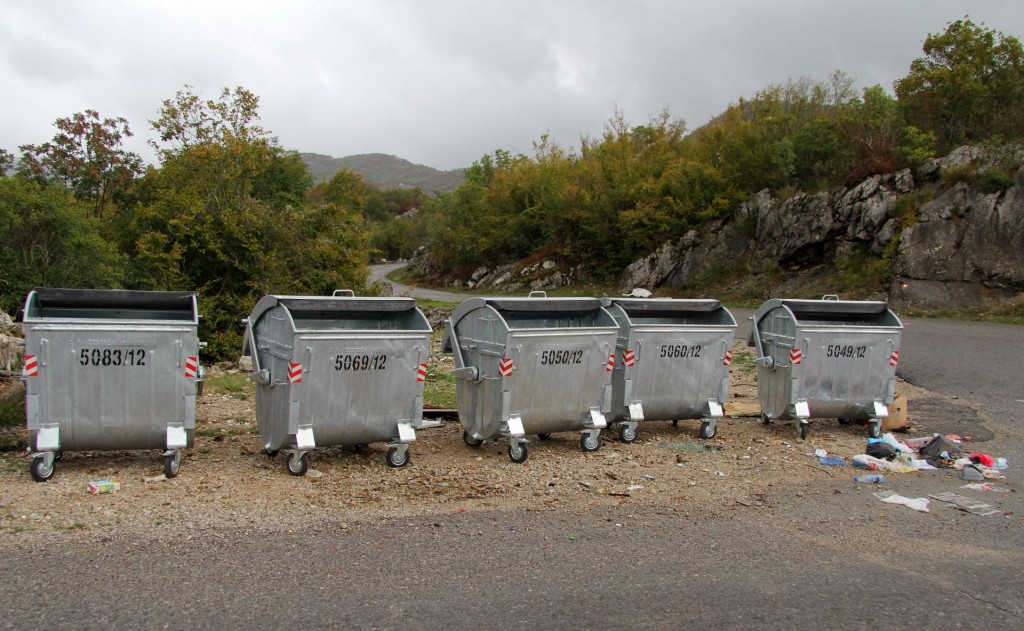 However, things are gradually changing in Montenegro. Recently, a large number of new metal containers have been purchased and placed on streets and roads. It is hard to say why so many of them have been replaced just now (i.e. before the elections!), but anyhow, it is a good start. Unfortunately, this does not mean that people have changed their behavior! During a trip to Medun in Kučka Krajina, I saw a group of five OPEN containers on a road-crossing near Fundina. No house in the surroundings. No waste in the containers either. BUT … somebody had obviously tried to throw his garbage from his car into a container …. and missed! See photo!
And thus …. Let's start with education. Not only at school, but also at home. Montenegro is much more attractive and beautiful without garbage! So, let's take our responsibility to keep this wonderful country clean!