One of the most spectacular roads in Montenegro is, no doubt, the Sedlo pass route from Piva Lake to Zabljak. The road, althoug narrow, is completely paved now and when you travel off-season, the silence – and beauty – of nature is absolute.
An update of this article was posted on June 27, 2018, see: Durmitor: the Sedlo Pass Route in springtime
We made the trip late in August, in an extremely dry period. From the road Nikšić – Plužine, we followed the sign "Durmitor" on the right side. The road winded up steeply through a labyrinth of small tunnels. We stopped the camper several times, enjoying the breathtaking views of the blue-green Piva Lake.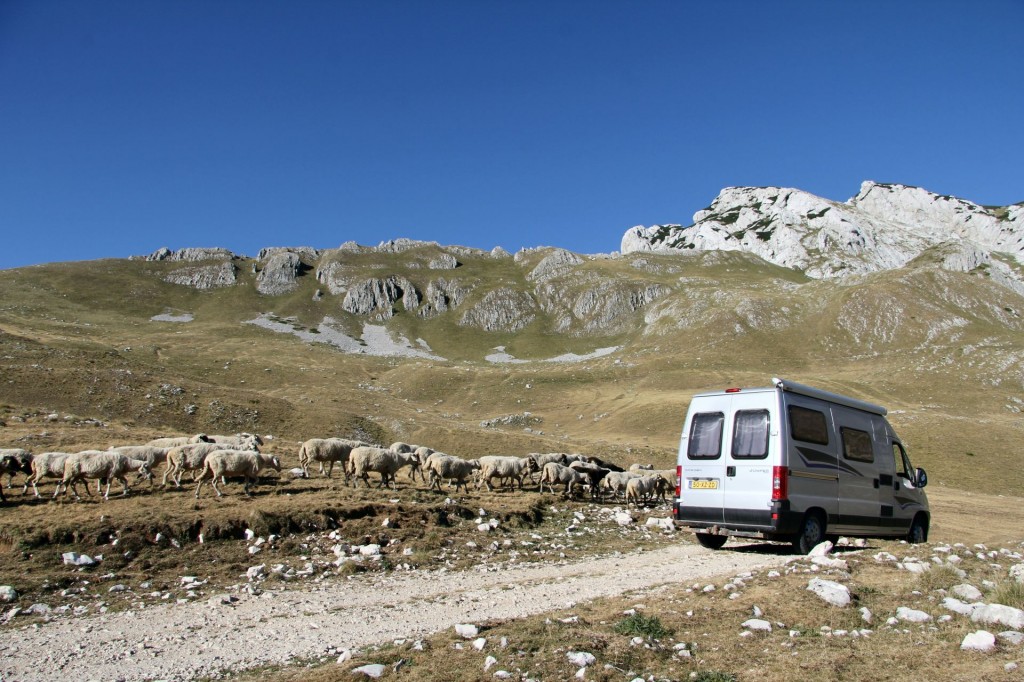 Passing through the village of Trsa we saw that tourism has started to develop in this part of Durmitor, too. Taverns with terraces, small wooden huts for hikers, horses and bikes for tourists ….. And then again: pure nature, an overwhelming landscape that makes you believe that you are just a tiny particle of the Universe.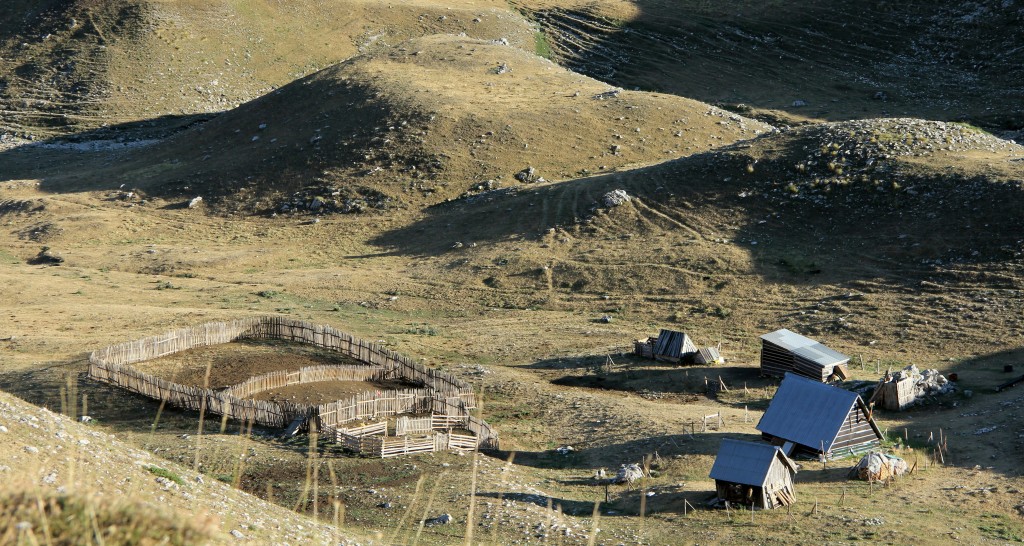 The southern side of Durmitor is treeless and covered by grass, which was now dry and yellow, but also this part – together with the blue sky and grey-white rocks – turned out to be an attractive place for photographers.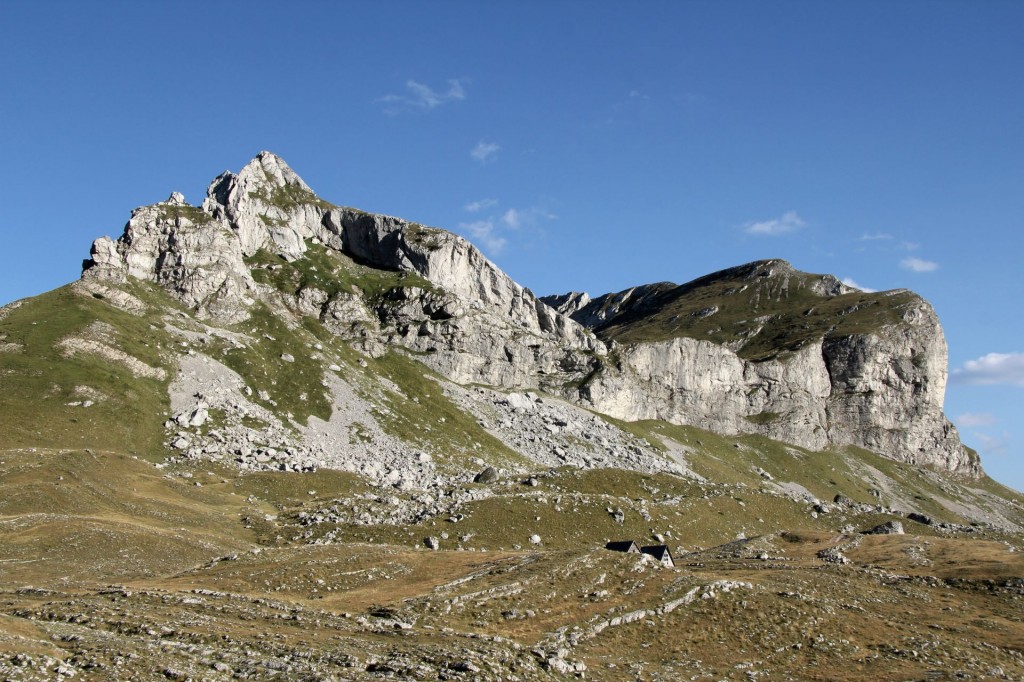 On our way to the Sedlo pass, we passed Todorov Do and Dobri Do. Shepherds were trying to find some food for their flocks on the extensive plains, but the grass was burnt by the sun. We enjoyed the view of the picturesque limestone cliffs and rocks of which the most impressive were Prutaš (2393 m) (prut = twig in the local language) and Sedlena Greda (2227 m), which really looks like an enormous saddle (sedlo = saddle). Local people sometimes call it "Saddle of God".

The rock layers were sometimes completely vertical, sometimes twisted, and we got the impression that a huge hand had just played with them as if they were made of clay. We had the feeling as if we were in a kind of natural amphitheater and could not stop admiring these natural phenomena.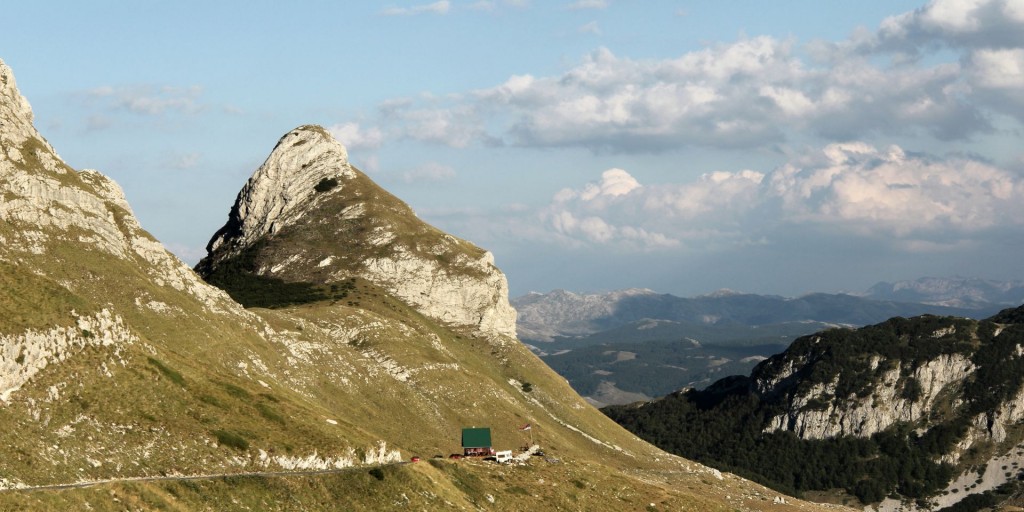 The Sedlo pass (1907 m) is the highest road pass in Montenegro and offers a phantastic view on both sides. Reaching the top of the pass, we enjoyed the panorama of the Valovito Jezero lake and the sharp rock of Stožina (1905 m). The picturesque road led us further to the village of Virak and over the undulating Jezerska Površ plateau to Žabljak.