If you are interested in making a war monument tour through one of the most authentic and picturesque areas in the central part of the country, I give you an absolute insider tip: explore Old Montenegro, the mountainous area between Virpazar and the old Royal Capital of Cetinje.
This area covers a part of Crmnička Nahija and Riječka Nahija, two of the four tribe communities belonging to Old Montenegro, or, in other words, to the territory of the principality of Montenegro as recognized by the Berlin Congress in 1878.
You will discover a region with beautiful old villages, spectacular panorama roads and awesome karst landscapes. Most tourists have never visited this area. No wonder: the roads, although covered with asphalt, are narrow, full of potholes and rather dangerous, as there are no protection rails. The region is hardly accessible in winter, very hot and dry in summer, but spring and autumn are the seasons that offer exceptional beauties to the small number of adventurous tourists, who know where to find it.
En route, you will see war monuments and memorial plaques in almost each village, as this is a region where many battles were fought during World War II.
When you start the tour in Podgorica, the total distance is around 100 km or 2.5 hours (see the map below – the war monuments are marked with numbers). Take the direction to Virpazar and you will soon see the first war monument on this route.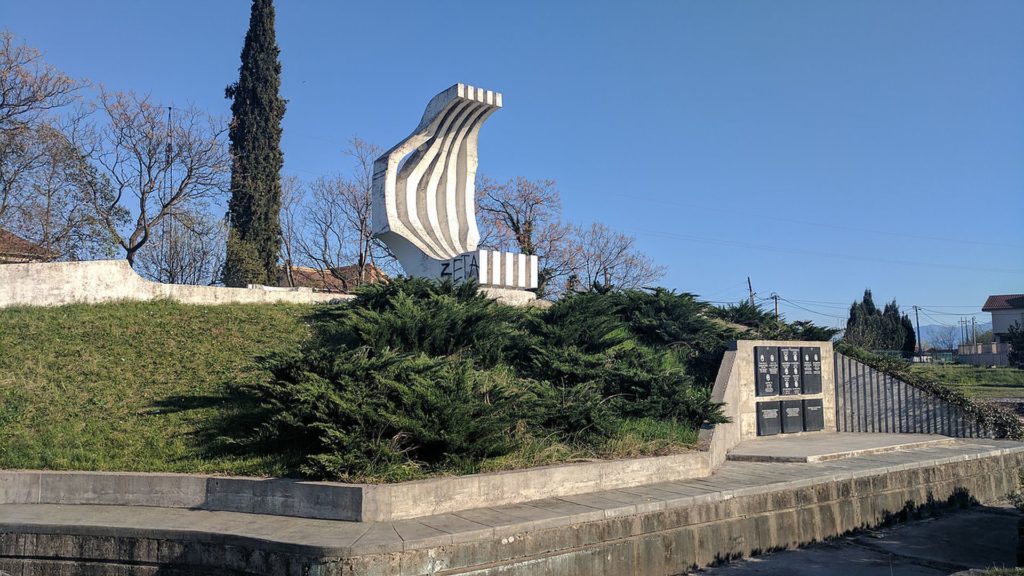 1. Golubovci
In Golubovci (junction to Plavnica), on the left side of the road, is a big memorial complex with a prominent war monument dedicated to the fighters fallen in World War II (photo: CDM). It was designed by Tupa Vukotić and erected in 1974. For more information see https://www.spomenikdatabase.org/golubovci.
Continue to the charming village of Virpazar on Skadar Lake. You can enter the center by turning left and passing the railroad.
2. Virpazar
In the center of Virpazar is a war monument dedicated to the fallen fighters from this region (photo: CDM). The monument sits atop a giant rock and overlooks the central square and the bridge. Not many people know that the Montenegrins started their resistance against the German occupiers just here, in 1941.
Now leave Virpazar and turn left. Head upwards following the old road to Petrovac until you arrive at a junction with the signpost Donji Brčeli. Turn right to Old Montenegro – this is where the adventure begins!
3. Donji Brčeli
After you pass an old monastery from the 15th century, called Sveti Nikola, you will see two war memorials at a short distance, both on the right side of the road. A simple memorial complex made of stone and concrete, with a big plaque, reminds the reader (in Cyrillic) of the Partisan attack on the local prison in 1943, where 150 patriots were liberated and 95 enemies killed. A few hundred meters ahead, in a dark forest, is the memorial plaque of national hero Branko Đonović, who was born here.
After a few kilometers you will arrive at a junction with many different signposts. If you want to experience a real adventure – the narrow asphalt road is in bad shape – you can make a small detour and follow the direction of Podgor and Građani: turn right and continue 5 km through a breathtaking landscape amidst vineyards and forests to the village of
4. Građani
The center of this authentic mountain village consists of a church and a small memorial complex made of stone. The stone wall with a commemorative plaque and the busts of two national war heroes, Đuro Petrović and Đoko Vojvodić, always carries the Montenegrin flag.
Take the same road back and turn right at the above described junction. Another 3.5 km further is a picturesque village called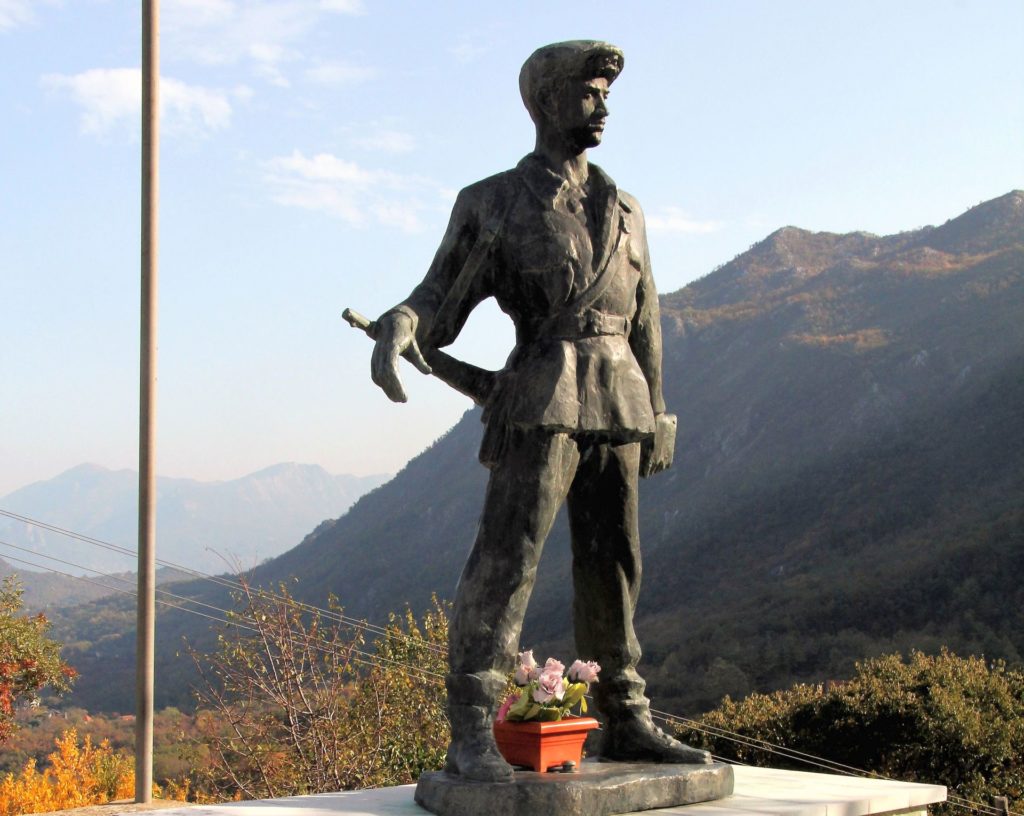 5. Utrg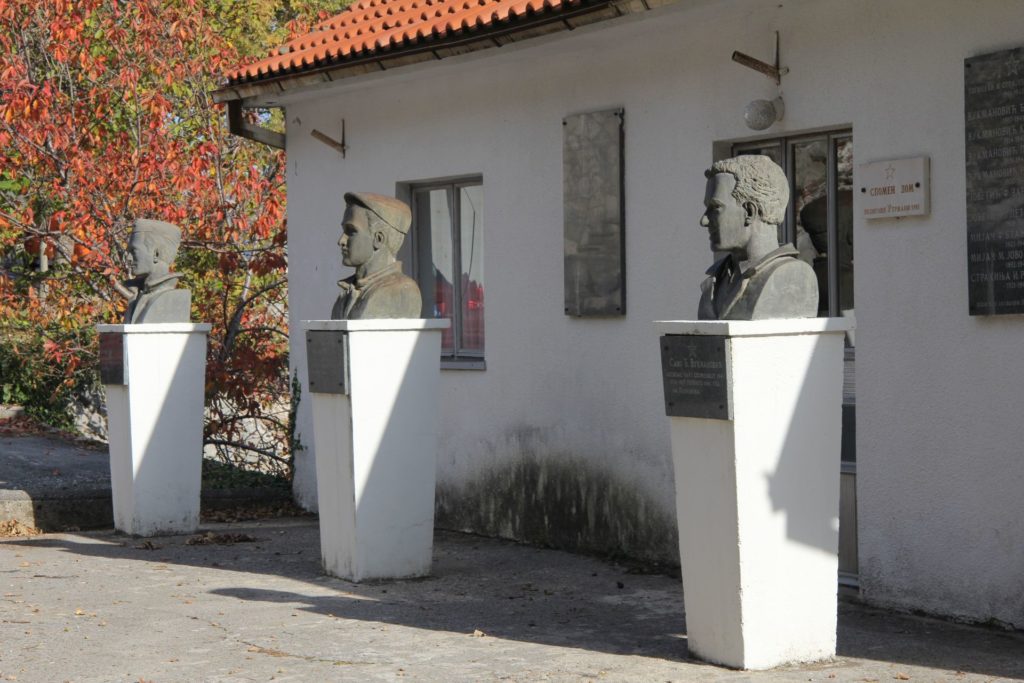 Utrg is a weird place, at least for tourists: close to a panorama point in the form of a "guvno" (threshing floor) is a big statue of a young partisan soldier with a gun, proudly standing on his pedestal. In front of the nearby administrative building are four commemorative busts of famous Partisans who were born here. The fifth one has got a special place: it is Svetoyar Vukmanović Tempo, national hero, writer and state official in Tito's Yugoslavia. If you want to learn more about the history of this place, read my post about Utrg.
Continue the tour, but don't get lost! The next junction is confusing, as the signposts are improvised: don't turn left to the village of Višnjica (a dead end), but right (direction CT →) and then turn right once more uphill at the next junction. You will arrive in a beautiful village, Prekornica, part of Riječka Nahija, where the villagers have reconstructed their houses in traditional style.
The road leads you further upwards and when you arrive at a rough mountain pass, you will have a spectacular view of the surrounding mountains.
And then another "hidden nook": the village of
6. Ljubotinj,
whose center consists of a church with graveyard, a dilapidated school building, an abandoned administrative building and a huge war monument. This monument in socialist-realistic style is one of the few memorials in this region that is well-maintained. No wonder, even fourteen Partisan fighters were born here.
Turn right at the next junction and enjoy the picturesque landscapes and panoramas until you arrive in another spectacular village:
7. Rijeka Crnojevića
This fishermen's village on Skadar Lake with its famous old bridge is getting more and more popular during the summer months, but looks quite abandoned off-season. At the very beginning of the village, near the "new bridge", is a prominent war monument dedicated to the fallen fighters from this region in World War II (photo: CDM).
Time for a break? There are several restaurants where you can eat fresh trout or carp, but it is also nice to have a cup of coffee at the open-air terrace near the old bridge.
Continue to Podgorica, but don't forget to make a last stop at Pavlova Strana, one of the most famous views of Skadar Lake. And if you are still in the mood while you are approaching Podgorica, visit the memorial complex of
8. Barutana
For detailed information see my blog post about the forgotten monuments of Podgorica
I hope you will enjoy this war monument tour trough Old Montenegro that combines Montenegrin history, untouched nature and authentic rural architecture in a unique way. Experience unknown Montenegro – you will not regret it!