There was a special reason for us to spend last Christmas in Southern Italy, with a specific accent on Lecce in Apulia (Puglia). Not so strange, as most expats in Montenegro miss the typical atmosphere that goes together with the (Catholic) Christmas time. Orthodox Christmas in Montenegro is celebrated two weeks later in a completely different way.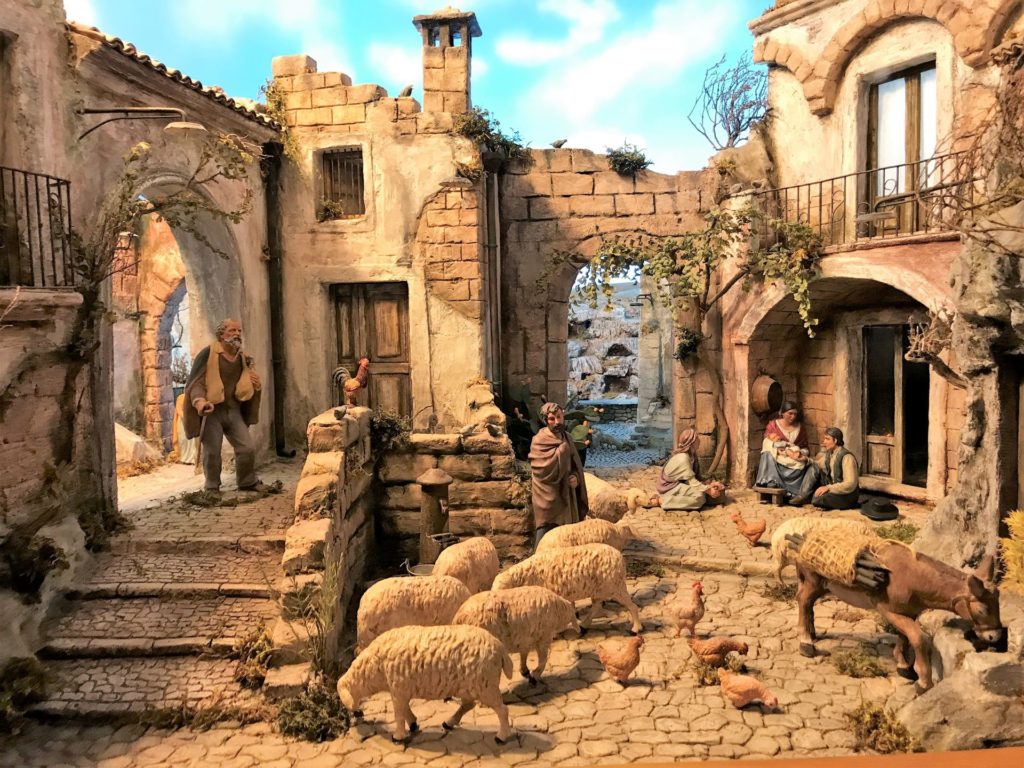 Why Puglia, why Lecce? First of all, Puglia is 'the Land of the Presepe'; Presepe means crib or Nativity scene. And second, Lecce is famous for its sublime baroque architecture and fantastic public Christmas decorations, which look like a fairytale amongst all those ornate churches and palaces in the historic center.
In Italy, the Presepe does not just consist of Baby Jesus, Mary, Joseph and the Three Wise Men. No, it often happens that a complete traditional shepherd village is created around the manger itself, with plenty of figures and details in baroque style. This is especially true for Lecce, where Nativity scenes are made of 'Cartapesta' (papier mâché), also called 'The Poor Man's Marble'. In the Carlo V Castle, a magnificent fortification in the heart of Lecce, we visited a fair that was dedicated to figures and accessories to be used for the construction of most elaborate Presepi. We were amazed at the wonderful art and craft of all those different 'puppi' (human figures), animals, shops, houses and even complete landscapes…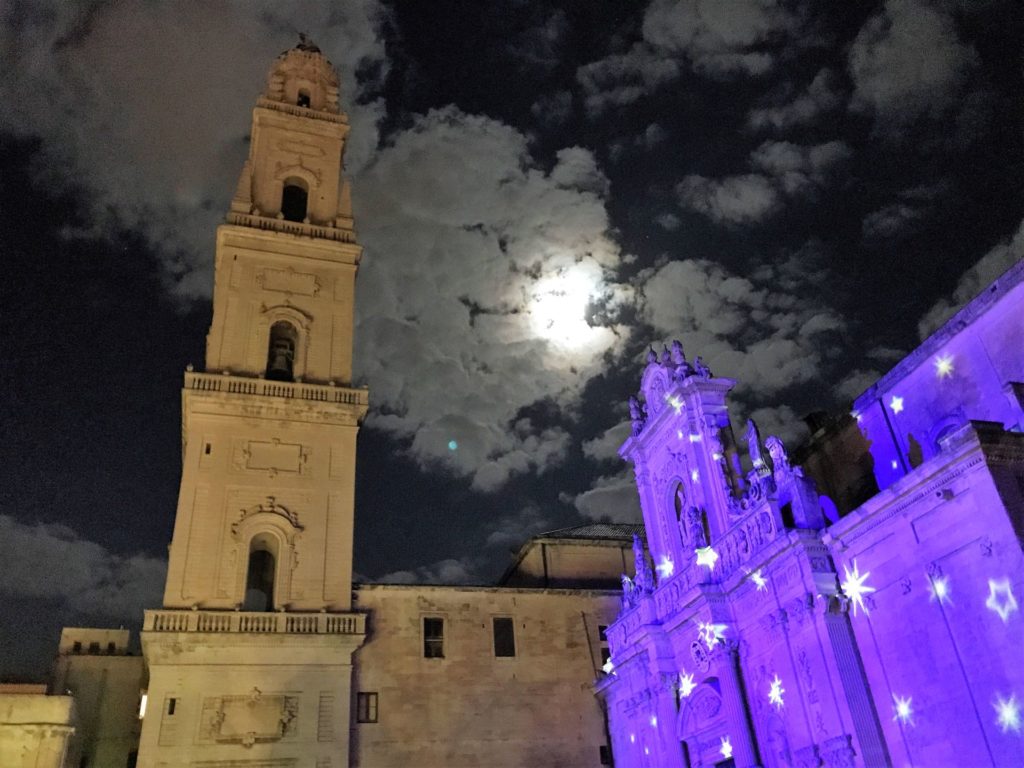 But Lecce is not only famous for its traditional handicrafts. The city is full of baroque monuments, made of a soft limestone called 'tufo' or volcanic tuff. The historic center is rather compact, which makes it a great place for wandering around and exploring palaces and churches with incredibly intricate decorations.
We had booked a room – for a very reasonable price – in Palato Pozzi, a B&B in an old baroque palace in the historic center of the town. What a surprise to get a huge, 5 m high room with classic furniture, old Persian carpets, big paintings and even a real piano! No luxury, but an unforgettable experience…
In the evening, Lecce turned out to be a magic place. Our attention was attracted to the crowds on Piazza del Duomo, the Cathedral Square. An enormous Nativity scene had been built in the middle of the square, surrounded by beautiful ornate buildings. The baroque cathedral (originally built in 1144) with the 70 m tall bell tower was lighted with blue colors and falling stars. Many people were standing around, caught by the magical atmosphere.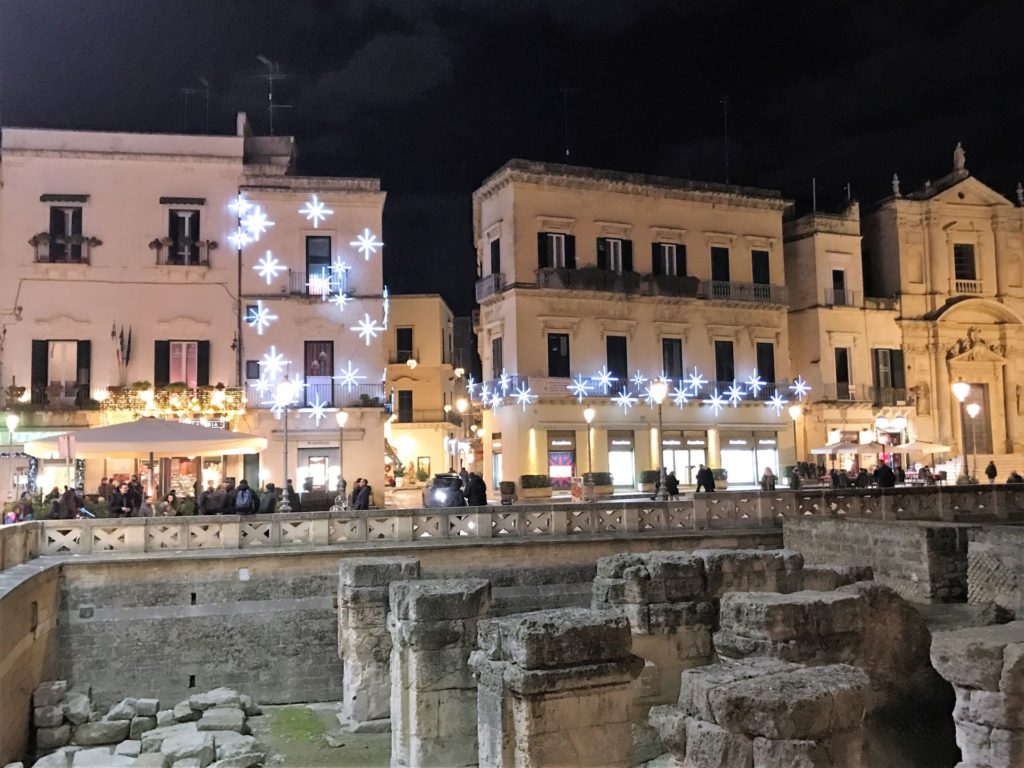 The Roman amphitheatre, built in the 2nd century BC, and the city's main square, Piazza Sant'Oronzo, were also lighted with stars, a Christmas tree and even artificial snow.
Next morning we took our time for a walk around the narrow streets and a visit of the churches: Basilica di Santa Croce, Santa Chiara, Santa Irene and San Matteo – all of them excessively decorated in 17-century baroque style with dozens of cherubs dispersed over the columns, niches and ceilings. We admired the four city gates and had a great lunch in a typical 'Trattoria': Antipasto della Casa and, of course, 'orechiette', a traditional hand-made pasta.
In the afternoon we had enough time to make an excursion to Gallipoli, a charming old town on an island, accessible via a 16th-century bridge. The port with its colorful boats was quite picturesque and the town itself offered a wonderful opportunity for a walk through the narrow streets and piazzas.

Driving back through the endless olive groves of Puglia, we could look back on a wonderful Christmas stay.
Finally, I can only say: Visit Puglia, a region that is – fortunately – still rather unknown with foreign tourists.
Puglia, a region where you can still see old Fiats 500 in the alleyways and greet an old woman making pasta in front of her small apartment on the ground-floor of a centuries-old building.
Puglia, where you can make the most beautiful photos of colorful fishing boats returning to the port of Gallipoli, where you can admire the white houses of Ostuni or the traditional 'Trulli' in Alberobello. But that will be the topic of my next blog post!