Although I have visited the town of Alberobello several times, I wanted to explore it once more, but this time off-season. No wonder, a visit of Alberobello is one of the 'must-see' items on the itinerary of all tourists traveling to Puglia, which means that this 'town of trulli' is overcrowded during the summer season.
Why is Alberobello so popular? First of all, because this little town (10,000 inhabitants) resembles an architectural fantasy land, as it is constructed almost entirely of trulli, i.e. unique dwellings built in a peculiar architectural style that cannot be found in any other region or country. That is also the reason that Alberobello has been designated as UNESCO World Heritage Site since 1996.
As we had planned to spend a week in Puglia during the Christmas period, we thought it a good idea to make a trip to Alberobello and complete our experience with an overnight stay in an original trullo B&B.
What we did not expect was a town overflowing with Italian tourists celebrating their Christmas holidays. The 'trulli' were lighted in various bright colors – purple, blue, red – and there was a big Christmas market on the main square with loud music and people eating fast food. Souvenir shops were open, restaurants were full of Italian families with noisy children.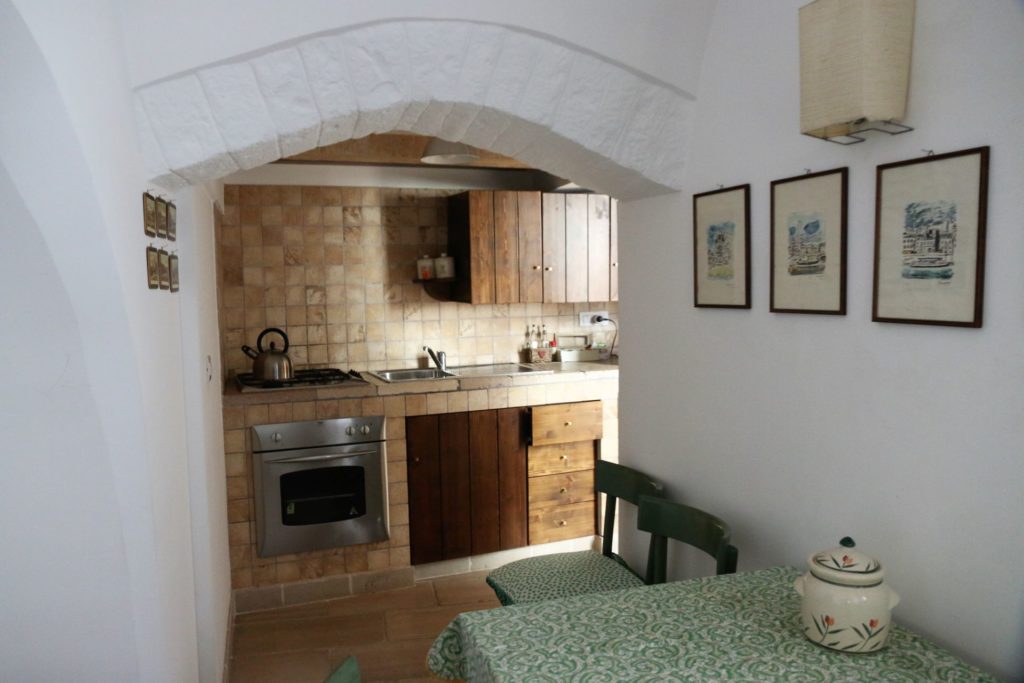 We found accommodation in a small trullo next to the pedestrian zone. Its interior looked like a fairy-tale and it was equipped with everything we needed. Fortunately, we could quietly wander the peaceful trulli-lined streets next morning without being disturbed by flocks of tourists.
What is a 'trullo'?
A 'trullo' (the plural form is 'trulli') is a dry-stone circular dwelling with a conical roof. Most walls are whitewashed, while the roofs are dark grey. Many of them are decorated with white mystical signs on the roof tiles or symbolic sandstone pinnacles on the top of the cone.  Trulli are sometimes combined in a complex of communicating houses, all of different shape and size.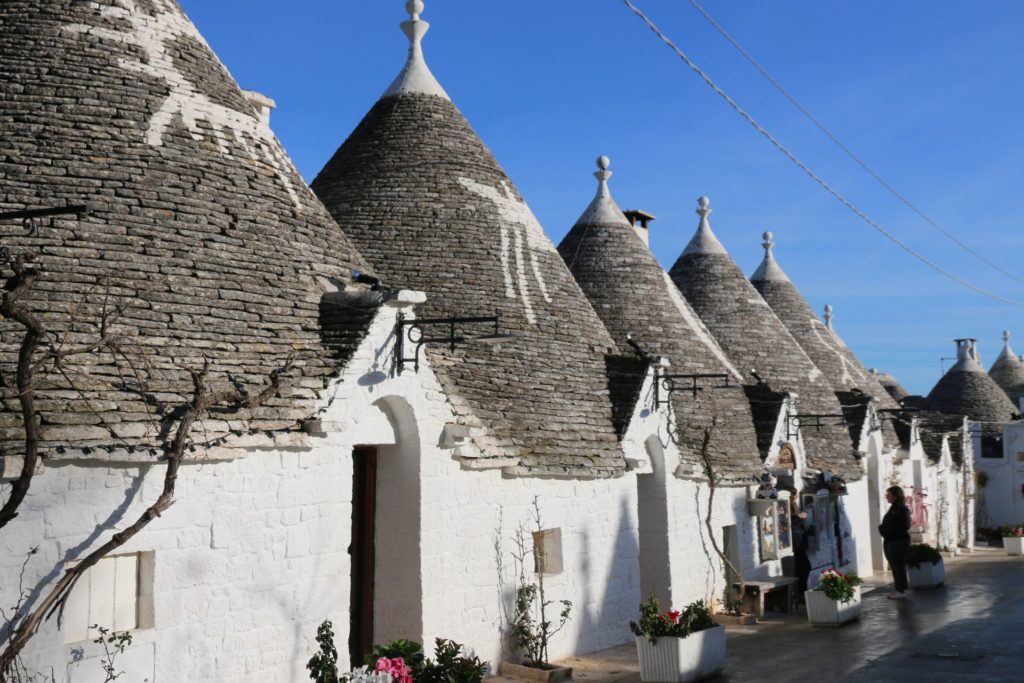 Archaeological studies have confirmed that tribes from the Middle East settled, in prehistoric times, in this region. They used to erect tombs to bury their dead and 'specchie' (tower-like mounds of stone) to shelter from bad weather. The trullo must be considered a direct derivation of these constructions.
I was fascinated with the symbols and signs on the roofs. Some of them seemed to have a religious background (cross), but I also saw drawings of horoscopes and pagan symbols, which represented animals and human motifs connected with superstition. They used to be painted on the roofs for protection. The multi-shaped pinnacles lodged on the top of the cones also had a primitive origin; they were often linked to the worship of the sun.
What to see in Alberobello?
Alberobello is conveniently small and you can visit all its highlights in one long walk. Most of the trulli are located in two quarters, Monti and Aia Piccola.
We started our walking tour with the museum of Trullo Sovrano, the only one with two floors that gives you an idea how people lived in the trulli. The building dates back to the year 1700 and was obviously built by a rich family.
The most popular place for tourists is the Rione Monti district. Walking uphill, you can see over 1,000 trulli built all over the hill. This part of the town is dotted with souvenir shops, but also very photogenic and charming. Enter the shops, even if you don't buy anything; it is nice to see their interior. In this quarter you can also find the Siamese Trullo, an ancient double trullo with an almost elliptic base. It is considered to be one of the earliest buildings in the district.
On the top of the hill is St. Antonio's Church, also built in trulli-style, although it is made of bricks and mortar. It was built in 1926 and its main vault is characterized by a 25 meters high trullo sided by two small trulli and another one placed on the bell tower. An interesting construction indeed!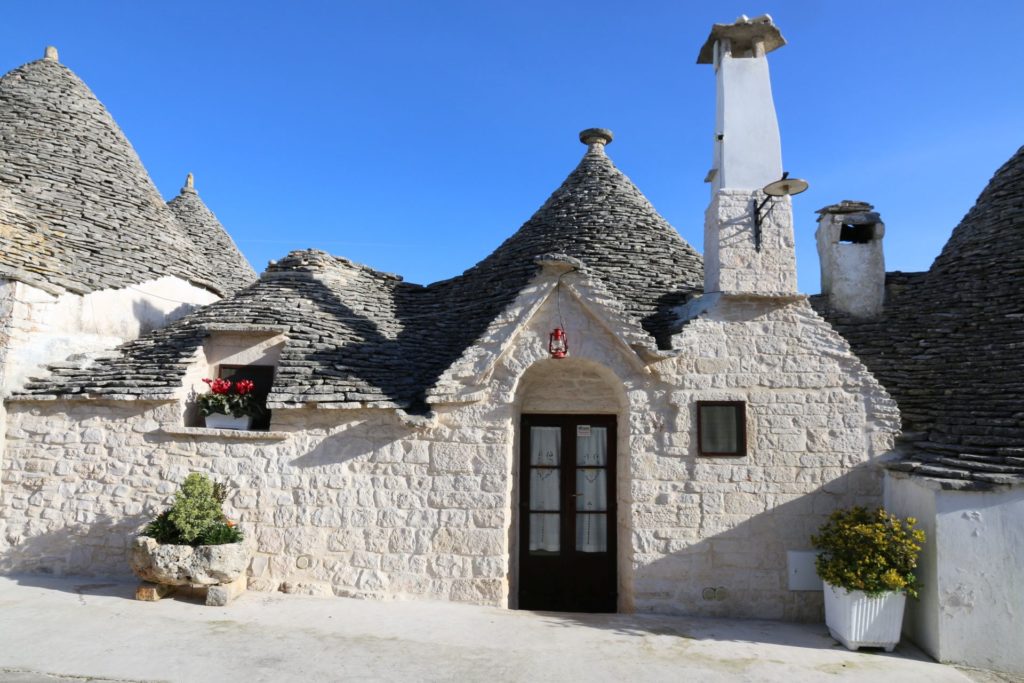 But we got the best impression walking through the narrow streets of the Aia Piccola district. This quarter gives a more authentic sense of what it means to live amongst these unique dwellings. Many of the 400-500 trulli here are used as residential houses, and there are much less commercial activities. This was the area where we enjoyed each house, each street corner. We saw colorful flowers in pots and red lanterns hanging above picturesque doors. Relaxed local people were quietly talking in front of their houses and cats were strolling through the narrow streets. From here, we had a wonderful view over the clustered roofs of the trulli-town.
Although Alberobello is a touristy and crowdy destination, I can assure you: a visit of this little trulli-town is a unique experience that should not be missed during a road trip through Puglia!