Many cities in Europe are famous for their prominent statues and monuments. Just think about Skopje, Lviv (Ukraine) or Barcelona. But also Podgorica is trying to become more attractive by erecting new sculptures on public places.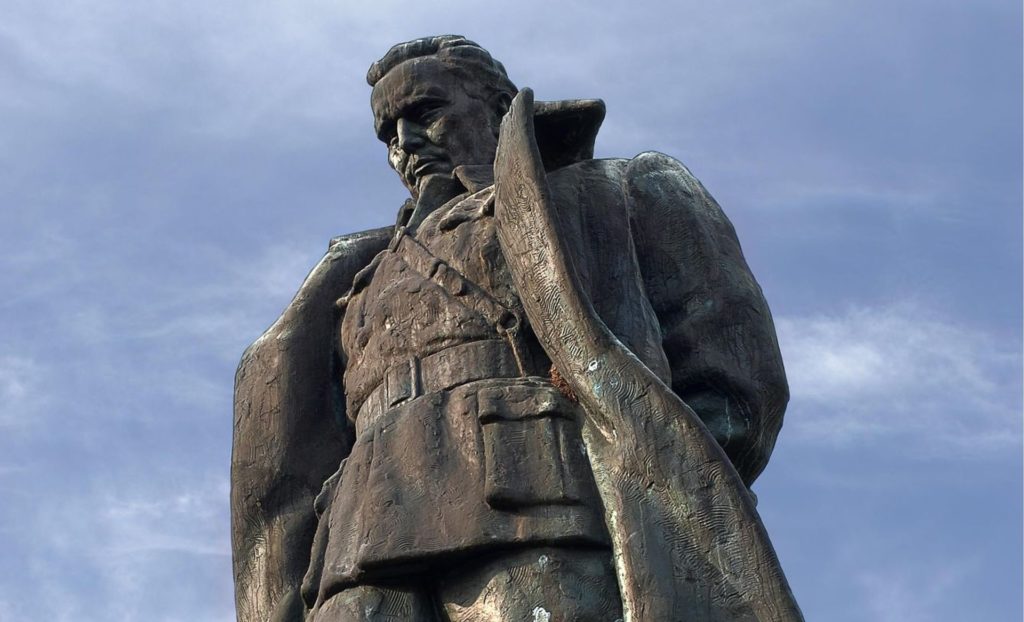 Recently, the capital city of Montenegro has declared that it will support the initiative to erect a statue to the late Yugoslav president Josip Broz Tito, whose name – Titograd it has proudly carried for 47 years. Political parties may be divided about this proposal, but many citizens have no dilemma: Podgorica – Tito's city – needs a monument to Tito. The question is: should an existing sculpture be used, like for instance the impressive and huge statue made by Antun Augustinčić (see photo), or would a new statue be more appropriate? And where would it be placed? No doubt, there will be many discussions about this topic before Podgorica gets its own Tito statue.
But there are also other prominent statues in Podgorica, first of all in the city center. In my opinion, the most beautiful sculpture is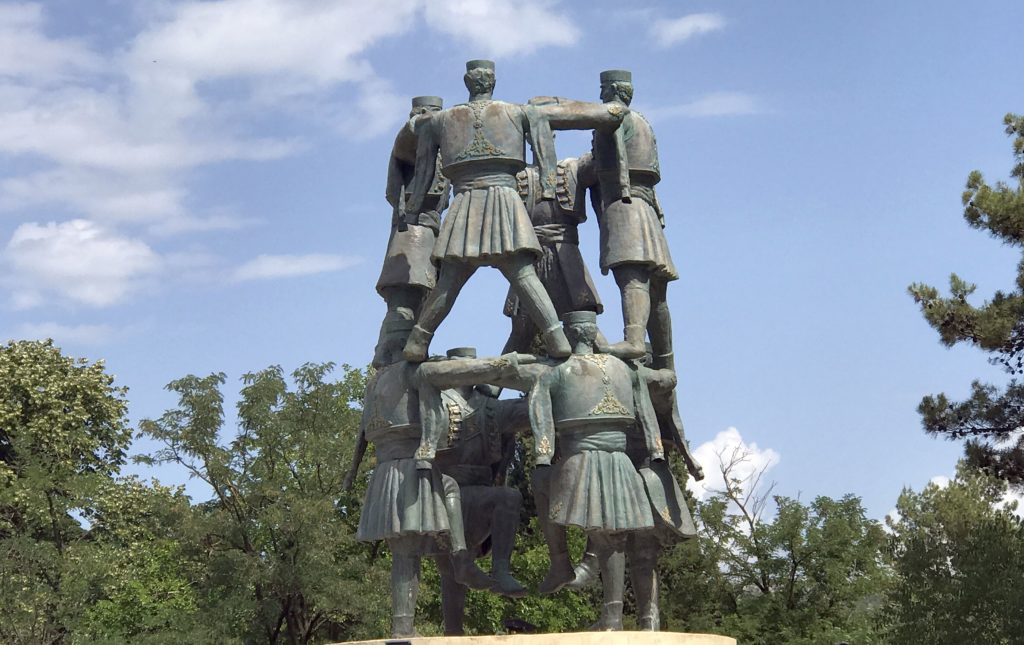 'Crnogorsko Oro'
This statue is a symbol of Montenegrin culture and tradition, as the 'crnogorsko oro' (Montenegrin Oro) is a national dance from the Montenegrin mountains that imitates the dance of eagles. The monument, made of polyester by sculptor Mitar Živković, is more than five meters high and consists of eight sculptures. It was erected in 2016 at the celebration of the 10th anniversary of Montenegro's independence and it can be found in the park behind the Old Government Building (Bulevar Svetog Petra Cetinjskog), close to the Morača river
Within a short time, 'Oro' has become one of the symbols of Podgorica. Visitors are touched by the beauty of the Montenegrin national costumes and the dignity of the dancers. I think that it is particularly impressive at night, when it is illuminated from all sides.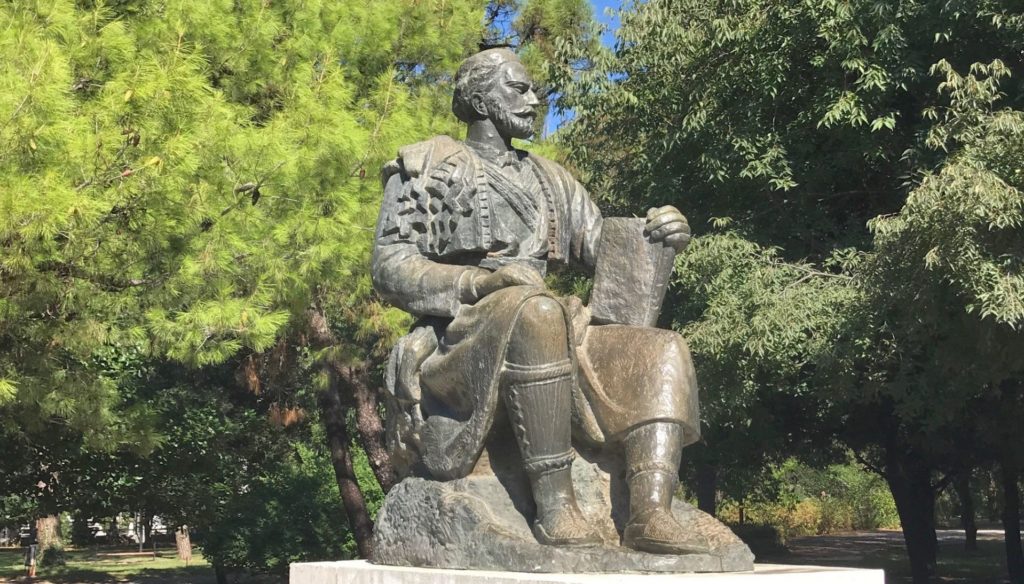 Those who like to walk through the parks along the Morača river will find several historic statues. One of them is the
Statue of Petar II Petrović Njegoš
This statue, a work of Sreten Stojanović, was erected in 1956 in a nice park in the center of the town, between the Morača River and the Montenegrin National Theatre. It was the first sculpture placed in post-war Podgorica. By the way, two other casts of this statue can be found in Belgrade and Rome (Villa Borghese).
Prince-bishop Njegoš was one of the most famous historic personalities of Montenegro; he was first of all known as poet and philosopher, but he was also an enlightened ruler and a great warrior.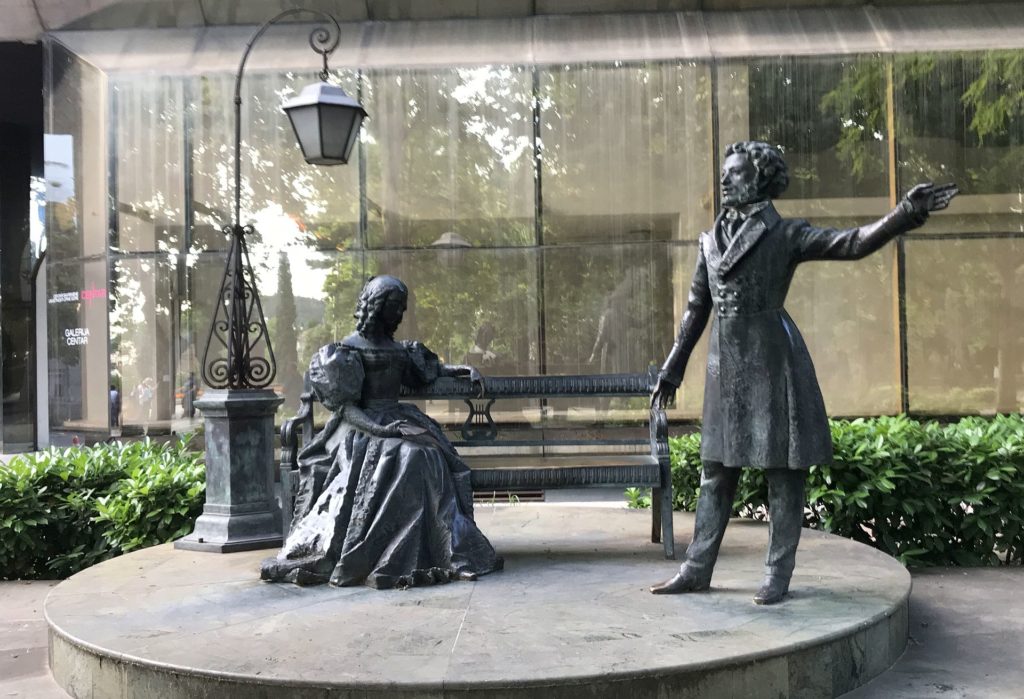 In the very center of the city is an impressive group of sculptures that should not be missed:
Statue dedicated to Alexander S. Pushkin and his wife Natalija N. Gonchareva.
This bronze statue is located on the corner of Njegoševa street, close to the Blaža Jovanovića Bridge. It shows the famous Russian poet Pushkin reading poetry to his wife Natalija Gonchareva. The statue, a gift from the Moscow, was erected in 2002. For what reason? First of all, as a sign of friendship between Russia and Montenegro and their cooperation in various fields. Moreover, Pushkin wrote the poem 'Bonaparte and the Montenegrins'. The first verse sounds: 'Montenegrins, what does it mean?' asked Bonaparte; Is it true? – an evil tribe that doesn't fear my power!
Cultural events relating to the International Day of the Russian Language (June 6th) are organized each year in front of the Pushkin statue and all Russian tourist groups include a visit of the monument in their program.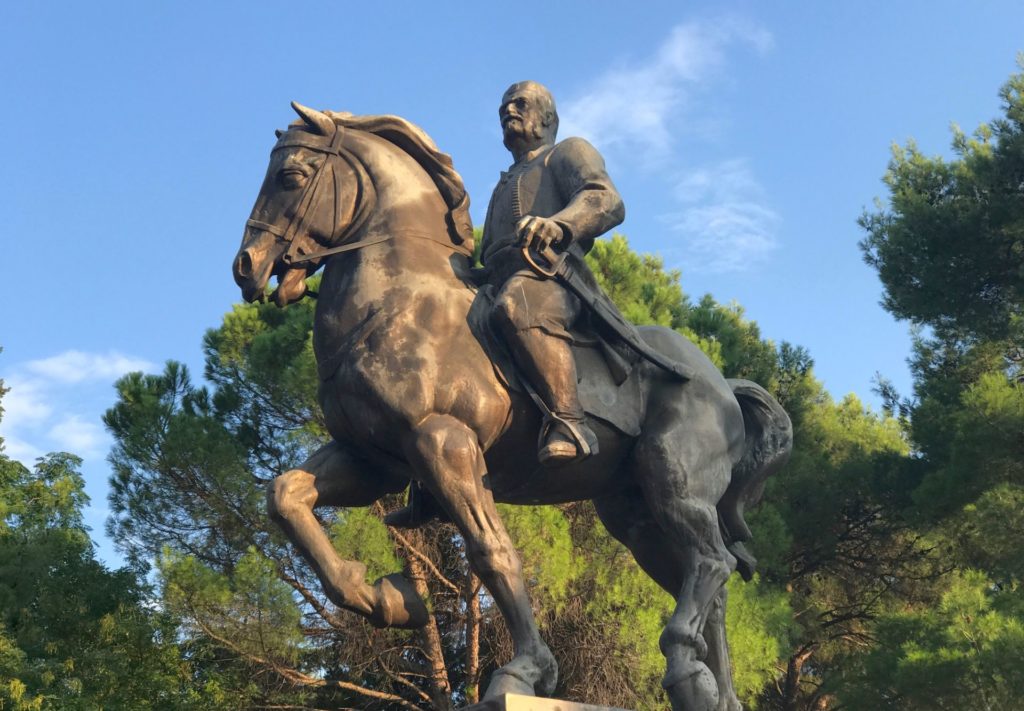 Almost all Montenegrin towns have a statue of King Nikola I. I think that Podgorica's statue of the last Montenegrin ruler is certainly not the most beautiful one, but it can be found at one of the most central places in town. It has replaced an earlier sculpture called 'Bathing Woman', which was removed as the public found her "fat and ugly" and not typical for a Montenegrin woman.
King Nikola's Statue
This fairly standard heroic equestrian monument is located within King's Park and it was the first monument in the capital city that was dedicated to Prince and King Nikola I Petrović Njegoš, the seventh and last ruler of this Montenegrin dynasty. It was erected in 2006, on the Day of Podgorica's Liberation in WWII, on a plateau opposite to the national Parliament.
Statue of Vladimir Vysotsky
Many tourists who visit Podgorica do not understand why the statue of Vladimir Vysotsky was erected at such a beautiful spot on the bank of the Morača river, between the Moscow and Millennium bridges. No wonder, Vysotsky is almost unknown outside the borders of the former Soviet Union. So let me explain it:
Vysotsky was a famous Russian poet, songwriter and singer who died young from an overdose. And his connection with Montenegro? Well, he resided in Podgorica while working on a film for the former Titograd TV station and he expressed his love for Montenegro in his poem 'For the Montenegrins' saying: 'I regret in this life that I don't have two roots, and as my second homeland I cannot name Montenegro'.
Vysotsky's bronze statue was erected in 2004 as a gift of the Russian capital. It is quite interesting, as it shows the singer standing surrounded by a steel frame. He holds a guitar and his left arm is up in the air, as if waving goodbye. The skull at his feet looks like it's been dropped there by Hamlet: it is indeed intended to be an allusion to the last stage role Vysotsky played before his death in 1980.
In the new part of the city, in front of Podgorica's University is the
Statue of Sveti Petar Cetinjski
This bronze monument, almost 7 meters tall, is dedicated to the metropolitan and ruler of Montenegro Petar I Petrović Njegoš or Sveti Petar Cetinjski (in translation: St. Peter of Cetinje), who is considered to be the founder of modern Montenegro. The statue, one of the most impressive ones in Podgorica, was made by Nenad Šoškić. It was placed in 2006.
The park in front of the university building is a very popular resting place for students and it is also often used for concerts in the open air.
There are many other statues of prominent historic personalities all around Podgorica, but – due to its beautiful position in front of the City Hall – I would like to mention one of them, the
Statue of Marko Miljanov
Marko Miljanov was born in 1833 in Medun. He got famous as leader of the Kuči clan, and later as a Montenegrin general and writer. Although he was illiterate like most of his countrymen, he learned to write when he was 50 years old. He died in 1901. An interesting museum dedicated to him and his work can be found in the village of Medun.
There are many prominent statues all over Podgorica. You can find them in parks, on street corners, in front of public buildings. Roaming through Podgorica, you will also discover odd sculptures, forgotten monuments, hidden bas reliefs and funny statues. Some of them will be described in my next blog post!