Although we have crisscrossed Albania many times, there are still a lot of hidden secrets to be discovered. One of them is Himarë, a place that offers great sandy beaches, but also historical sights like Himarë Fasht (Old Himarë) and the fortress of Porto Palermo .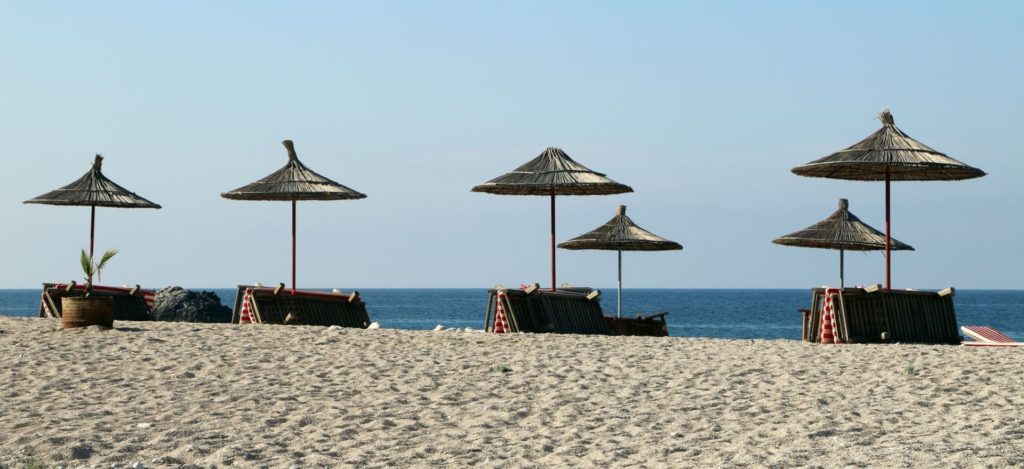 Last spring we took a few days to visit some unknown places along the Albanian Coast. May and June are the most beautiful months to visit Albania: warm and sunny weather, hardly any cars on the road (what a difference with the month of August when the traffic on the highways is totally congested!), empty beaches and campsites that are only visited by a few adventure lovers travelling the Balkans.
In Himarë we found a charming campsite, Camping Kranea, directly on the sandy Livadh Beach. Relaxing under the olive trees we saw, high up in the hills, the old castle of Himarë Fshat – Old Himarë. The first inhabitants of this castle were the Illyrians. Many conquerors followed; in 1797 it was the Ottoman Ali Pasha Tepelena who occupied Himarë until his death in 1822.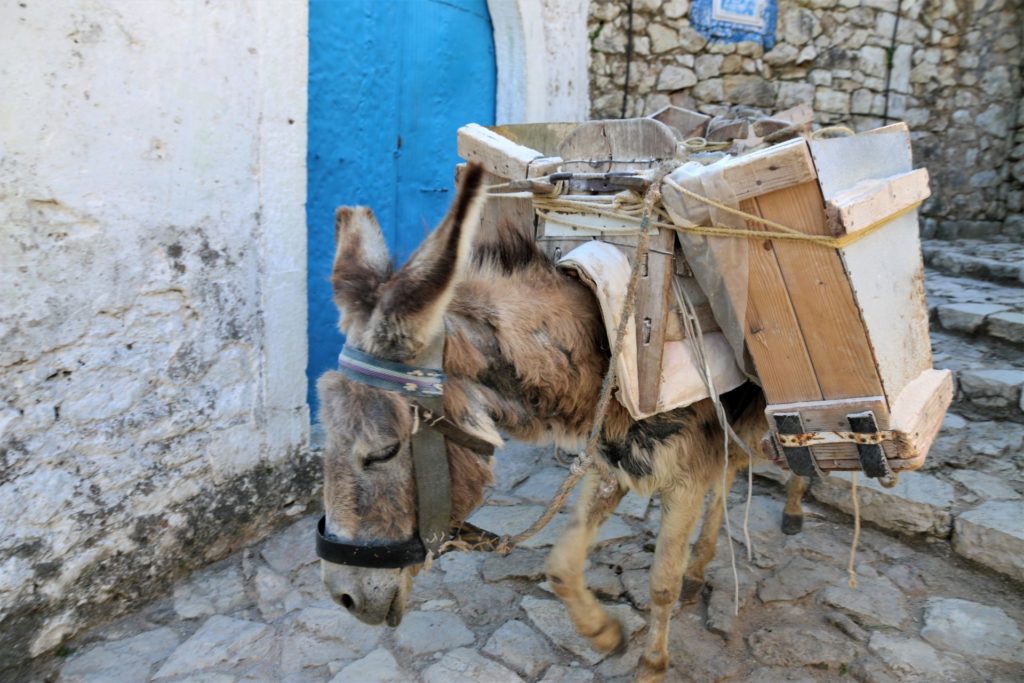 It was not difficult to get to the old castle. On the main road southwards, shortly before turning right to the center, in a curve, we saw a small white church where we could park our camper. Obviously, we were not the only tourists, as two buses were waiting along the road. We took the old stone stairs to the 145 m high castle-fortress and on our way upwards, we passed a friendly woman with two donkeys, carrying heavy loads, i.e. building materials, uphill – not an easy job I think!
The narrow stairs led us through arched passages and between dilapidated houses to the summit of the hill, where goats were roaming through the ruins. The castle offered a spectacular view of the coastline.
Fortunately, the old village of Himarë has not been spoiled by new buildings. Most of the stone houses lie in ruins, but some of them are being reconstructed and restored with UNESCO support.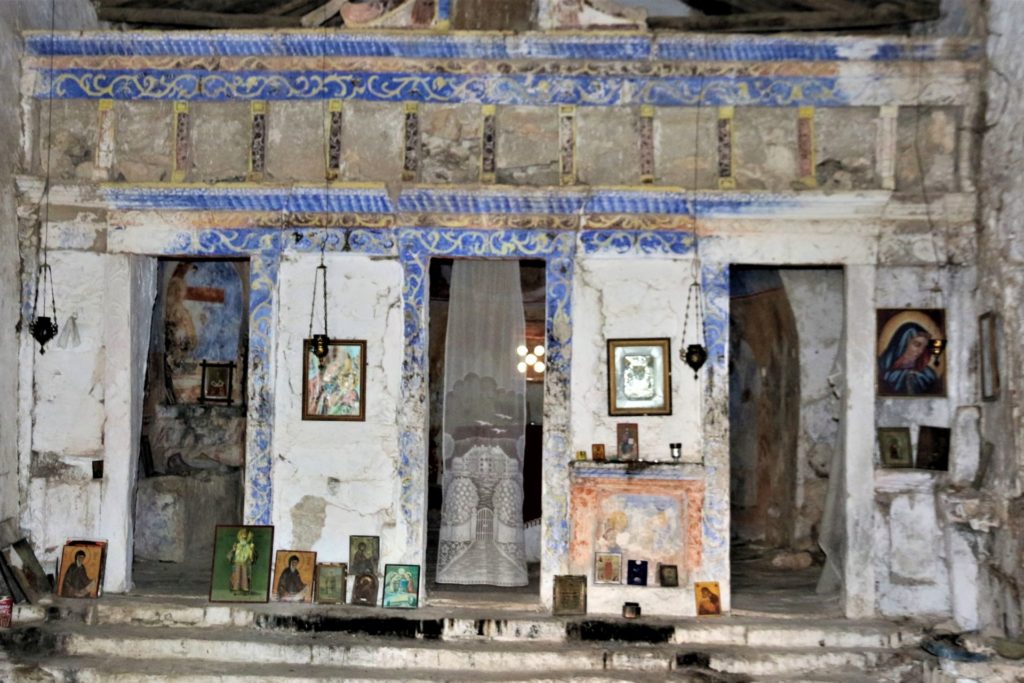 It is unbelievable that there were more than 60 churches in Himarë in the Middle Ages. Now we discovered two ruined churches only. One of them had a fantastic iconostasis with blue ceramic tiles and old, faded frescoes behind the altar. Another church showed a faded and damaged fresco of the Holy Virgin, which could hardly be recognized. These two churches were not protected at all; I really hope that nobody will damage their beautiful interior!
Travelling further along the coastal road we soon arrived at Porto Palermo. In the bay of Porto Palermo is a peninsula with the interesting and well-preserved fortress of Ali Pasha Tepelena. He constructed, on the remnants of a Venetian ruin, a defense fortress in triangular form.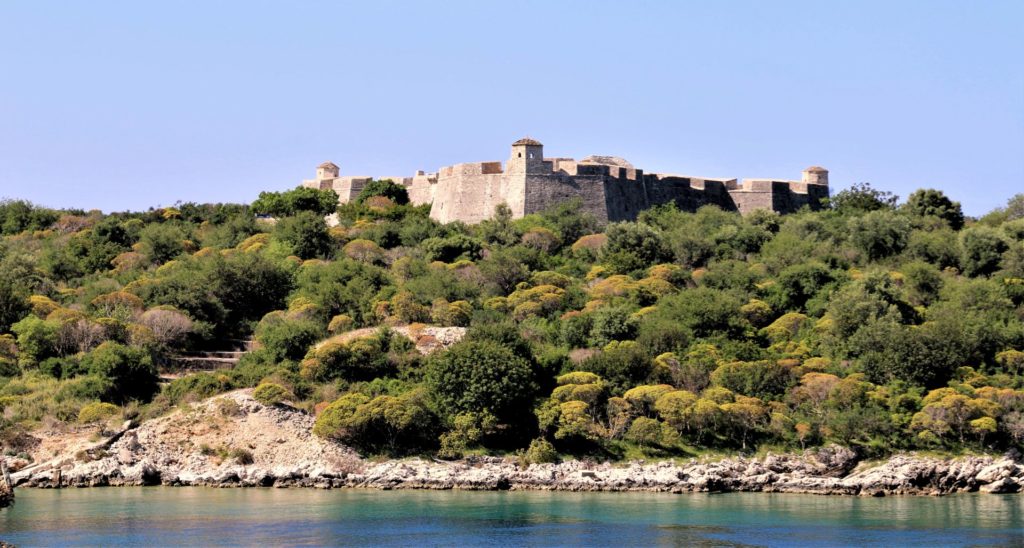 The fortress (entrance 100 lek) was really worth a visit. Although there was no light inside (take a battery with you!!), we could recognize living rooms and bedrooms, a kitchen and a prison. Climbing the stairs inside we arrived at the roof of the hexagonal building with a small chapel, from where we had a beautiful view.
Opposite to the peninsula, we had a cup of coffee in a traditional restaurant, surrounded by agava fields. A perfect place for a rest!
It is hard to understand that this area has not been discovered by building developers yet, as the sea is crystal clear and nature is wonderful!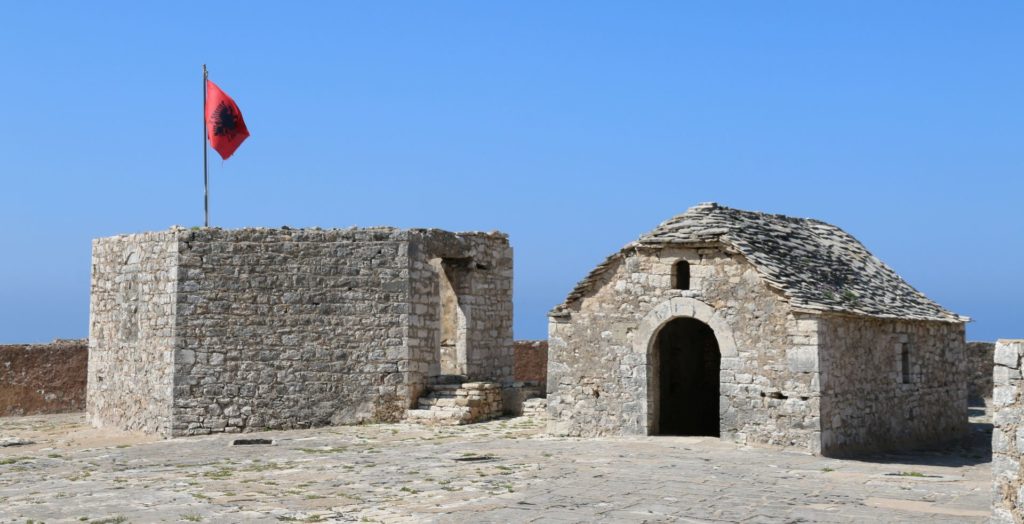 But of course, there is a reason: Porto Palermo has been blocked as military area until 1997, as it was used by the Albanian army as a U-boat shelter. The construction of this 12 m high and 650 m long tunnel started in communist times with Chinese support. Also nowadays the area is used by the army and there are no tourist facilities at all.
Himarë is a tourist resort with many possibilities, as it doesn't only offer wonderful sandy beaches, but also an interesting history, spectacular natural beauties and a transparent blue sea. And the fact that the inhabitants of Himarë consider themselves Greeks and speak the Greek language gives a special touch to this area.