As camping tourism is getting more and more popular, specialized tour operators in the European Union are interested in organizing round trips for campers and caravans through the Balkans. This is also a good opportunity for Montenegro to improve its existing campsites and establish new ones, not only on the Adriatic Coast but also in the northern part of the country. Although this tourism segment is not particularly promoted by the state institutions, private initiative is giving fresh impetus to the development of this type of traveling.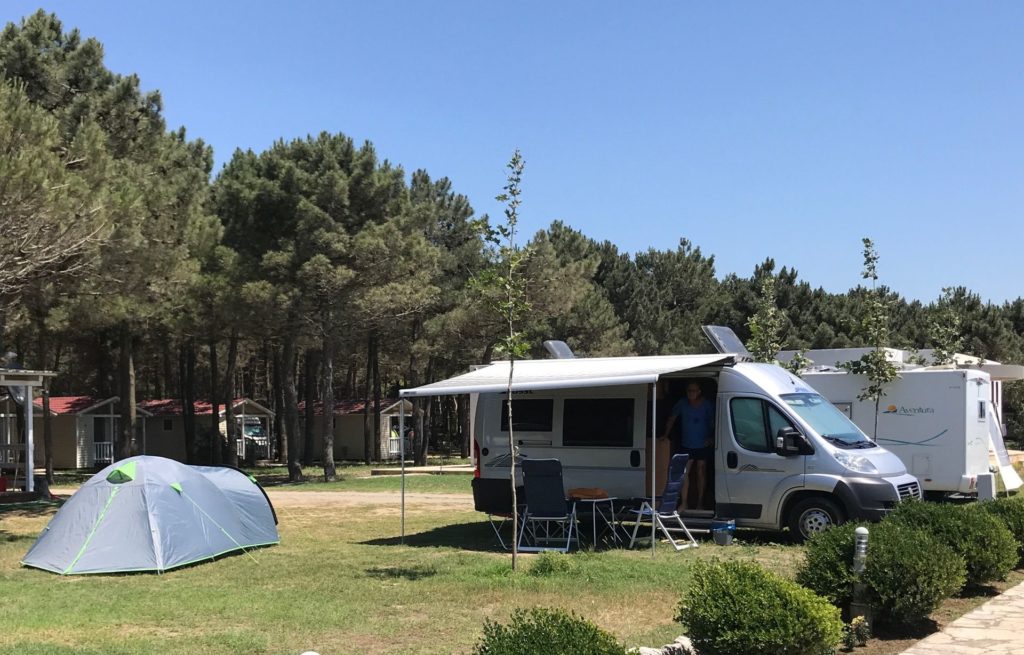 Traveling with our camper van through Montenegro, we have discovered several campsites that have improved or are improving their quality, investing a lot of money in infrastructure, sanitary facilities, etc. And of course, I would like to share my experience with you. There are 7 campsites I can recommend, both for groups and individual camping lovers.
Let's start with the coast:
Camping Safari Beach – Ulcinj
Recently we spent a weekend with my grandchildren at this campsite on Velika Plaža (Long Beach) near Ulcinj. And it was a pleasant surprise! This camping is a perfect place for families with children, as it is located next to the large sandy beach. For those who prefer a shady pitch, there is place enough in the pine forest. Sanitary facilities are brand new and clean, electricity and WiFi are provided and enjoying the sunset on the terrace of the traditional restaurant is a special experience.
Info: www.safaribeach.me/eng
Camping Maslina – Buljarica
I visited this campsite in Buljarica (2 km from Petrovac) a few weeks ago. Camper groups like this camping because of its size and its ideal position in a peaceful area among old olive trees. Vegetation is abundant, sanitary facilities are always clean, electricity and WiFi are available. Local bars and restaurants can be found along the beach (300 m).
Info: campingmaslina.com
This is absolutely my favorite camping on the Montenegrin Coast! It has a unique position in the village of Morinj, between Kotor and Herceg Novi. As its borders on the Morinj river, it is cool during hot summer days. Duško, the owner, is a very friendly and helpful person, sanitary facilities are clean, electricity and Wifi are available. The campsite is close to the beach (20 m), various bars and restaurants, supermarket and local bus station. A perfect place to spend a few days and explore the Bay of Kotor!
Info: www.naluka.montenegro.com
Camping Zlokovic – Bijela
This well-known campsite in Bijela (Bay of Kotor) has direct access to the beach and offers a relaxed stay among shady olive trees. Sanitary facilities are excellent, the hospitable owner and his family make you feel at home and the scenery is magnificent. Close to a good local restaurant. Electricity and WiFi available.
Info: www.campingzlokovic.com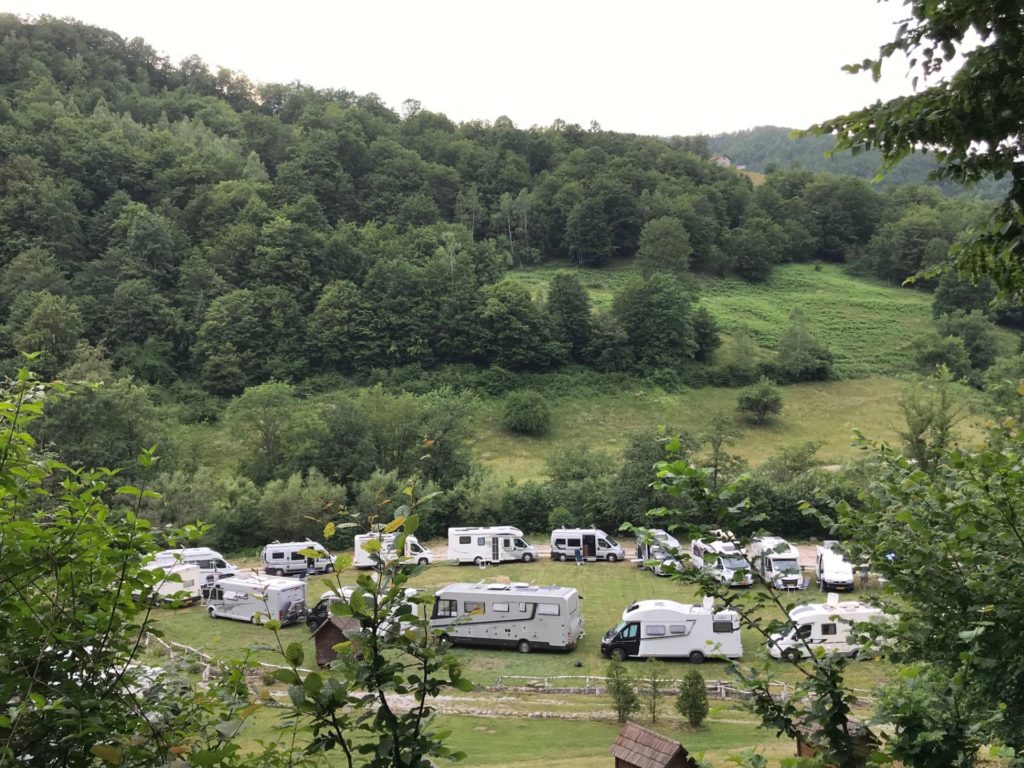 Although the camping season in the mountains of Montenegro is rather short, you can also find a few nice campsites in and around Durmitor and Biogradska Gora National Parks.
This complex in Tomaševo is one of the campsites we often visit, both with camper groups and individually. It is located about 15 km from Bijelo Polje in the mountains and has a swimming pool and a nice traditional restaurant. Its magnificent position and attractive "ethno" appearance are unique in North Montenegro. The campsite offers many possibilities for active camper tourists: jeep excursions in the surroundings, rafting, fly-fishing, hiking and mountain biking. But it is also a great resting place where you can listen to the chirping of the birds and the murmuring of water streams around the campground. Clean sanitary facilities.
Info: Etno-selo Vuković – phone +382/67-607-381 or by Facebook
Camping Eko Oaza – Dobrilovina/Mojkovac
Eko Oaza is located in the Tara Canyon, in the green heart of Durmitor National Park. It is a quiet and picturesque place, surrounded by high mountains. Along the Tara river is a narrow path that leads to the Dobrilovina monastery (15 minutes). The owners are very helpful; they can also provide meals in the small restaurant. Good sanitary facilities and electricity (partly provided in wooden cabins).
Info: Eko Oaza – phone +382/69 444 590
Camp Kod Boće – Žabljak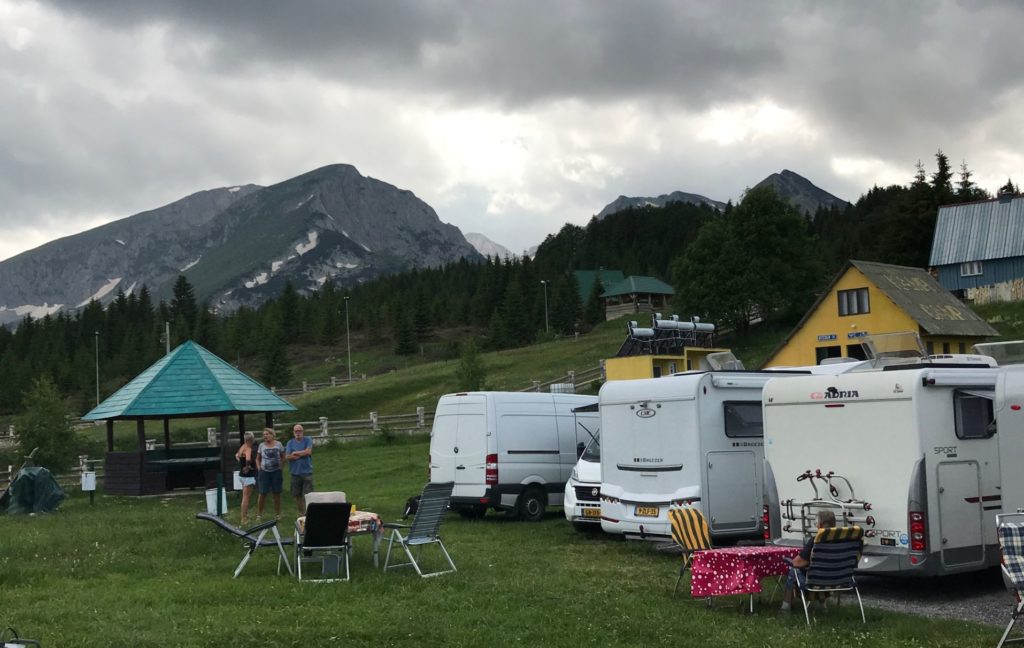 I really like this campsite that is situated 2 km from the centre of Žabljak at an altitude of 1450 m, within the boundaries of Durmitor National Park. The camping is suitable for camper groups (30 pitches) and disposes of good sanitary facilities, a kitchen and dining room, roofed porches, electricity and WiFi. The staff is friendly and can help with the organization of jeep excursions in the surroundings ("Ring around Durmitor").
Info: www.kampkodboce.me
     7a. Camping Ivan Do – Žabljak.
And finally, for those outdoor fans who would like to make hiking tours in Durmitor National Park I would like to recommend this campsite, 2.5 km from Žabljak. Its position near the Black Lake makes it very popular among backpackers and active travelers, who want to explore the surrounding mountains and glacier lakes. It is located on grassy slopes, with a breathtaking view of the highest mountains of the Durmitor massif. Most guests arrive with tents, but there are also some nice pitches around the entrance for small camper vans. Sanitary facilities and electricity are provided.
Info: www.autocamp-ivando.com/en/
I am sure that the responsible persons in Montenegro will get aware of the fact that camping tourism has a great future. A big part of Croatia's revenues in tourism comes from campsites. And when I was in Lake Shkodra Resort (just on the other side of the Montenegrin border at Božaj) two weeks ago, I found it overcrowded… Can you imagine that all 120 pitches of this large campground near Shkodra were occupied, not only by camper and caravan groups but also by individual tourists from all parts of Europe?