Apart from Montenegro, there is another country in the Balkans that is very interesting and attractive for adventurous camper tourists: Albania. During the last decade, many good camping sites have been opened in all parts of Albania. Parking lots or camper sites in front of hotels, restaurants or gas stations are another possibility.
But maybe you would like to go your own way and discover the hidden secrets of Albania. In that case, it might be a real challenge to ask a villager in Albania's hinterland if you may put your camper in his garden or on his land. I am sure, he will invite you for a glass of Raki and a cup of coffee and he will take care of you and your vehicle as if you were his closest relatives.
By the way, Albania is a safe country! So, the expression "adventurous camper tourists" refers, first of all, to the roads. Many of them, especially in the eastern part of Albania, are bumpy, narrow and full of potholes. In these areas you should count on an average speed of 40 km/h only. In other words: although the round trip described in this blog post can be made by most campers, I would recommend big campers to stay on the main roads.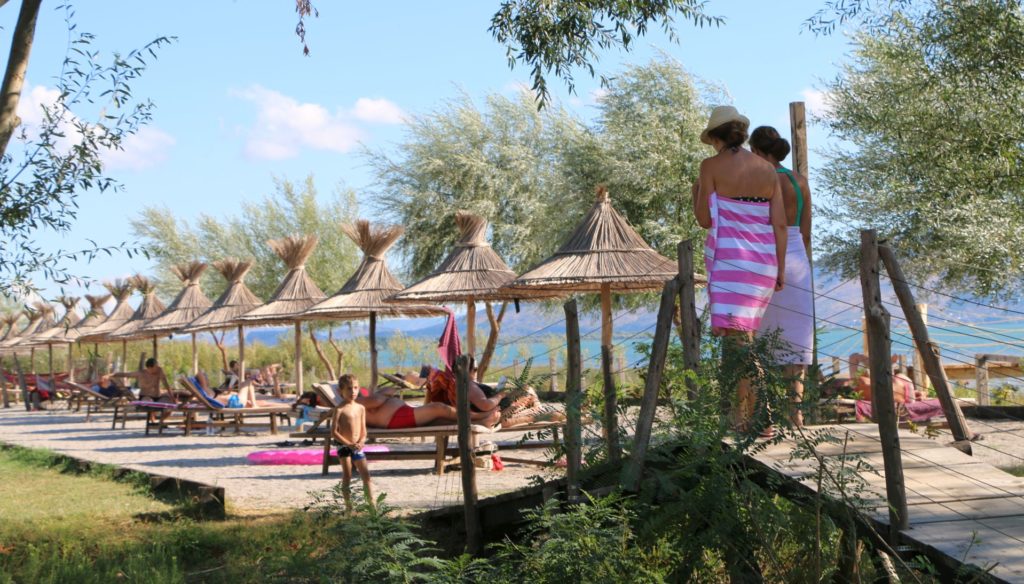 Do you have a smaller camper van, up to 6.5 m long and 2-2.30 m wide? Don't hesitate to make this trip – an entire new world will open up!
The starting and ending point of this tour around Albania is Lake Shkodra Resort, a first-class camping site 7 km north of Shkodra. You can reach this place from three directions: driving along the coast of Montenegro (Muriqan border crossing), passing the Hani Hotit border not far from Montenegro's capital Podgorica or approaching from the north by the fantastic, newly-constructed Kelmend road. I would recommend the last option!
Shkodra and the Albanian Alps
Lake Shkodra Resort is a large and clean camping ground, 7 km north of Shkodra. It offers spacious and shady pitches, good sanitary facilities, an excellent (and cheap) restaurant on the waterfront of Shkodra Lake and a nice private beach. A perfect spot for a few days of relaxation!
From here you can book excursions to the city of Shkodra, Komani Lake and, as a special highlight, the mystic village of Theth in the Albanian Alps.
Tirana
It is not far from Shkodra to Tirana, the vibrant capital of Albania. Let the city surprise you, I am sure that it is not what you expected! There is a campsite 17 km west of Tirana (Camping Tirana), but if you don't plan to stay longer, it is a good option to use the parking lot of Hotel Baron and take a taxi cab to the center.
East Albania
From Tirana you can continue the trip via El Basan and Librazdh to the eastern and south-eastern region of the country. The existing road is rather narrow and bumpy, but a new road is under construction (partly finished). In the vicinity of Pogradec, you can find a few campsites on the banks of Ohrid Lake. For this option see map 1.
If you are not interested in visiting Tirana, I would recommend another road from Shkodra eastwards: the regional road that leads through fantastic landscapes and lonely areas, via Milot, Burrel and Bulqize to Macedonia. Would you like to make a stop inbetween? Then you should spend a night at Camping Oasi alla Chiesa (Oasis at the Church), a campsite in the garden of a catholic monastery, in the village of Suç, 10 km south of Burrel.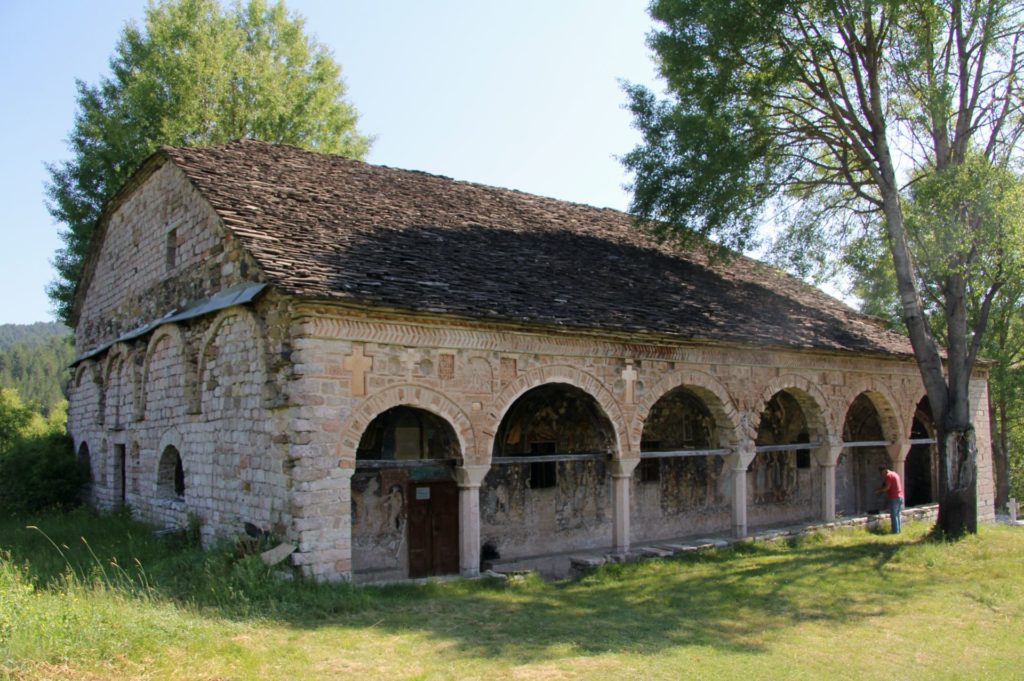 Pass the border near Debar and continue to Kalište, where Camp Rino, on the shore of Ohrid Lake, offers good accommodation and tasty salmon-trout. From here you can visit the well-known UNESCO-protected town of Ohrid. Continue along the west side of Ohrid Lake to Pogradec and further to Korça.For this option see map 2.
South East Albania
Along the road through South East Albania you should not miss Korça with its lively centre and famous Museum of Medieval Art that houses a huge collection of old icons. Make a detour to the old village of Voskopojë, 25 km from Korça, with its interesting farm-churches. A must-see! Do you want to spend the night here? Then you can freely park your camper along one of the quiet village streets …
It is not far from here to Leskovik, where Camping Farma Sotira offers all facilities for a nice stay in the middle of untouched nature. Adventurous camper tourists will now take the road to Gjirokaster via Permet and Tepelene. This road is narrow and not suitable for big campers (they can take a better road through Greece), but it offers breathtaking views and amazing landscapes. Gjirokaster, a UNESCO heritage site with a beautiful old town and impressive castle is absolutely worth a visit. Stay in Camping Gjirokaster with its excellent traditional cuisine and friendly owners.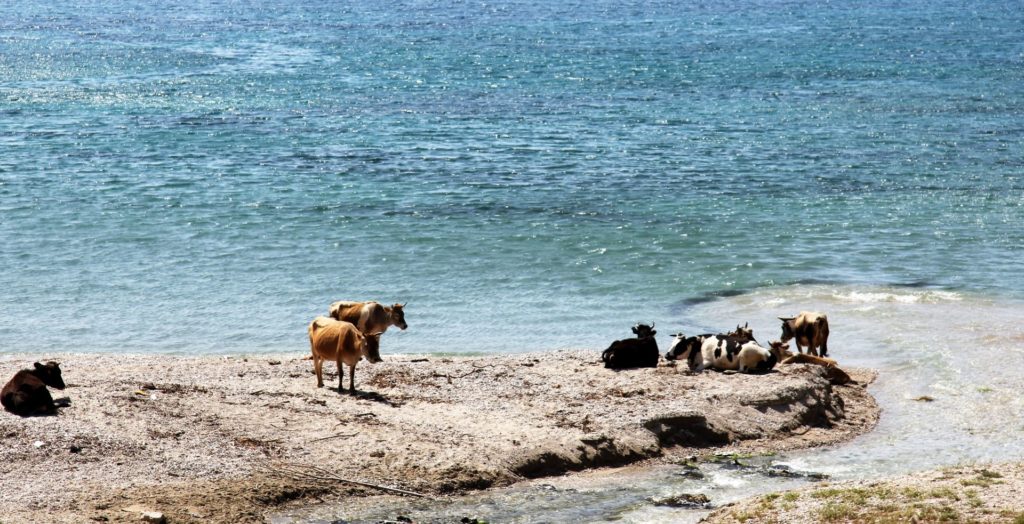 Along the Albanian coast
Now you can discover the Albanian Riviera. Make a stop in Ksamil, e.g. at Camping Sunset, directly above the beach. There is a regular bus line from the campsite  to the archeological site of Butrint, another highlight.
The round tour continues northwards, along the winding coastal road that leads over the Llogara Pass to Vlorë. I can assure you, it is one of the most beautiful roads in Albania! If you are not in a hurry, it might be nice to relax a few days at Camping Himarë, directly on the beach.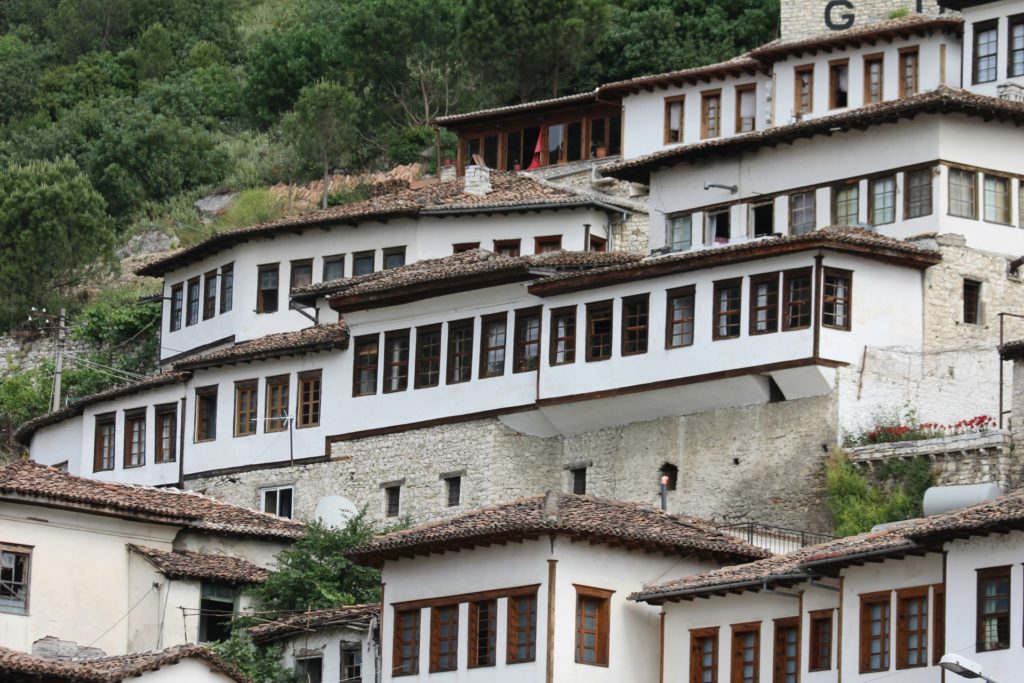 North of Vlorë, you can make a detour and visit Berat, the town with a thousand windows. Berat Caravan Camping in Ura Vajgurore, 10 km of Berat, offers nice accommodation and there is a regular bus line to Berat.
The coastal road back to North Albania is a highway. Visit Durrës, Krujë and Lezhë, until you return to the starting point: Lake Shkodra Resort.
This is just a short description of the highlights Albania has to offer. If you want to learn more, read my posts about the individual places (double-click on the words marked bold and cursive in this text to get the links to the individual blog posts). Discover Albania now, when it is still quiet, authentic and fascinating… You will not regret it!