During our stay in the Netherlands this month, we got the opportunity to make a day trip to Amsterdam and visit the Amsterdam Light Festival. I had not been in Amsterdam for years: in summer I thought it would be too crowded and I could never guess that the city could also be attractive in winter, even without snow.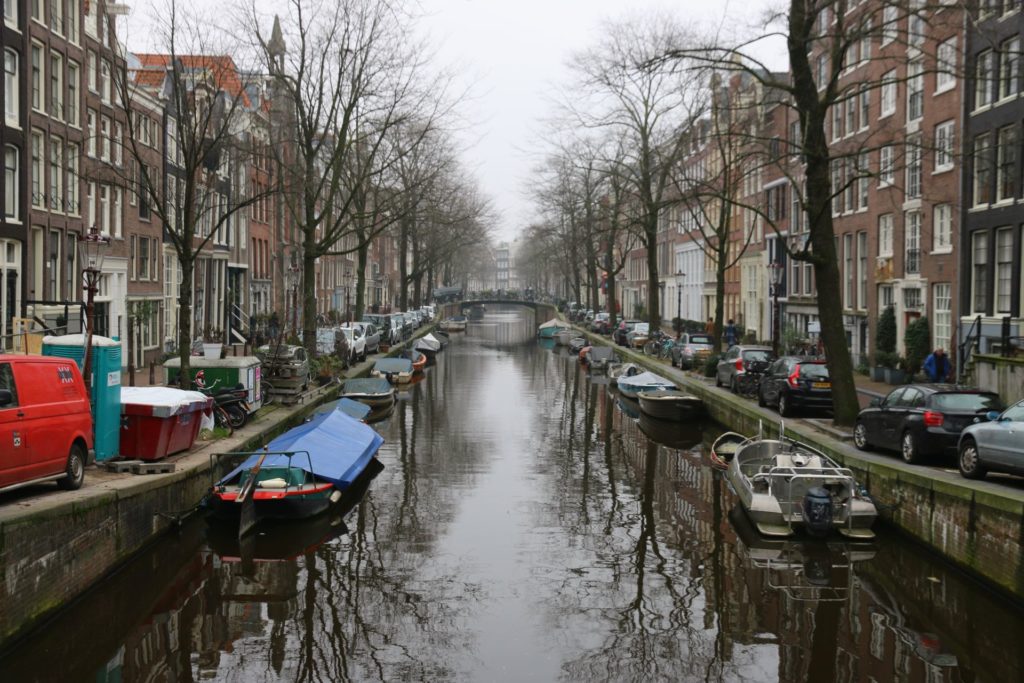 Although the weather was rather dull and grey, we were happy to keep it dry. The famous 'grachten' (canals) didn't look like the pictures of numerous websites and brochures, but they were still romantic and mystic.
We made a 6 km long walking tour through the old center of Amsterdam, called 'Jordaan'. The origin of this name is still unknown: some people think that the name comes from the river of Jordan, other believe that it comes from 'jardin', the French word for garden, as many street names refer to flowers and trees.
Nowadays, Jordaan is the most popular district of the city. It is full of nice shops and cafés. Along the famous Haarlemmerdijk street – one of the most attractive shopping streets in the Netherlands for those who are in search of something special – we saw a lot of nice shops and boutiques, but also cozy cafés and restaurants.
Of course, what struck me most were the 'coffeeshops'. Everybody who has visited Amsterdam knows that a coffeeshop is not an ordinary bar or café. On the contrary, these are the places where you can buy or smoke a joint, buy marihuana seeds or other "gifts" for your friends. Everything is completely legal. We even saw a cheese shop that sold marihuana cheese…
It was hard to imagine that Jordaan has once been a poor workers' district. Nowadays, the inhabitants are rich people, often yuppies and students with wealthy parents. This is not so hard to understand, as the houses are really picturesque in this part of the city. Many of them were renovated or reconstructed and old warehouses were transformed into first-class apartments.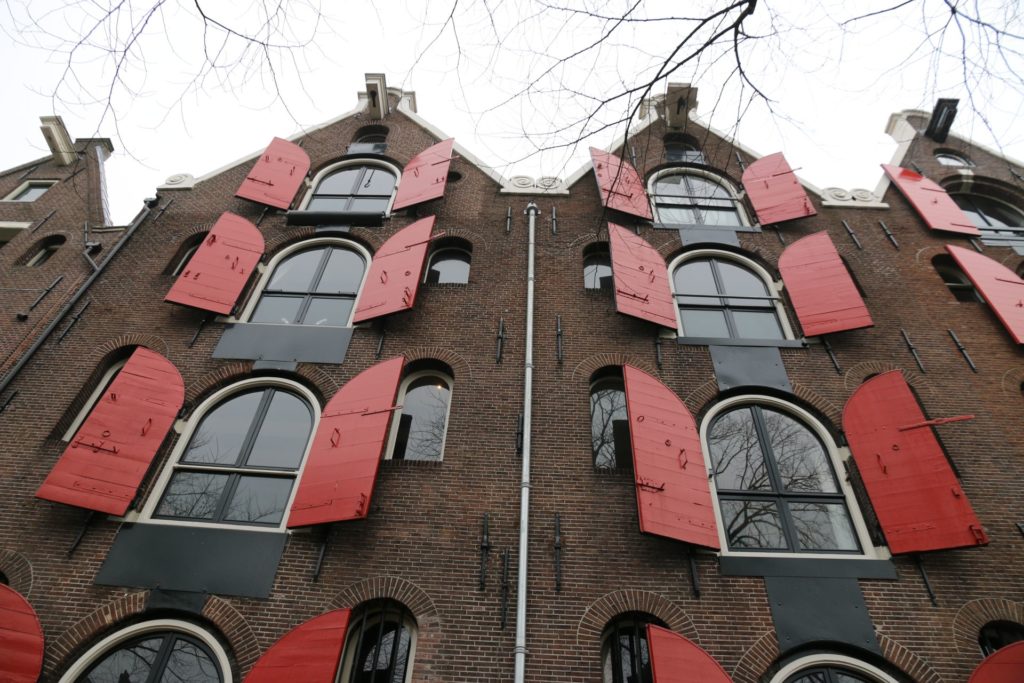 Enjoying a cup of coffee in an authentic Dutch 'bruin café' (in translation 'brown pub', due to the dark wood and the smoky atmosphere) offered the possibility to talk to the owner, a real 'Amsterdammer' who could easily be recognized by his accent. It is a fact that these people are extremely open, friendly and tolerant – no wonder, more than half of Amsterdam's population are foreigners.
It was crowded in front of the house where Anne Frank wrote her famous diary. Although tickets are available online only, this museum is one of the most popular tourist attractions of Amsterdam. Passing by the Westerkerk church, we saw the famous 'Homomonument' that commemorates all gay men and lesbian women who have been subjected to persecution because of their homosexuality. I don't think you will find such monuments in the Balkans!
The dark set in, the lights in the canal houses went on – Dutch people rarely use curtains – and it was time to pass to the most important event of the day: Amsterdam Light Festival. This winter outdoor festival returns each year to illuminate the city's streets and waterways with bewitching light installations made by international artists. In December and January, dozens of historical buildings in the center of Amsterdam are glittering with color in the dark.
Sitting in a comfortable heated pleasure boat, listening to the explanations of the guide and drinking a glass of mulled wine, we enjoyed this exhibition of water, light and art. By the way, the canals were very crowded; apart from tourist boats, there were also many private boats and skiffs cruising in the canals. Maybe it sounds strange, but there were real traffic jams at places where only one boat could pass under a bridge.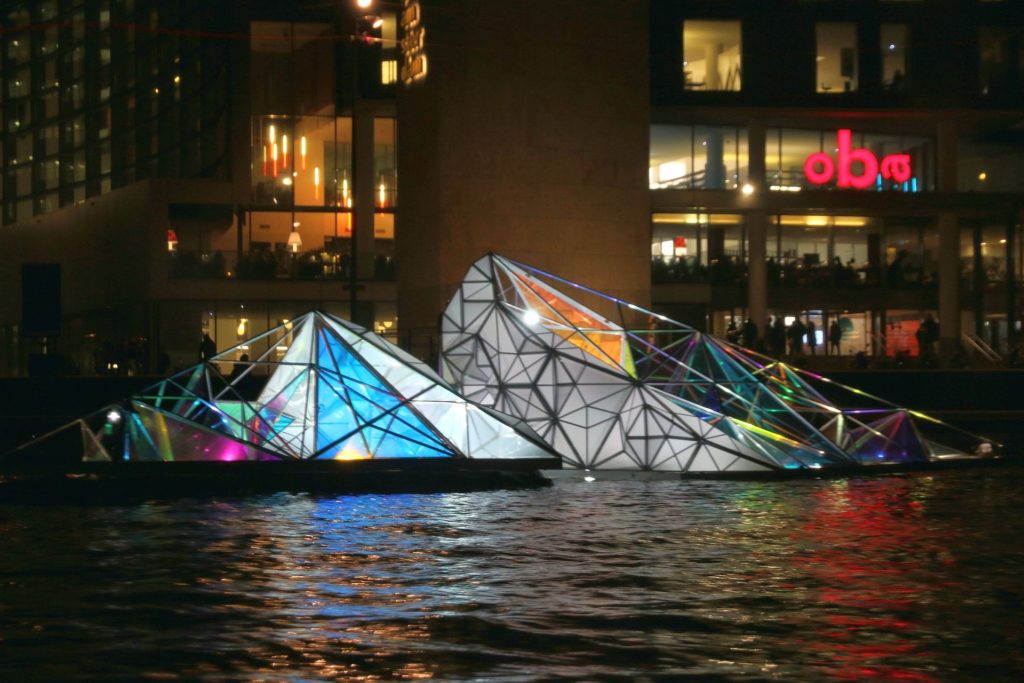 But let me tell you something more about the festival. This year, 35 artworks were realized, one of which is 'thinline' made by the world famous Chinese artist and activist Ai Weiwei. This is a 7.5 km long red line running through the city, representing an illuminating border as connection. With this object, Ai Weiwei captivatingly depicted the festival theme "Existential". Is this art? Sorry, not for me, but the artist is very famous and that's what counts!
I liked Cecil Balmond's installation "infinita" in the form of a cracked pyramid floating in the water. It is designed to provoke reflection on the essence of our existence and whatever lies beneath the surface.
Many other works of art caught our attention. Floating houses, geometric figures, illuminated waves and light sculptures… I really liked "Blueprint", made by Reier Pos on the National Maritime Museum facade.  Altogether, Amsterdam Light Festival was a great experience.
And finally, Amsterdam is a fantastic city that can be visited in all seasons, in spite of the humid (and cold) Dutch climate. I love Amsterdam!