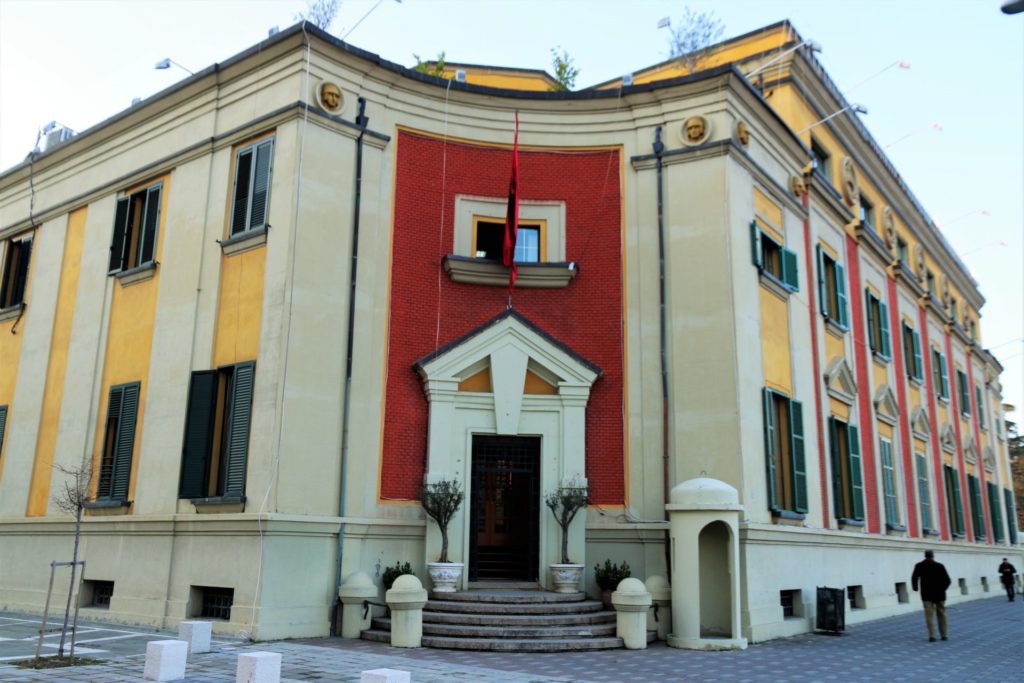 If you decide to spend a weekend in Tirana these days, you will experience a lot of surprises. We wanted to escape Podgorica – where "our" (catholic) Christmas is not celebrated at all – and we thought it a good idea to visit Tirana. The last time we were in Tirana was 4 years ago  and our friends in Albania we had heard that many things have changed in the meantime and that the city is developing very fast. Some information we got about the nice Christmas atmosphere was crucial and we left early in the morning, as the estimated driving time should be three hours.
It was a sunny day and everything went fine – but we had not been aware that a growing city also means growing traffic. And traffic on the roads in and around Tirana is really a disaster! It was not easy to get through – especially in the city center, as the surroundings of Skanderbeg Square with its famous statue, Palace of Culture (photo 1) and other important public buildings turned out to be one big construction site…
But once we were there, we could not believe our eyes. A huge Christmas market was set up on the square, with an attractive Christmas tree, a huge amusement park and many wooden cottages with open-air terraces, where you could buy mulled wine and sausages. The once rather shabby government buildings around the square were well-maintained (photo 2), and you couldn't find a single piece of litter on the street.
What happened? In 2016, Tirana's mayor Erion Veliaj announced that the 2010 plan to modernize Skanderbeg Square, with its surface of more than 40,000 square meters, would be reintroduced, with more green areas around the square, underground parking, and the introduction of stone material and trees taken from all over Albania. Once the project is completed, the square would serve as a venue where the surrounding institutions can showcase themselves in an open environment concept. And of course, such an open environment would offer great possibilities for public events!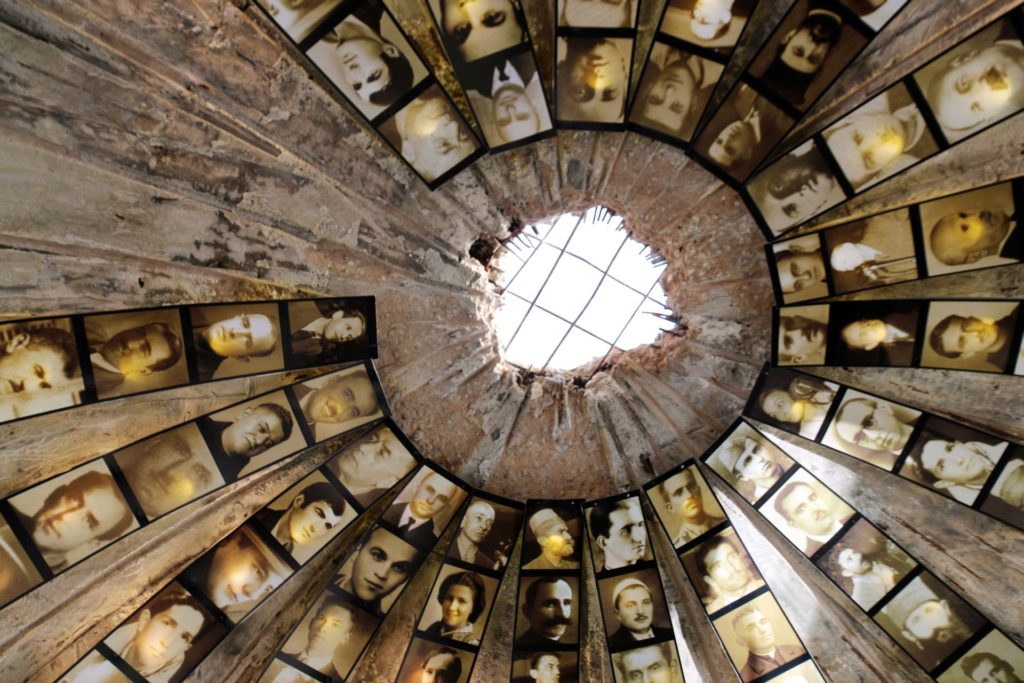 The brand new Toptani Shopping Center (photo 3) not far from the square was another surprise: this beautiful building with 80 modern shops – European brands – covering 7 floors has become one of the biggest shopping malls of the region.
Moreover, Tirana has also introduced some new tourist attractions based on its recent history: the "House of Leaves" Museum, and the museums BunkArt 1 and 2. We visited BunkArt 2 (photo 4), which is located in the very city center.
BunkArt 2, once a top-secret nuclear bunker built in the 80s of the last century, showed us in a well-presented and interactive way how the Communist-era police persecuted the regime's opponents. Can you imagine that 100,000 Albanian people were politically persecuted between 1945 and 1991? For me, it was a deeply immersive experience to learn more about this terrifying and paranoid history of Albania in the 20th century. An absolute must for visitors of Tirana!
As the center of Tirana is rather small, we spent the afternoon roaming through the Blloku area, where you can find many nice bars and restaurants. Until 1991 this district was reserved for government officials and embassies; common people were not allowed to enter here.
The sun disappeared and during the evening we enjoyed the great Christmas atmosphere on Skanderbeg Square. The buildings around the square were nicely lighted and decorations could be seen everywhere around (photo 5). Christmas songs like 'Jingle Bells' and 'Silent Night, Holy Night' could be heard from the enormous loudspeakers on the square, young people were making selfies in front of the Christmas tree (so did we!) and the amusement rides and roller coasters were fully booked. No wonder that the voice of the imam from Ethem Bey Mosque calling for prayer got lost in this cacophony.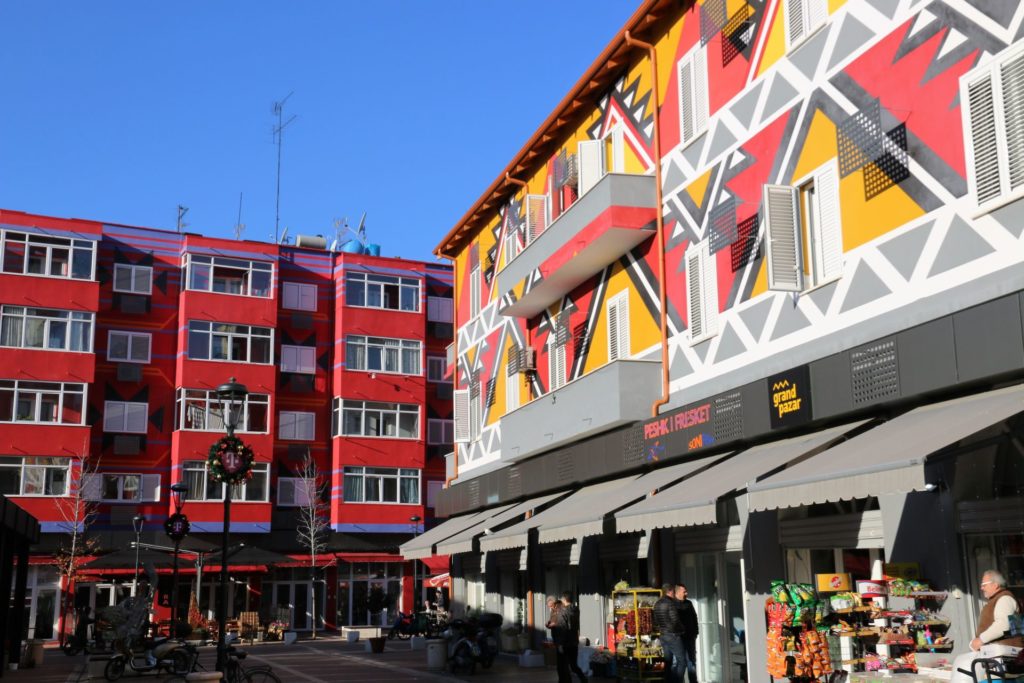 It was surprising to see that dozens of bars and restaurants had set-up open-air terraces, which were often equipped with glass panes, gas heaters and blankets. It was really cold, but the inhabitants of Tirana didn't bother…
Next morning we made a walk through the outskirts of Tirana. Although many buildings in the city center are painted in bright colors (photo 6) it is very interesting to see how the tenants of old and dilapidated buildings – and believe me, there are hundreds of such examples of communist 'architecture' – try to make the best of it: they replace windows, repair balconies, paint funny graffiti on the facades… (photo 7 and 8). They build all kinds of improvised shops in front of their buildings where they buy their vegetables, shoes, second-hand clothes, electronic devices or where they just chat with their neighbors…
I really love Tirana. It is a fast-growing city with a positive spirit. A perfect place to spend a weekend when you live in Montenegro!
P.S. Just a tip: Boutique Hotel Gloria is a perfect place to spend the night. It is situated in the very center and provides a safe parking lot for your car. And their breakfast is something you can only dream of! For lunch or dinner: try Artigiano in Blloku, an Italian restaurant with excellent food and first-class service.