Last weekend, warm and sunny, was a great opportunity to enjoy the gorgeous Indian summer in Montenegro and make a tour to Žijovo, the mountains of Kučka Krajina, in particular the area around Bukumirsko Lake. This Lake is situated north-east of Podgorica, at an altitude of 1,448 m above sea level; the distance from Podgorica is 45 km only, but the drive lasts around 1.5 hours.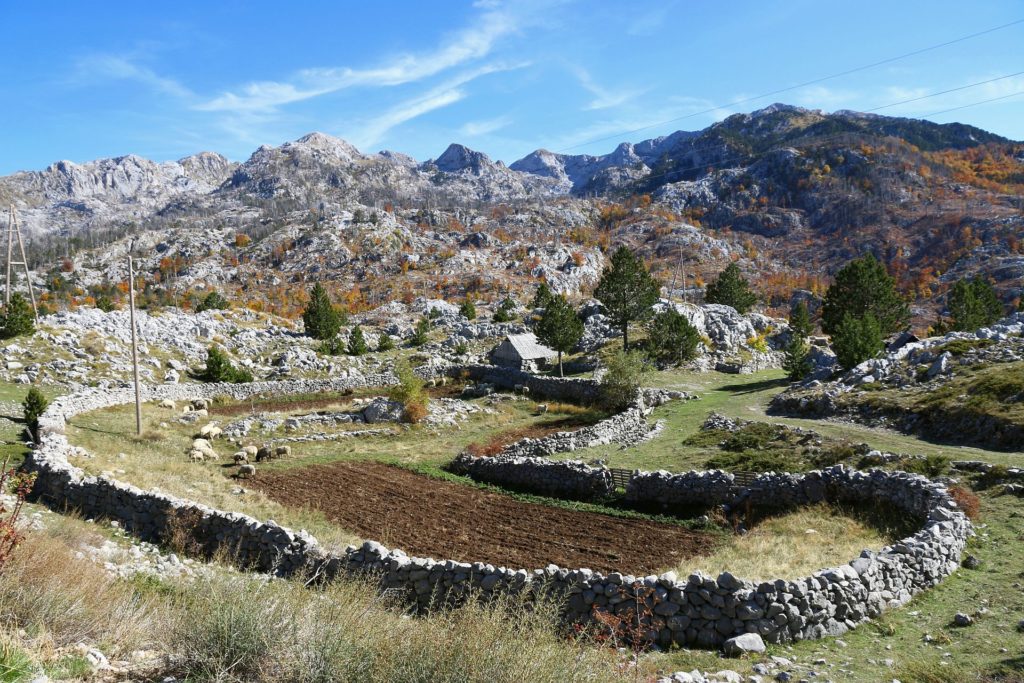 Although the Panoramic Road "Circuit around Korita" has become quite popular, it is still difficult to find the road to Bukumirsko Lake when you are a foreigner. Yes, there is a signpost at the junction, on the 20th kilometer of the road to Kučka Korita, but unfortunately, most foreigners can't read Cyrillic…
So, after having passed the picturesque village of Ubli, we turned left to Bukumirsko Jezero. The road was steep and unprotected, narrow and winding, but there was hardly any traffic. We passed through wild karst areas, alternated with small green pastures and farm land. Forest fires had taken their toll and made the environment look quite spooky. In absolute silence, with breathtaking vistas, the deep blue sky, white-grey rocks and yellow-orange beech forests created a landscape that looked like a movie set!
Although the temperature was around 22°C, some mountain peaks were already covered with patches of snow. We parked the car at the beginning of a farm road and walked further to the lake, which took us about fifteen minutes. And there, above the lake, we could admire a stunning panorama: the blue lake, rocky peaks with snow patches behind it, scattered mountain huts and the unbelievable autumn colors of the forests. Just imagine and have a look at the photos: isn't this one of the most beautiful mountain sceneries in Montenegro?
By the way, did you know that the lake is surrounded by more than 15 peaks higher than 2000 meters? Pasjak (2050 m), Štitan (2172 m), Velji Vrh and Surdup (2.184 m) create a wonderfully jumbled mass of rocky peaks.
And … things have changed since our last visit to this area. On the bank of Bukumirsko Lake we found a good hiking map for those who want to explore the surrounding mountain summits Štitan and Surdup. This is also the initial southern portal of the Montenegrin Mountain Transversal CT-1, which is 161 km long. Nowadays, the trails from the lake to the mountain peaks are well-marked.
We made a nice hiking tour, passing a small katun near an almost dry lake (simply called Jezero) and headed further through open pastures and a vast plateau, where we had a picnic, admiring the illuminating colors around us. The silence was complete. Only untouched nature everywhere. As the trail ascended into a beech forest towards the head of the valley, we had to go back: the sun was already going down behind the mountains.
But nevertheless, we had a great time and we will certainly be back next year. With the new marks and signposts, it will be much easier for us, "amateur"-hikers, to go for a real tour.
As the day was coming to an end, the shepherds started to collect their sheep. One of them told us that he really enjoyed the last warm days on Žijovo, but he was now preparing his flock (130 sheep and 16 cows) for the journey back home, to Ubli. How proud he was of his two magnificent Macedonian shepherd dogs, well-trained for guarding the flock!
Plenty of sheep and cows were using the narrow road back, so we had to drive very carefully. A group of around 30 wild horses slowly passed by, looking for water that had become scarce due to the long and dry summer. These horses are freely roaming around in the mountains, although they have owners. I hope they enjoy their freedom!
Untouched nature and pure silence made place for urban life. But what a good feeling is it to know that Žijovo is so close to Podgorica and that I can always find this peaceful and magnificent environment if I like to!