As I heard that June should be a perfect month to visit Hvar, we traveled to Croatia last week with the intention to spend a few days on this beautiful island.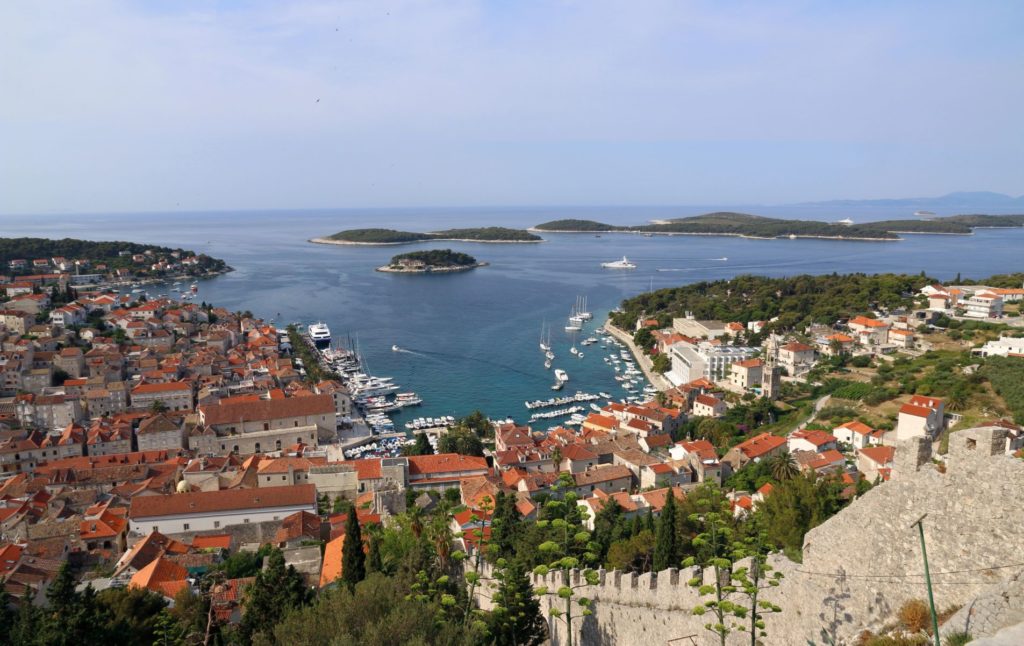 What does Hvar offer to its visitors, apart from an extremely mild and sunny climate? According to brochures and websites, we could expect untouched nature, a crystal clear sea, lovely coves and beaches, picturesque lavender fields, vineyards and olive groves, but also charming towns and villages with numerous historical and cultural sites and a hospitable population.
The small ferry boat transported our camper van from Drvenik to the village of Sućuraj (duration: 35 minutes), where we were "welcomed" at the entrance of the harbor by an impressive statue of St. Nicholas, patron saint of seamen, travelers and fishermen. As the island is only 70 km long and 10 km wide, there is one main road leading from east to west – the first part is rather narrow, but the views are spectacular. Picturesque villages with old stone houses alternate with olive groves, vineyards and pine tree forests; here and there we saw some blooming lavender shrubs, obviously growing wildly. Continuing towards the western part of the island, the road became much better, and we decided to start our exploring tour with a visit of Hvar town, the island's hub and busiest destination.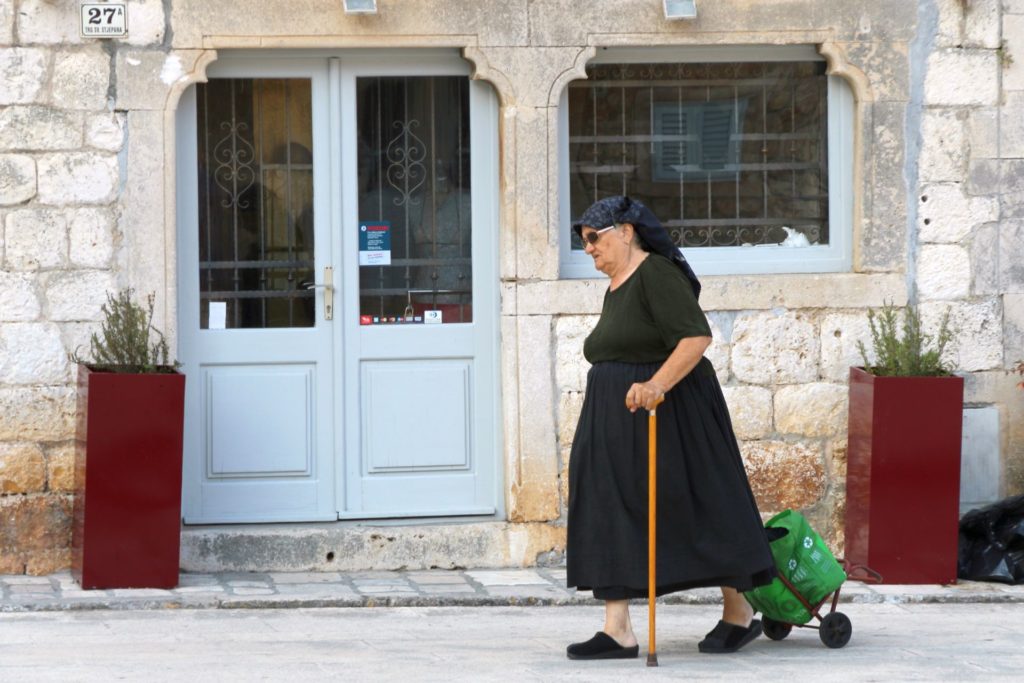 Camp Vira, situated around 4 km from the town, appeared to be a good choice for our accommodation, as it provided a regular shuttle bus to the center. We got a nice pitch under pine trees on the very sea shore. A romantic bay with a nice pebble beach was quite near and perfect for a swim.
The town of Hvar, with less than 4,000 inhabitants, is the largest settlement of Hvar. Can you imagine that it draws around 20,000 people a day in the summer season? And yes, they can all fit in this small town, surrounded by 13th-century walls, Gothic palaces and car-free paved streets, although the neighboring Pakleni Islands also attract a lot of tourists.
A first evening walk through the town center showed us that Hvar is, first of all, a party destination: many young people, mostly British, were strolling around, making selfies and sitting on the open-air terraces around the central square that appeared to be the center of social life. But St. Stephen's cathedral was certainly worth a visit and several old stone palaces around the square were decorated with beautiful Venetian lions.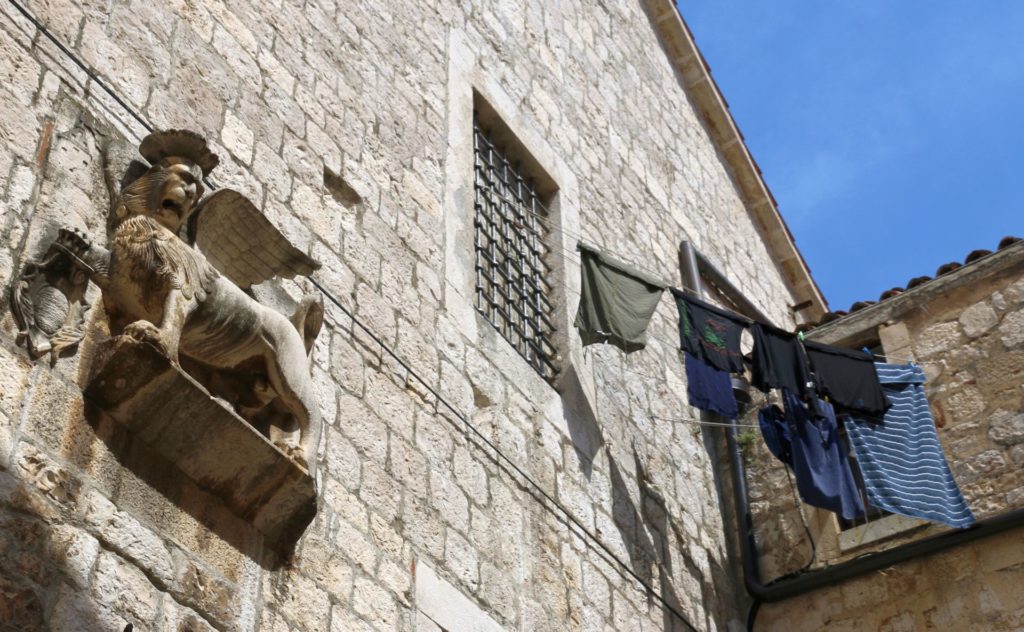 A walk to the 16th-century fortress above the town, called Fortica or Španjola, was a good idea for an early morning walk. It was worth the effort to ascend the stairs through the old part of the town, along ornamented palaces and through a Mediterranean botanical garden: the view of Hvar town and the Pakleni Islands was unforgettable.
On our way to Jelsa, the next camping destination, we made a coffee stop in Stari Grad (ancient Pharos, founded by the Greeks in 383 B.C.), a town and harbor on the northern side of the island, surrounded by vineyards, olive groves and pine forests.
One of its main attractions is the Stari Grad Plain, also known as Ager or Hora. The Greek division of this plain, determined by geometrical principles, represents the best-preserved cadastral plan in the whole Mediterranen area and that's why it was proclaimed UNESCO World Heritage Site in 2008. Unfortunately, we did not have enough time for a hiking or biking tour, but from the car we could clearly see the dry stone walls that divide the parcels, alternated with high stacks of grey stone.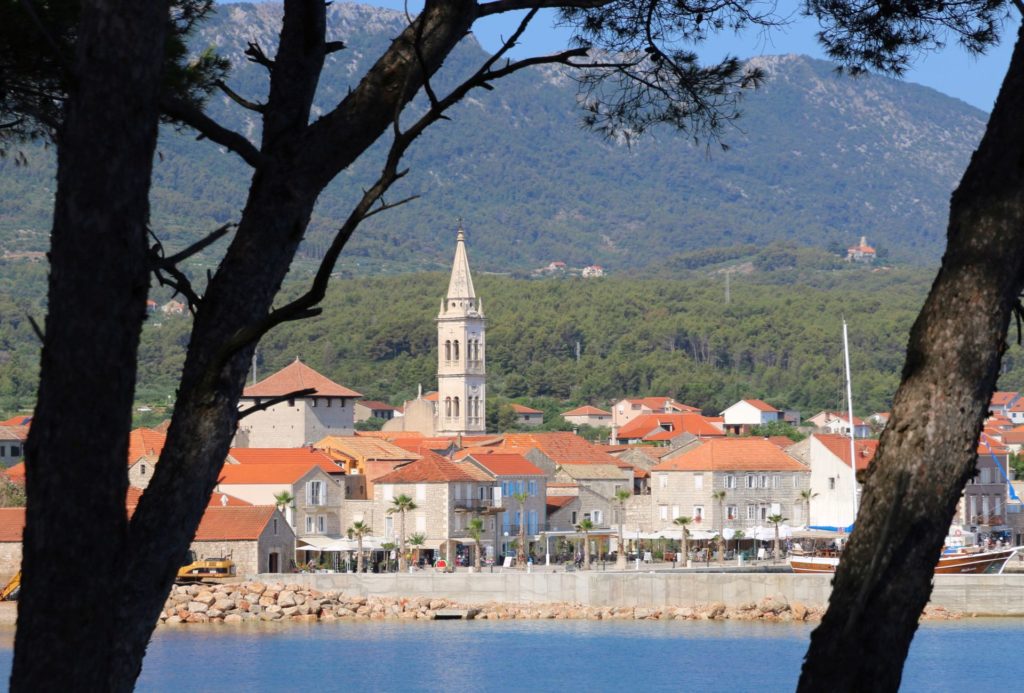 Of course, I was very curious to see the famous blooming lavender fields. We tried to find out where they could be watched, but that was not so easy. What happened to the lavender fields? Are they being replaced by more lucrative vineyards and olive groves nowadays? Has lavender become less important for Hvar's economy or are there other reasons?
But we arrived on another beautiful spot: Camp Mina, situated in a pine tree forest on the sea shore, at walking distance from the center of Jelsa, a quiet little town with a relaxed atmosphere and beautiful narrow streets .
It was so nice to see the local "pensionados" coming to the harbor in the evening, where they meet to exchange news, comment on daily events and whisper occasional gossip, sitting on the benches in front of the municipal building…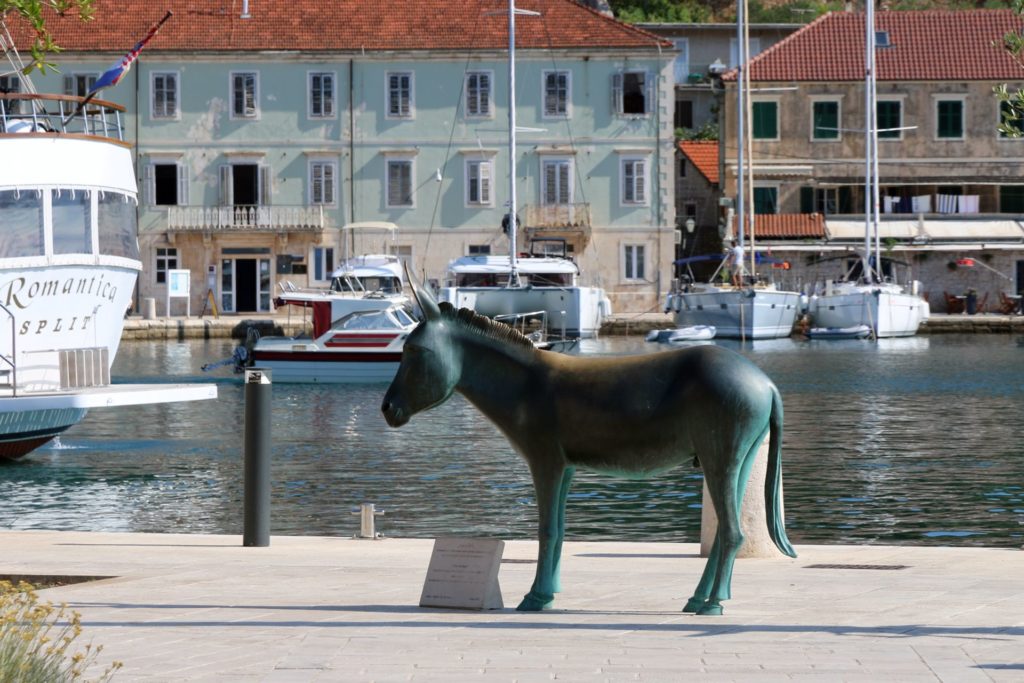 And another pleasant surprise was the statue of a donkey in the harbor, "a historical member of the Mediterranean island family, with whom we lived, who labored to feed us and helped us become what we are today".
We enjoyed the crystal clear water and the beach at Mina's, but not for long: our island tour was coming to an end. We had not seen and done enough, we had not used the possibilities of making boat trips to caves, other islands and lonely beaches, we had not visited the picturesque villages in the hinterland …. but our first impressions of Hvar were awesome and I am sure that we will be back. And obviously, June is a perfect month for a visit!