Are you traveling the Balkans by camper van this summer? In that case you might need some tips about "special" campsites. We have accompanied two camper groups from the Netherlands through Montenegro, Albania and Macedonia last month and this seems to be a good reason to share our experience and give some recommendations.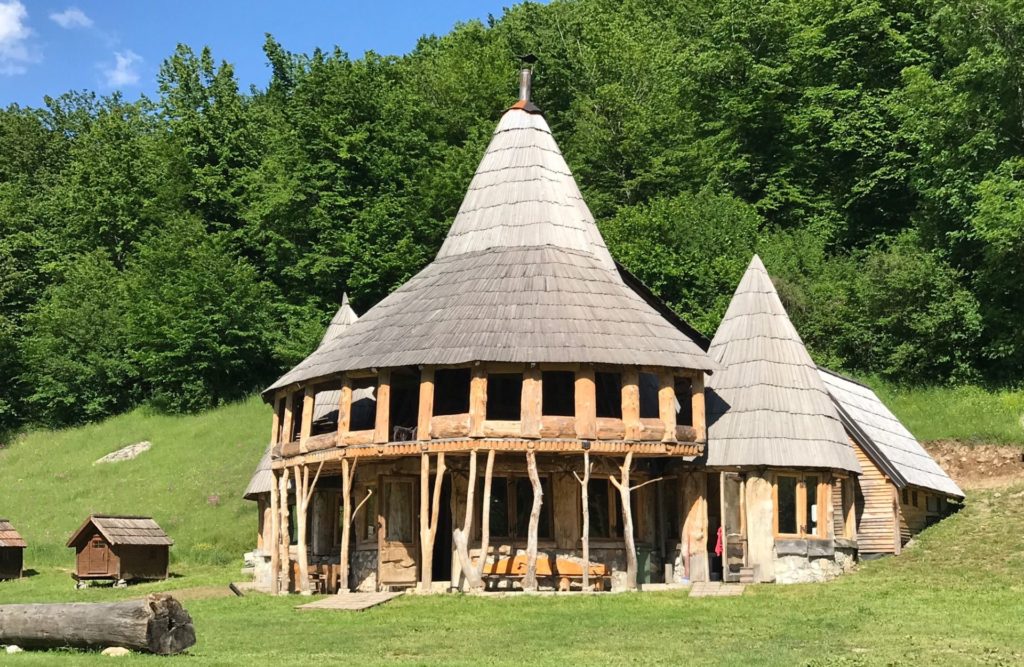 MONTENEGRO
Ethno-village Vuković – Camping "Savardak", Bijelo Polje
Ethno-village Vuković is located around 15 km from Bijelo Polje, in the village of Tomaševo. It is a perfect place for family excursions, as the magnificent green environment offers numerous possibilities for outdoor activities. I really like the architecture of the resort, as the wooden buildings and furnishings were made in traditional Montenegrin style! By the way, the restaurant offers delicious grilled meat and pizza. The Ethno-village also contains a campsite, called "Savardak", after the typical round mountain hut that can be used by the camping tourists. Here they can find good sanitary equipment, but also a cozy room with a fireplace, wooden chairs and a long dinner table. Good campsites are very rare in the northern part of Montenegro, but this resort is an oasis of peace and a perfect starting point for hiking tours through the Bjelasica mountains and Biogradska Gora National Park.
Camping "Naluka", Morinj
If you want to spend a few days on the Montenegrin Coast, I would like to recommend Camping "Naluka" in Morinj, a small and picturesque seaside hamlet right in the middle of the Bay of Kotor, halfway between the towns of Kotor and Herceg Novi. It is situated among lush green mountains and has a pebble beach, clean sea water and old watermills. A network of interconnected springs and creeks in the "hinterland" of the coast makes this resort very special. I believe that Camping "Naluka" is one of the nicest campsites of Montenegro. The pitches on the bank of the creek that connects the hinterland with the sea are not only attractive to nature lovers and dinghy owners, but also to those who want to have a rest and read a book in the shadow of the fruit trees, willows and bamboo. During our last visit, we spotted ducks, swallows flying just above the water surface, and we also saw a (harmless) water snake. A beautiful spot indeed! The camping doesn't have a restaurant, but nearby "Tramontana", with a terrace on the sea shore, and the famous – but expensive – Ćatovići Mlini Restaurant, offer excellent food.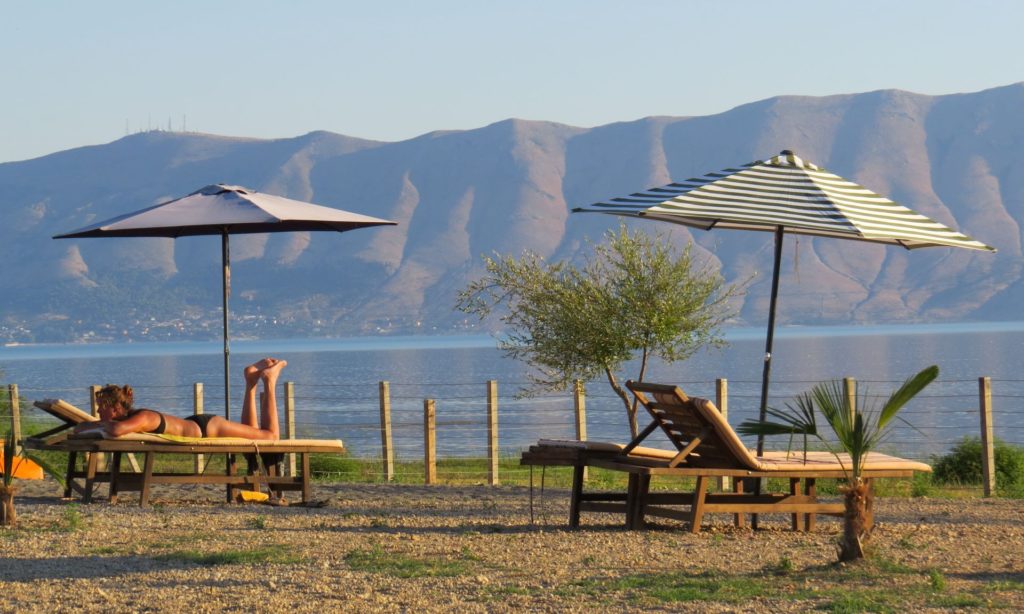 ALBANIA
Lake Shkodra Resort, Shkodra
Seven kilometers north of Shkodra, on the shores of Skadar Lake, is Lake Shkodra Resort, a perfect place to spend some time during your camping trip through the Balkans. In my opinion, it is the best camping ground of Albania: a large and clean grassland area with direct access to the lake, with comfortable and shady pitches, good sanitary facilities, an excellent (and cheap) beach front bar-restaurant on the waterfront and a nice private gravel beach with all required facilities. And let's not forget the very hospitable and friendly staff with good knowledge of the English language! This is one of the few campsites in the Balkans where people like to stay for a few days and take a rest. But Lake Shkodra Resort also offers other possibilities, e.g. hiring a bike or canoe, and booking an excursion to Shkodra, Komani Lake or Theth, a picturesque mountain village in the Albanian Alps. Warmly recommended!
Camping "Gjirokaster", Gjirokaster
This recently opened family campsite with 20 pitches is located in a village near the town of Gjirokaster (4 km), UNESCO World Heritage site. Regular bus connections to the Old Town are available. But the reason why I mention this campsite is not its nice position or brand new sanitary equipment; it is, first of all, the incredible hospitality of the owners and the memories of a wonderful dinner that was prepared for our Dutch camper group by the owner's family. In the tastefully furnished and cozy restaurant, we were served traditional Albanian food. Everything was home-made and the savory pies with cheese and vegetables were absolutely delicious. So was the wine, the raki and particularly the tender lamb that was served as main course. It is always a pleasure to see people working hard to develop their business, but this family really deserves all our compliments!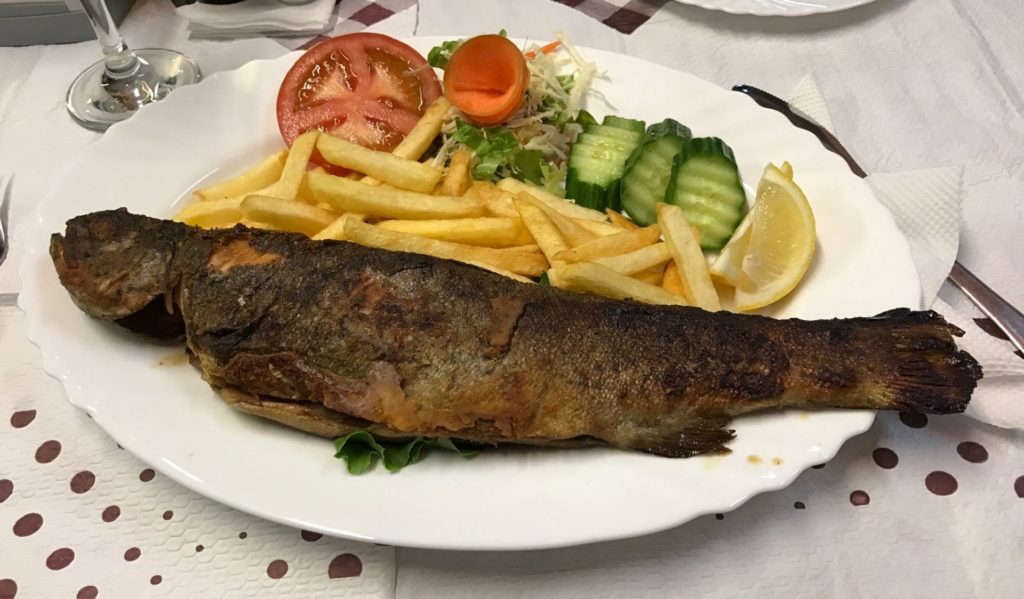 MACEDONIA
Camp "Rino", Kalište, Lake Ohrid
One of my favorite campsites in the Balkans is Camping "Rino" in Kalište, 30 km southwest of Ohrid. This year, we were glad to see that the owner had extended and renovated his camping ground on the banks of Lake Ohrid. Its position is magnificent – believe me, it is a real pleasure to spend the evening on the water-front terrace and watch the calm waters of the Lake, while white swans are floating around. At your arrival, free coffee is served by the friendly young owner, together with a typical sweet prepared by his mother. Yes, Camping "Rino" is a family campsite and that means: special attention for the guests and a warm and relaxed atmosphere. No wonder that many camper tourists like to extend their stay on this beautiful spot. And last but not least, don't forget to order a very special dinner: grilled Ohrid trout with a glass of Alexandria wine and fresh salad. This fish, the salmon trout, really tastes like a trout crossed with a salmon!
And finally: I selected the above campsites on the basis of some special characteristics: their magnificent position, traditional architecture, delicious food, warm hospitality, first-class facilities or relaxed atmosphere. Unfortunately, contrary to the growing camping sector in Croatia, it remains difficult to find good camping grounds in Montenegro, Albania and Macedonia, regardless of the high demand…