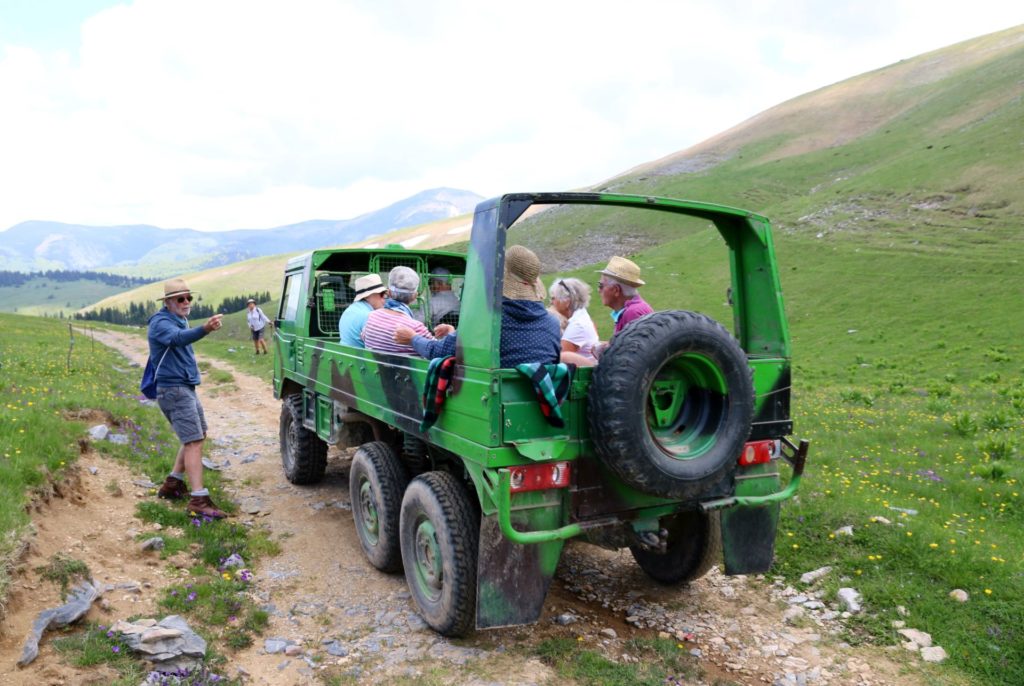 On our round trip through the Balkans with a Dutch camper group, we made a stop in Etno Selo Vuković – Camping Savardak, located around 15 km from Bijelo Polje. What a beautiful place! Good campsites are very rare in the northern part of Montenegro, but this resort, situated among lush green mountains, is an oasis of peace and a perfect starting point for hiking tours through the Bjelasica mountains.
Our friends from Tourist Agency RAMS organized a great day excursion for the group. As the participants were aged between 62 and 77, some of them were not fit enough to make a long hiking tour. But Musa and Sabina Ramović found a solution for everybody!
Early in the morning, a minibus picked us up at the campground and took us to Ravna Rijeka, where a "Pinzgauer", an all-terrain military vehicle, transferred the group – along a rough and winding mountain track with breath-taking views – to the Cmiljača mountain lodge (1750 m above sea level).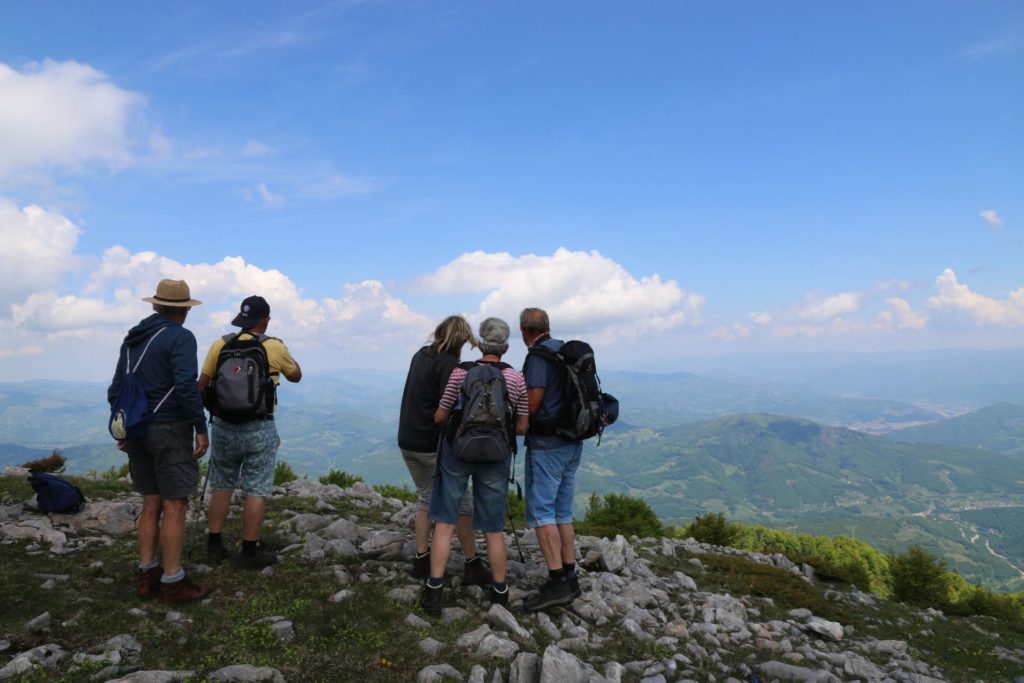 I still remember the day when the brand new mountain lodge was opened by the Austrian ambassador in 2008 – unfortunately, due to "management problems", the hut is abandoned and closed now. What a pity!
From the top of the mountain we had a wonderful view of Bijelo Polje and its surroundings. Patches of snow could be seen everywhere around us and the meadows were covered with a carpet of bright yellow flowers and deep blue gentians.
The hiking tour started … a group of the fittest hikers took a track over the mountain accompanied by a guide, but most participants followed a path over gentle hills and vast meadows to the summer pasture of Bardov Do. The Pinzgauer followed us and those hikers who got tired could take place in this cross-country vehicle or a 4×4.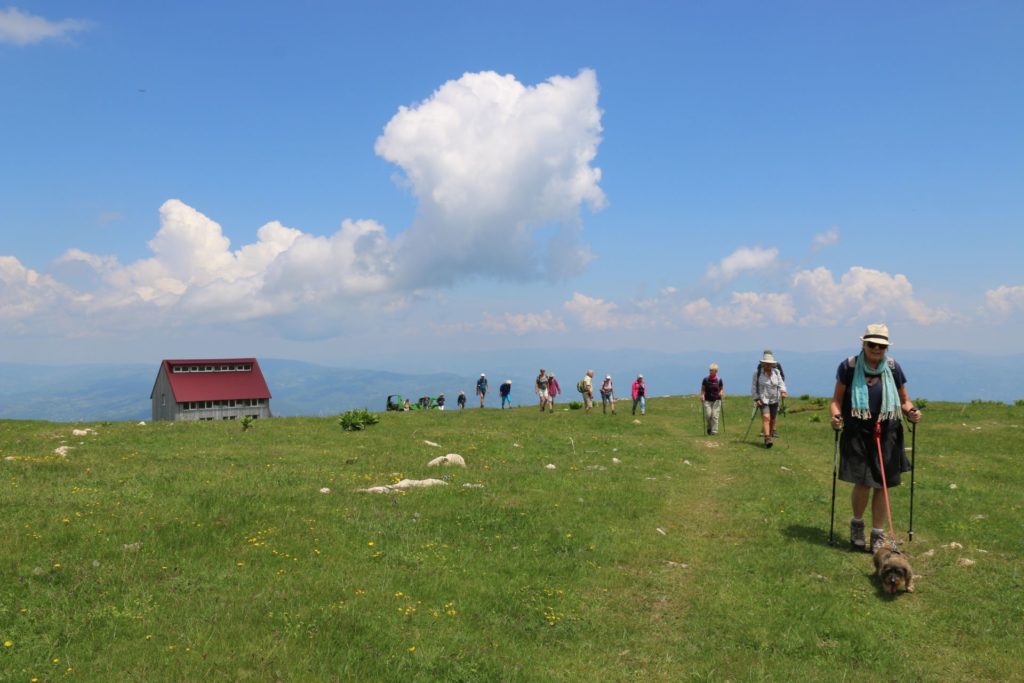 I was impressed by the gentle and green nature of Bjelasica, so different from Mount Durmitor with its steep and rocky summits. Bjelasica is the greenest mountain massif of Montenegro, and very rich in water. Its volcanic origins have created smooth round shapes, and spacious, mildly rolling landscapes.
Lunch was served at the "katun" of Bardov Do. Katuns are scattered throughout the mountains all over the northern part of Montenegro. They consist of several small wooden cottages. Traditionally, rural farming families move to their simple alpine huts during the summer months, where they put their livestock out to pasture. Life in the katuns is basic; the cottages often don't have electricity and sanitary equipment; a wood stove for cooking and heating, a table, a few stools and two simple wooden beds are put on a dirt floor – that's all you can find inside. No wonder that the katuns are gradually disappearing, as only a few old villagers are ready to spend the summer here…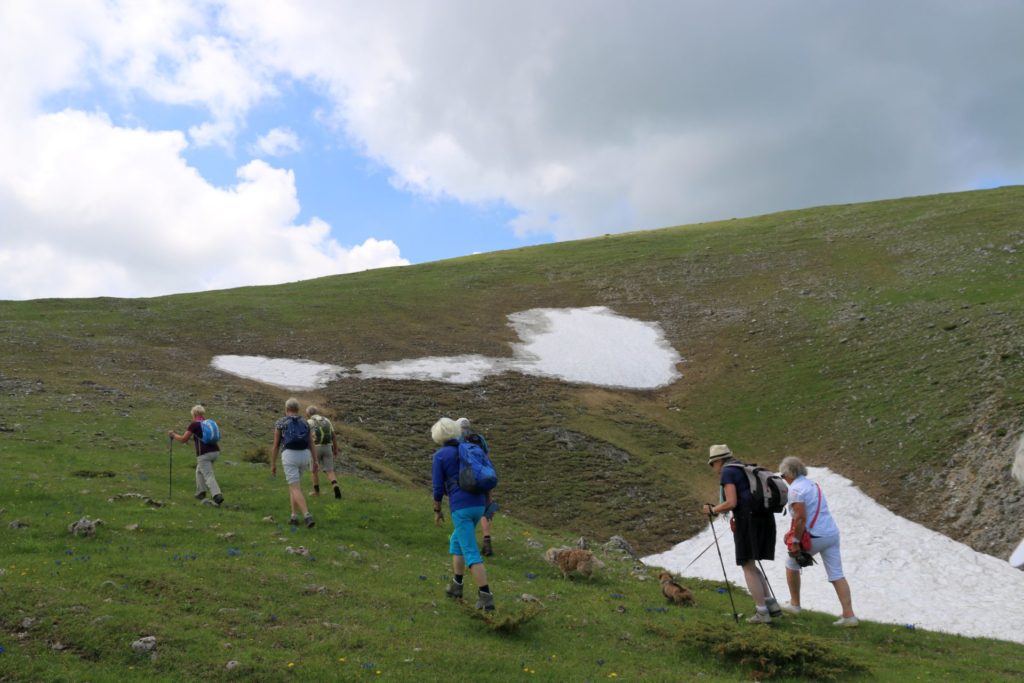 In Bardov Do, Musa and Sabina prepared a traditional lunch for the group – local cheese, smoked ham, fresh salad and home-made bread. The rosehip marmalade was excellent and so were the "gurabije" (a kind of sweet cake). After the hike, it was a pleasure to quench our thirst with home-made blueberry juice, sour milk (called "surutka"), and juice of cornelian cherries.
Clouds were gathering in the sky when we visited Lako's "katun", where we met Lako and his wife. A heavy thunderstorm started over Bjelasica… But we found shelter in their small cottage, where the host surprised us by playing his traditional flute.
The Dutch tourists were touched by their hospitality, but could hardly believe that these people were living under such basic circumstances. Several of them bought woolen socks, made by the old curved women who suffered from serious spine problems.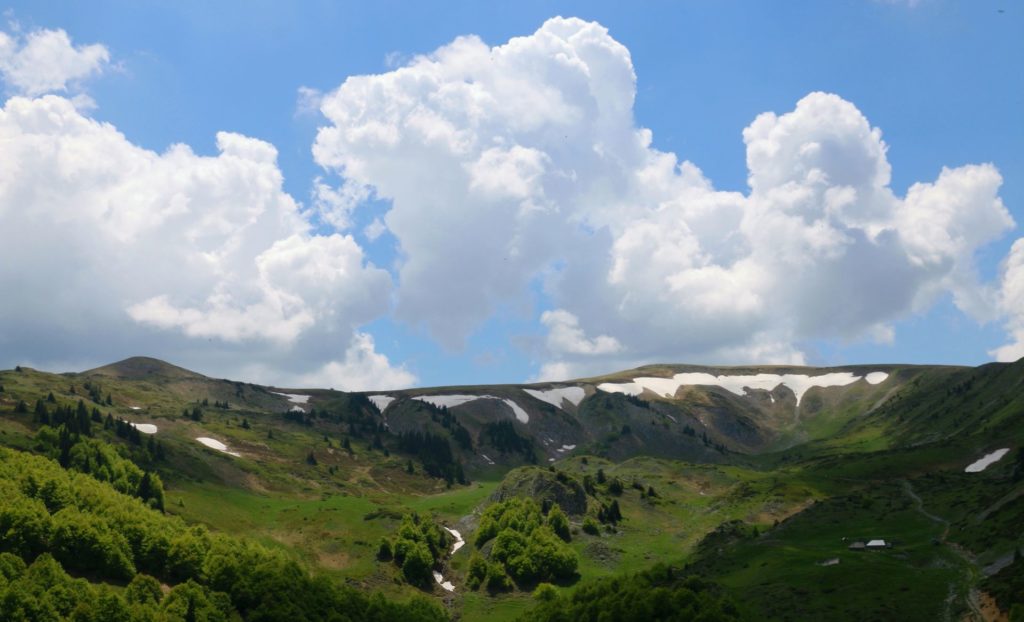 The rain stopped and the Pinzgauer took us back to Ravna Rijeka, picking up the most enthusiastic hikers on their way downhill. From there we were transferred to the campsite, full of impressions and memories about the beautiful landscapes of Mount Bjelasica, a pure nature paradise.
Of course, the Bjelasica mountains and Biogradska Gora National Park are not only perfect places for those who seek quiet and relaxing hiking destinations, the region offers much more: untouched virgin forests, glacial lakes, plenty of biking trails, great diversity of flora and fauna, skiing in winter, fishing in the lakes …