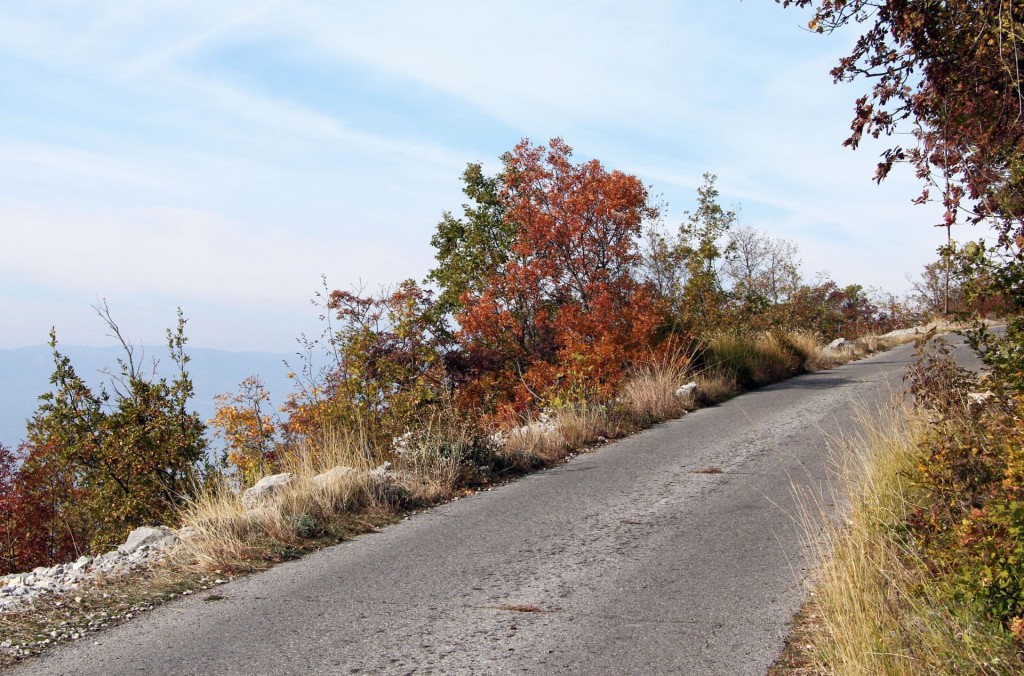 There is an area in Central Montenegro – between Virpazar and Cetinje – with beautiful old villages, spectacular panorama roads and awesome karst landscapes. Most tourists have never visited this area. No wonder: the roads, although covered with asphalt, are narrow, full of potholes and dangerous, as there are no protection rails (photo 2). The region is not accessible in winter, very hot and dry in summer, but spring and autumn are the seasons that offer exceptional beauties to the small number of tourists, who know where to find it.
As it was a bright sunny autumn day, we started our round trip from Podgorica. The region we wanted to visit covers a part of Riječka Nahija and Crmnička Nahija, two of the four tribe communities belonging to "Old Montenegro". By the way, did you know that "nahija" or "nahiye" is an Arabic word and was used for administrative units of the Ottoman Empire?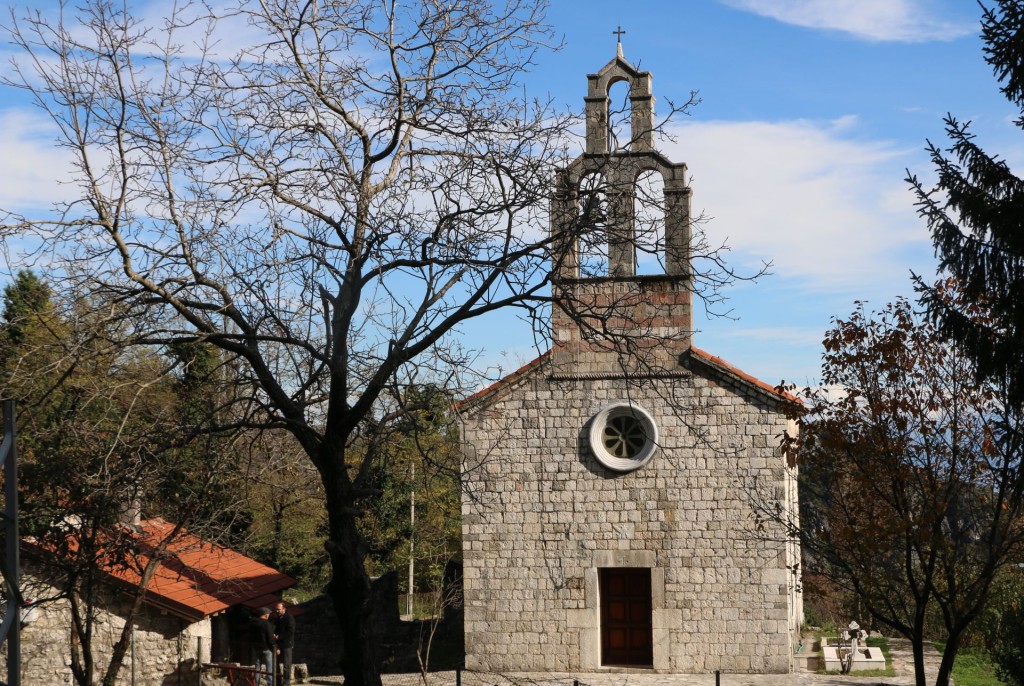 Passing Virpazar, we headed upwards following the old road to Petrovac until we arrived at a junction with the signpost "Donji Brčeli", where we turned right. We soon discovered an old monastery on our right side, called St. Nicholas (photo 3). This monastery was established in the 15th century, but as it was demolished by the Turks, a newer, bigger one was built on its foundations in the 19th century. We didn't see any old frescoes in the church, but the iconostasis of Vasilije Đinovski from 1910 was amazing (photo 4).
A few kilometers further we entered Utrg, a sleepy mountain village at the foot of the Velika Trojica mountain that offers a magnificent view of the surroundings. The center of the village is a weird place, at least for foreign tourists: close to a big "guvno" (threshing floor, used as panorama point), there is a big statue of a young partisan soldier with a gun, watching in the distance and proudly standing on his pedestal. But this is not the only war memorial in Utrg. In front of the village administration building there are five commemorative busts of famous Partisans born in this area (see my blog post: The village of Utrg: Birth place of a national hero and an orthodox saint). A village of heroes indeed!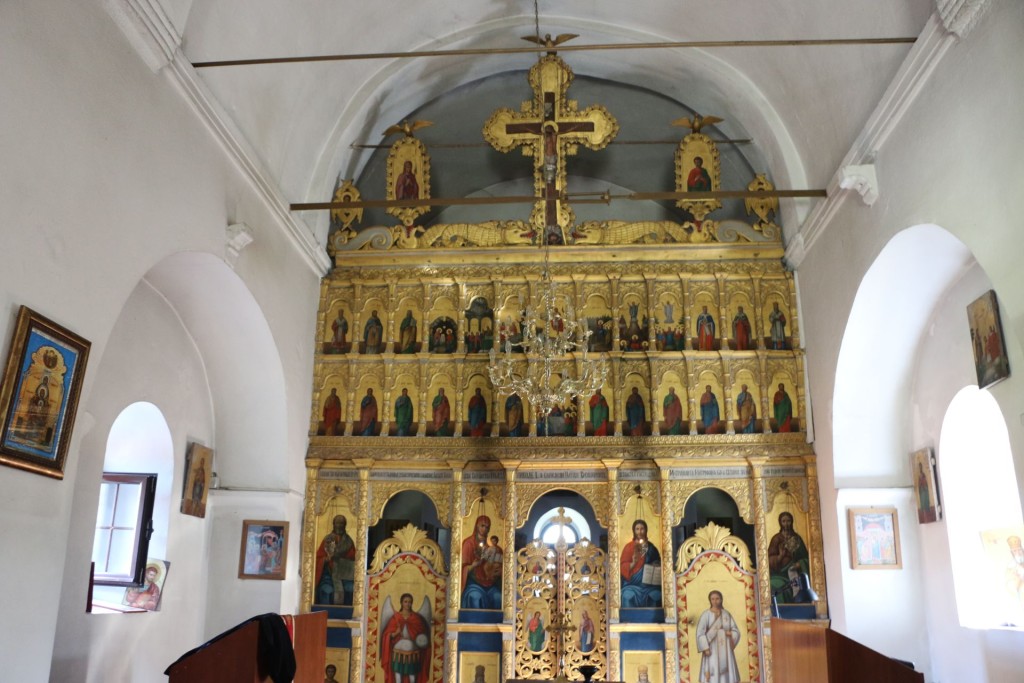 We continued our trip and soon we saw several improvised signposts: we obviously had to turn right in the direction of Cetinje and Budva. But first we wanted to make a short detour: we turned left and took the extremely narrow road towards the village of Višnjica: we were just curious what we would find there! Alas, after a few kilometers, driving downhill along an incredibly deep abyss with a small river stream amidst dense forests, we had to stop and turn back: Višnjica appeared to be a dead end, just a few houses at the bottom of a lonely valley, inhabited by two-three old people, some goats and pigs…
The right way brought us to a beautiful village, Prekornica, part of Riječka Nahija (photo 1 and 5). It is so nice to see that villagers in this region reconstruct their houses in the old style, keeping the typical stone underpins and bounds, as well as specific stone threshing floors and archways – arched half open rooms on the ground floor, whose closed parts are used as wine cellars.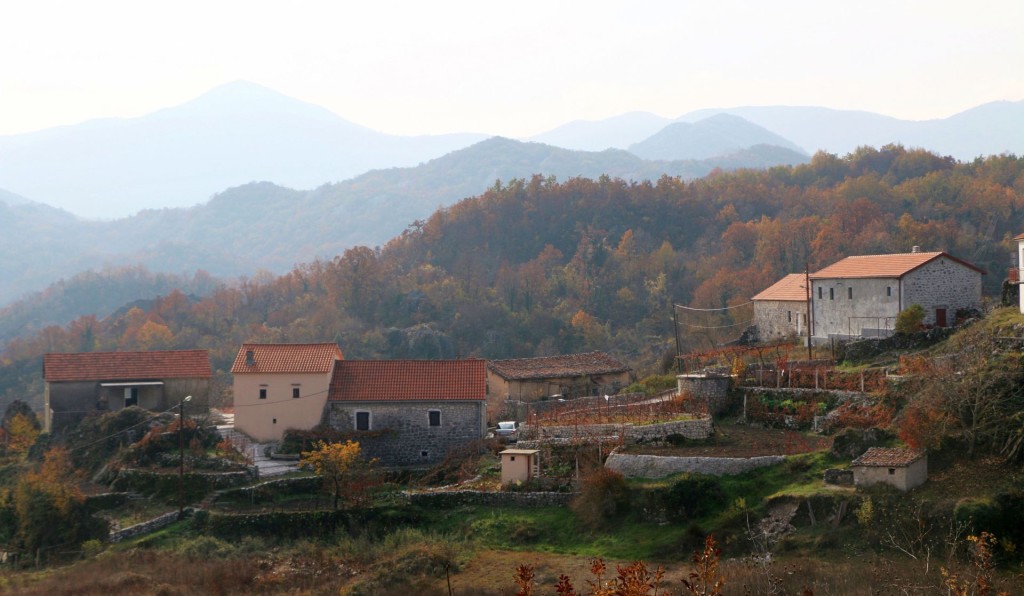 Our next stop was on a rough mountain pass, from where we had a spectacular view of the surrounding mountains, already covered with snow.
And then another surprise: the almost abandoned village of Ljubotinj, whose center consists of a church, a dilapidated stone building (a school maybe?), the village administrative building with a post office and a huge monument from World War II. The monument was well-maintained; no wonder, even fourteen Partisan fighters, National Heroes, were born here.
We continued driving on the picturesque road and enjoyed the panoramas (photo 6) and the last autumn colors: the red and purple leaves of the smoke trees (in the old times used to make yellow dyes), the green-yellow leaves of wild pomegranates and the deep green colors of the needle trees completed the picture of this spectacular landscape.
As we had to go back to Podgorica, we turned right to Rijeka Crnojevića – and not left to Cetinje -, when we reached the road that connects these two places. It was a pity that we didn't have enough time to make a stop in Rijeka Crnojevića and eat a trout at Konoba "Mostina" near the bridge… so we continued in the direction of Podgorica. Our last stop was at Pavlova Strana, one of the most famous views of Skadar Lake.
This round trip does not last more than four hours, when you live or stay in Podgorica. It gives you a good idea about the life of people living in Old Montenegro. Fifty years ago, these villages were just "hidden nooks". There were no roads and the inhabitants needed a whole day to reach Podgorica or Cetinje by foot or by horse. But nowadays, the people are coming back to their villages, where they reconstruct their houses and produce wine and other agricultural products.
Take a journey back in time and visit Old Montenegro, far away from the tourist crowds!