I had not visited Rotterdam since my childhood, but when my cousin invited us during our stay in the Netherlands to make a walking tour through this big and modern city, I was quite excited. The fact that Rotterdam was almost completely destroyed in the first days of World War II made it much easier for urban planners and architects to make their dreams come true and find creative and bold architectural solutions.
As I am living in Montenegro's capital Podgorica, I don't see many architectural highlights. The new "skyscraper" on the Morača river or the rectangular apartment buildings in City Kvart do not really stimulate my imagination… But now I would finally be able to see the "Dutch capital of modern architecture"!
Leaving the car in one of the numerous parking garages, we started to explore the city. Modern houses in different styles, spacious streets and squares, nice shops… And in between them the St. Laurens Church, built in the 15th century as the first stone building in Rotterdam. After having suffered heavy damage by the bombardment in May 1940, it was successfully restored in the 1950s.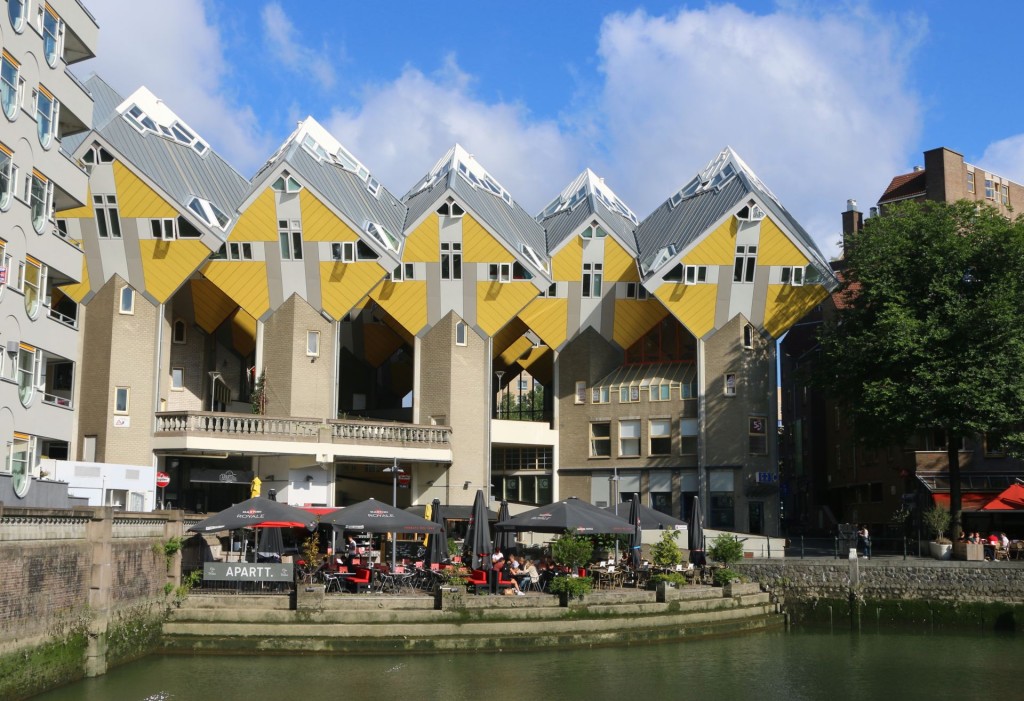 Just a block or so from the church, the style of architecture changed drastically and switched to extremely modern. A prominent position was taken by the 93 m high World Trade Center – completed in 1987 – with its green elliptical tower.
Approaching the historic Old Harbor, we could see one of Rotterdam's icons: the so-called cub-houses, designed in 1984 by Piet Blom. Blom considered these houses as an abstract tree in a dense urban forest. Can you imagine that they are rotated 45 degrees? Watching them from below, I really felt dizzy and I could hardly understand how living in such a strange "home" would look like.
We had a cup of coffee on a cozy terrace at the Old Harbor. A beautiful and relaxed place, where we could still feel a sense of nostalgia in the air. And it is exactly the connection between old and new that makes Rotterdam so special. An example? The beautiful former head office of the Holland America Line, built in Jugendstil in 1901 – now Hotel New York.
Nowadays, Rotterdam is a city of immigrants: almost 50% of the population are of non-Dutch origin and 13% are Muslims. Maybe it is surprising to know that the mayor of Rotterdam, Ahmed Aboutaleb, is of Moroccan descent and is a practicing Muslim!
Roaming through the residential districts of the city, we saw a lot of interesting architectural "jokes". What do you think of an apartment building with sloping windows in different directions?
Continuing our walk, we arrived in the most famous part of Rotterdam: Kop van Zuid (South Bank), a fantastic blend of modern architecture and restored historical buildings. This is the place where monumental warehouses were transformed into apartment buildings and industrial silos into food halls, where you can eat all kinds of exotic food… But this is also the place where you will find impressive towers along the Maas river.
It was a fantastic experience to pass the two famous bridges that connect the northern and southern part of Rotterdam: the Erasmus bridge and the Willems bridge.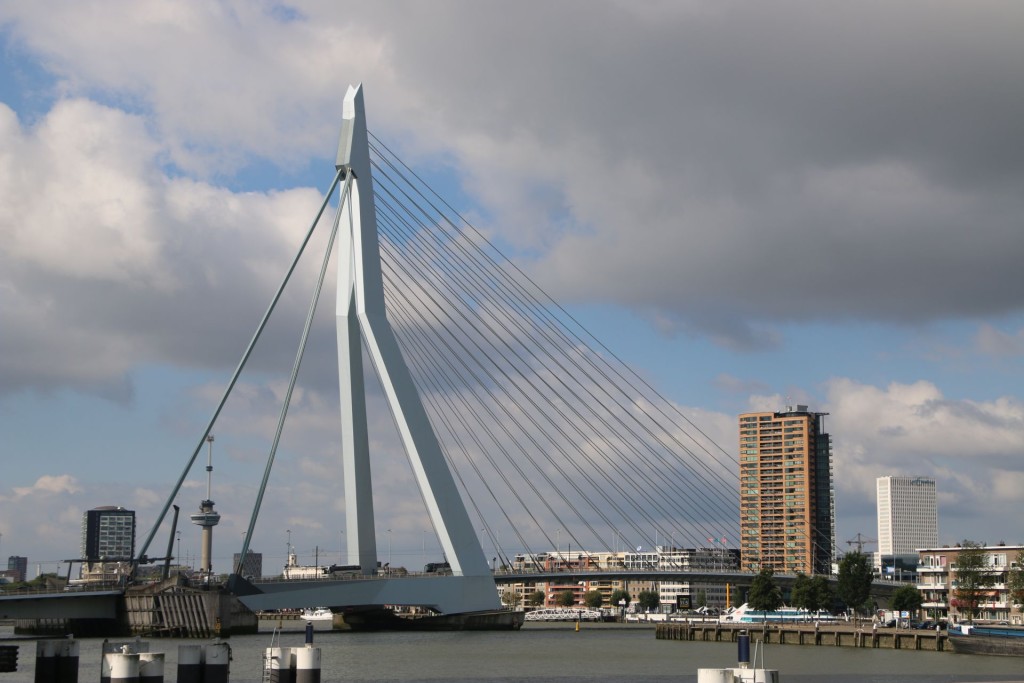 The Erasmus bridge is Rotterdam's most important landmark. This combined cable-stayed and bascule bridge is more than 800 meters long and was opened in 1996. Due to its elegant form, it is also known as "The Swan".
The second bridge, the Willems bridge with its deep-red color, was built in 1878 and has been the most important connection over the Maas river for a long time.
Finally, we visited Rotterdam's newest landmark: the big indoor market hall, opened in 2014. Here you can find everything under one roof – from fresh meat and fish to exotic fruits and vegetables and even flowers. Restaurants and pubs offer you a drink or snack and there is plenty of parking space around. And …. the market hall is surrounded by more than 200 apartments! You will ask how? See the photo! The two ends of the buildings are capped with glass walls and the inner walls and ceiling of the hall are colorful works of art representing the food and flowers you might find inside. Believe me, it's a fascinating piece of architecture!
Rotterdam, the city with the most modern skyline in the country, is a must-see when you visit the Netherlands. And a walking tour through Rotterdam is a real eye opener for all lovers of great architecture!