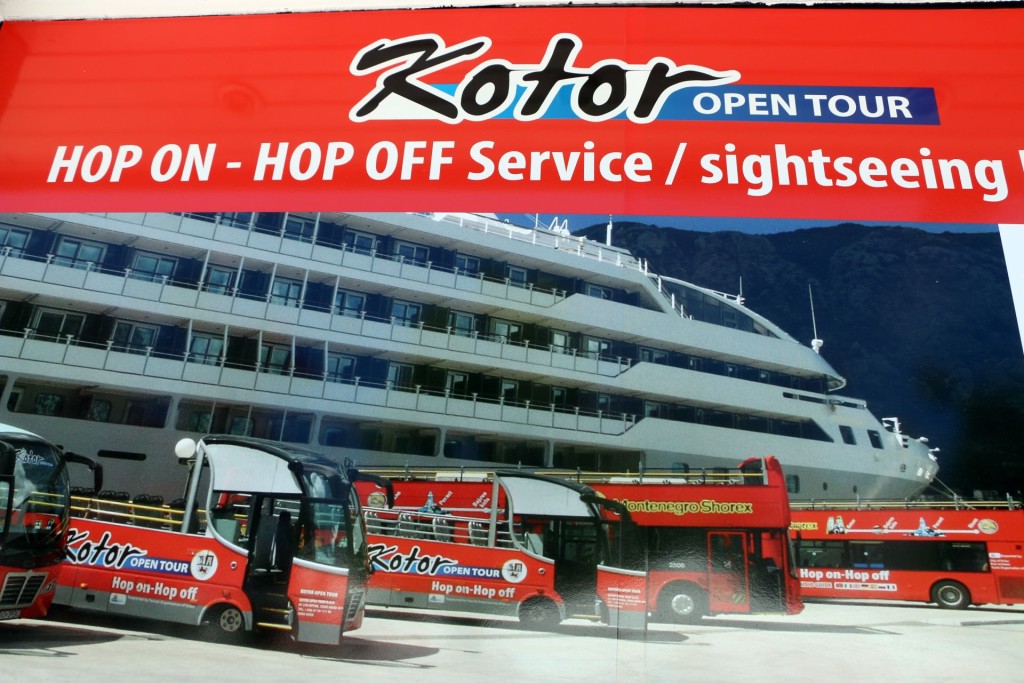 The world's leading travel guide, Lonely Planet, awarded Montenegrin tourism a significant recognition, by ranking Kotor first on the list of top ten cities to visit in 2016. And indeed, this beautiful old town has become an outstanding tourist attraction.
We visited Kotor last weekend and we were surprised to see so many foreigners exploring the town. Two cruisers had arrived early that morning (photo 1) and many groups were visiting the historical and cultural sights, individually or with tour guides.
A lot of tourists bought tickets for the hop-on hop-off bus "Kotor Open Tour" (photo 2). This is a good way to visit Kotor and its surroundings. Buying a voucher you can travel from Kotor to Risan on the open bus, with stops in Perast and at the beach of Bajova Kula. The price (20.00 €) includes coupons for the Roman Mosaics in Risan, the Museum of Perast and for a walking tour with guide through the old town of Kotor. If compared with other cities like Rome or Madrid, the price is rather high, but for one-day visitors this is certainly a nice way to get acquainted with the Bay of Kotor.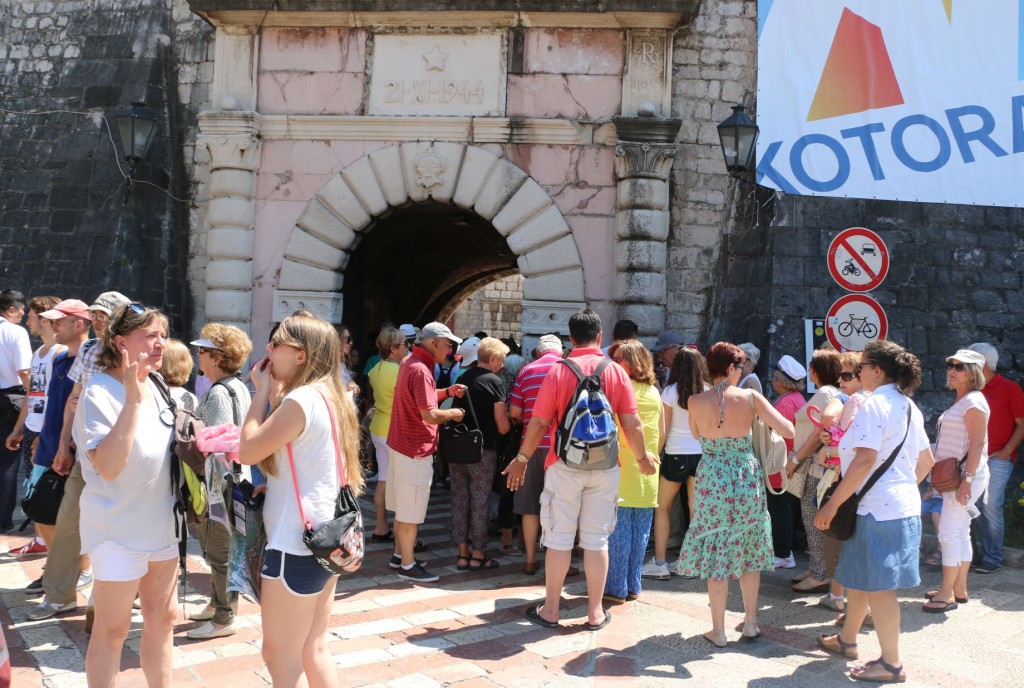 Since last year, many things have changed in Kotor. The town is clean and well-maintained, the open air terraces are attractive and the service is good.
It was very crowded in front of the entrance gate and many people were pushing each other to get through, so we decided to take a rest on the new giant bench in front of the entrance. Nice!
Finally, we succeeded in entering the town (photo 3) and we found a place at San Giovanni's pub where we enjoyed a good cup of coffee, watching hundreds of people passing by. Asian ladies with fancy hats and shawls making selfies (photo 4), fat British girls in extremely short "hot pants", Italian dandies and Dutch tourists with their typical sandals and white socks …. The whole world meeting in Kotor!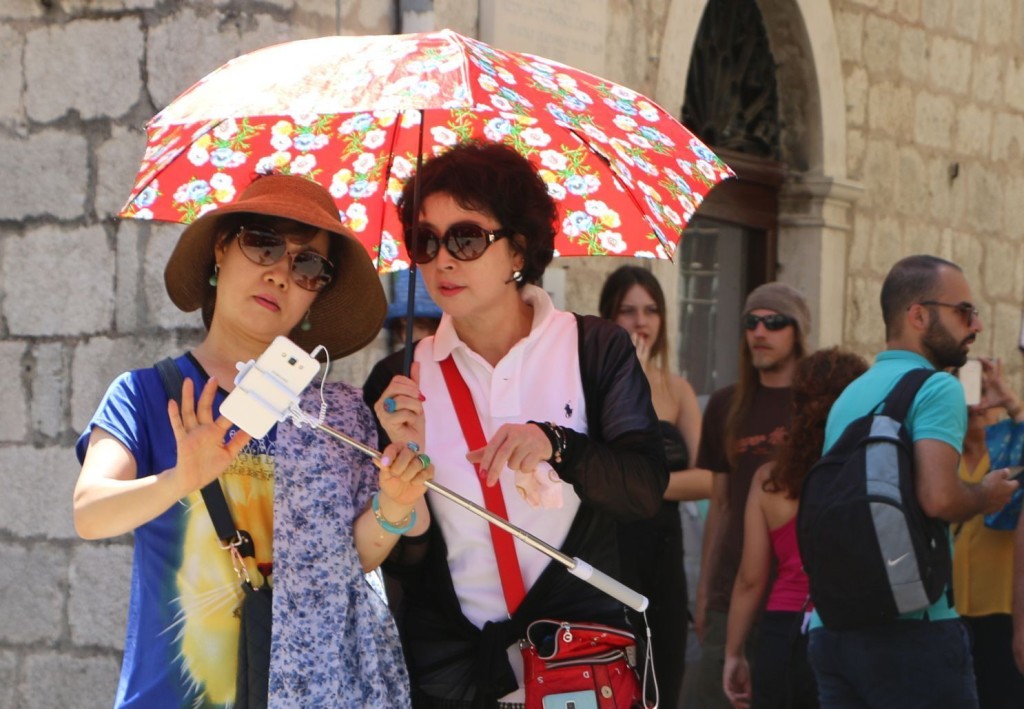 But in spite of the overcrowded squares and streets, we could still discover authentic narrow back streets and romantic corners (photo 5); the atmosphere was quite cozy. All kinds of souvenirs (photo 6) were exhibited in shop windows, most of them pure kitsch, but why should we give our opinion about it? If people like them, let them buy!
A folklore group was dancing and singing on the main square. An old man played the saxophone in front of the Orthodox church and on another street corner, a young student played Mozart on his flute. All pubs and terraces in the open air were full of people and everybody was in a good mood. Of course, you could eat fresh fish and grilled meat, but there were plenty of other possibilities: pizza, pasta and other light lunches were obviously more popular. We had an excellent chicken burger in a pub called "The Square" in front of the St. Triphun's cathedral for 5.50 Euro.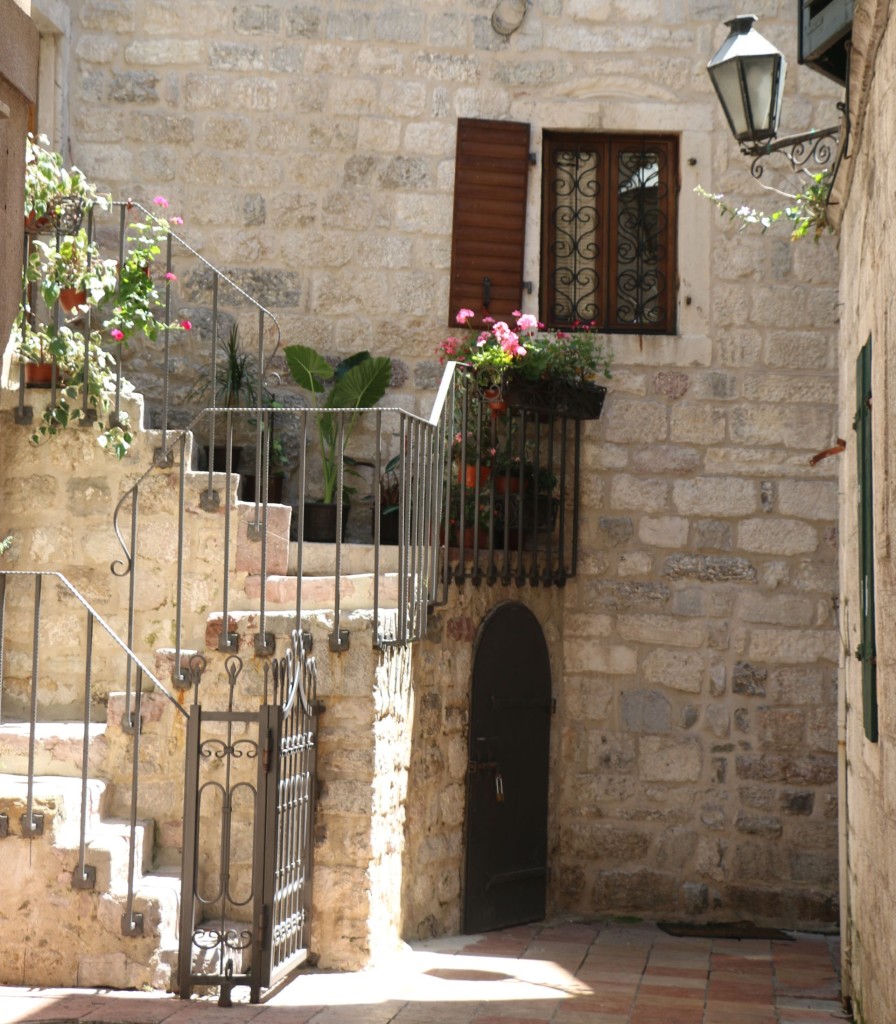 A Dutch couple at a neighboring table told us how impressed they had been when they entered the Bay in the early morning. "I have never seen something more beautiful in my life", said the middle-aged man, his arms full of tatoos. Of course, we were really glad to hear that. But then his wife asked: "Are we still in Croatia or is this already Serbia?" Hmmm, we tried to explain that Kotor is situated in Montenegro, but obviously, this was too difficult to understand for these tourists who traveled by cruiser all around the Mediterranean….
I must say: Kotor is wonderful, not only off-season, but also in July and August, even when it is overcrowded with tourists. In some way, this town is alive, it is real. It does not look like a theatre scene, it is relaxing and offers a lot of different experiences.
If you ignore the beggars and young men offering "Ray Ban" sunglasses on the streets and terraces, you can have a wonderful time here.
And if you want to avoid the crowds – come to Kotor in the months before or after the high season!