One of the most popular excursions in Durmitor National Park is the jeep safari called "Ring around Durmitor". From late May, when the snow on Štuoc is finally cleared away, adventurous tourists start to explore the spectacular natural beauties of Durmitor. As a rule, they make a stop at the Tara Canyon panorama point and enjoy the breathtaking view, they pass by the junction where a narrow asphalt road turns off to the village of Mala Crna Gora (photo 1), and then continue to the Sušica Canyon and the village of Nedajno. A great tour indeed!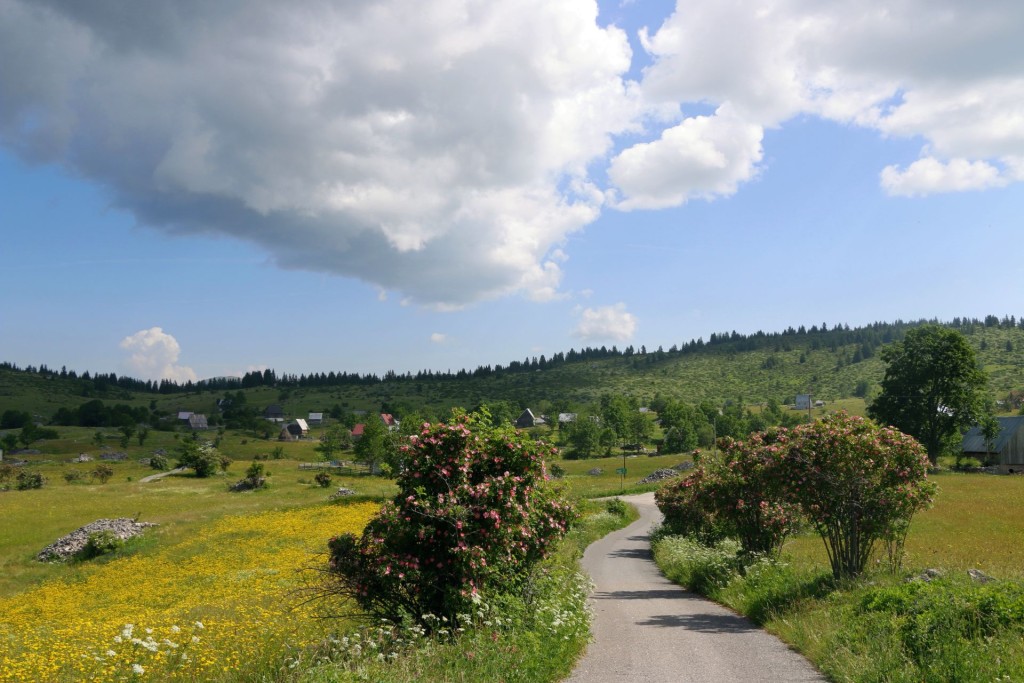 This month, we have accompanied two Dutch groups on such a jeep safari, without entering Mala Crna Gora. So last weekend we decided to also explore this authentic "Little Montenegro", whose natural position between Sušica Canyon, Tara Canyon and the high mountain pass of Štuoc is the reason that it is almost inaccessible during the winter. We did not expect to see anything special, but the fact that this village is so isolated and totally cut off during six long winter months made us quite curious.
Mala Crna Gora is situated around 25 km from Žabljak at an altitude of 1,800 meters. The inhabitants practice sheep and cow farming, as the mountain plateau mainly consists of pastures surrounded by beech and pine forests. Piles of stones collected from the grassland are scattered everywhere and are characteristic for this impressive landscape.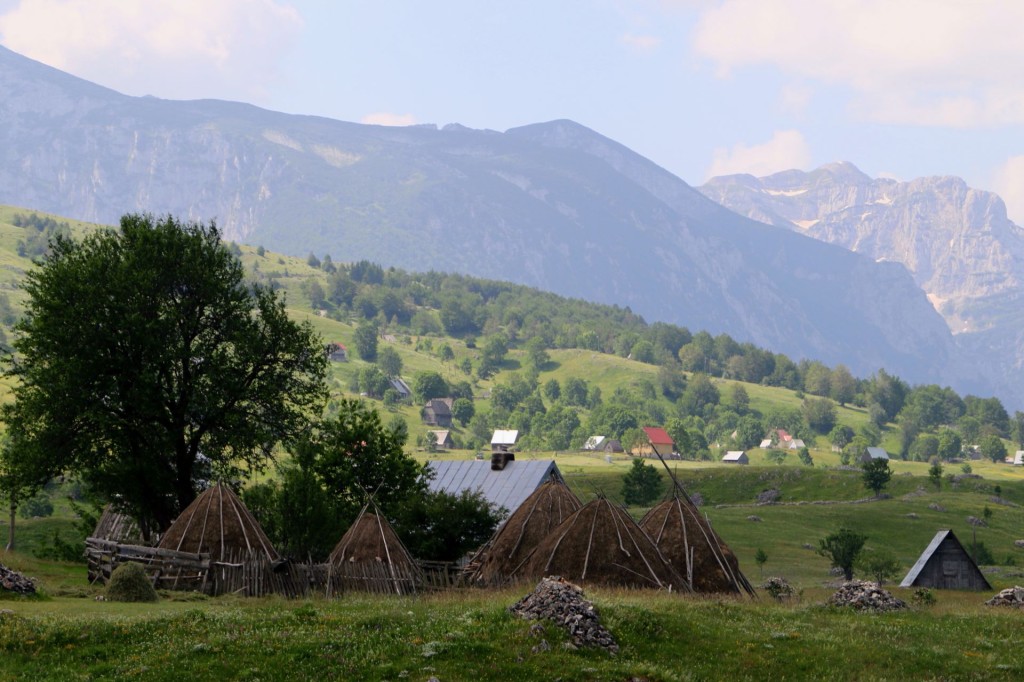 Out of around 100 inhabitants, only 30 stay in the village during the winter and this number is decreasing each year. Their life is hard in those lonely months. Sometimes they can only dig a small path through the snow connecting their house with the stable, where they keep their cows and sheep. It may happen that even visiting a neighbor becomes impossible, as does seeing a doctor. Each year, TV teams visit the village after the winter isolation and each year they ask the same questions: "How did you spend the winter? Was it hard? Are you happy you can see your grandchildren again?"
The summer is short in this area, but wildflowers are abundant. We followed the narrow winding road through the village, edged by beautiful wild roses, while the pastures were covered with yellow wildflowers (photo 2). But what impressed me most was the authentic atmosphere. I could not see a single house that spoiled the quiet rural atmosphere by brightly colored walls or shiny corrugated sheet roofs. Many houses and cottages were made of wood in old Durmitor style.
We made a stop and got out of the car. The silence was complete. A dry breeze made the air cool and transparent and the clouds playing above the canyon were a pleasure for the eye. Small wooden shepherd's cottages, built who knows when, were scattered throughout the landscape. A young woman was collecting hay, putting it on traditional haystacks (photo 3 and 4). Everything was neat and tidy, there was no garbage around, the wooden fences were well-maintained.
I asked myself why the first inhabitants of this village settled down here three centuries ago. Why did they decide to start a new life on this cold, high and isolated plateau without any water springs? It is a fact that village was so remote that Ottoman forces allegedly never managed to enter it, so that could be a reason. But even fifty years ago, Mala Crna Gora had still 400 inhabitants, sixty oxes and 3,000 sheep. Now there are hardly 300 sheep left. People are leaving the village in search of a new and better life.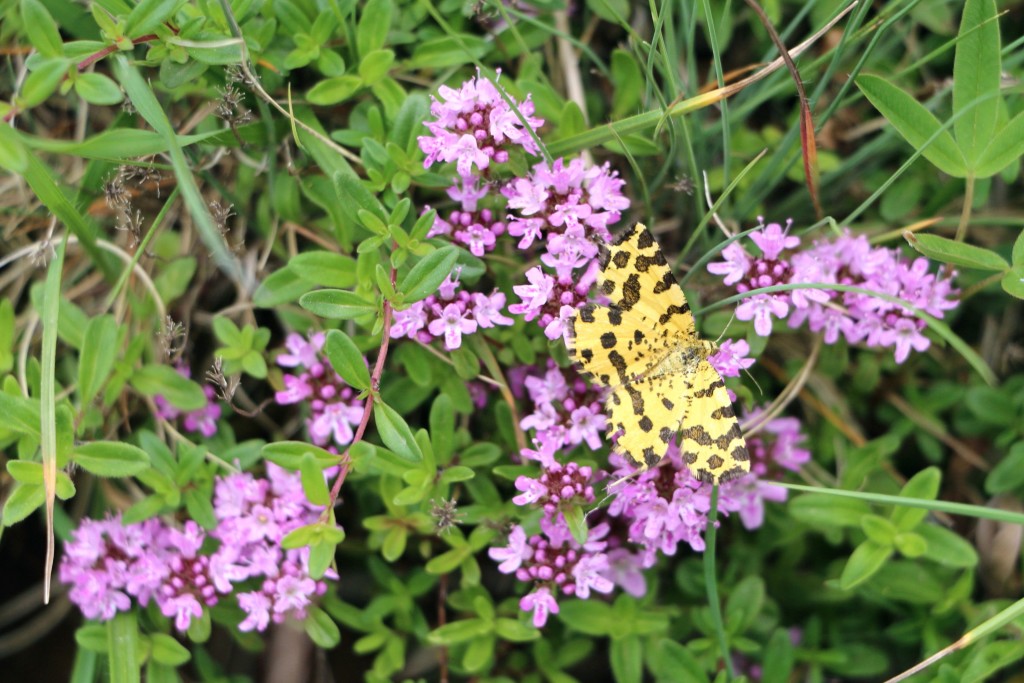 Finally we reached the end of the road, just above the Sušica Canyon, in front of the Memorial House of Radoje Dakić. This national hero-partisan from World War II was born here in 1911 and died in Russia when he was only 35 years old. Many personal items and also the urn with his ashes are kept in this house.
It was time to get back to the modern world, leaving Mala Crna Gora as one of the few really authentic villages in Montenegro. It is important to understand that this authenticity has a special charm for many Western tourists who are always willing to explore the untouched and unexposed and to avoid areas and activities in presence of other foreigners, surrounded by typical flora and fauna (photo 5 and 6).
Many travelers are desperately searching for authentic local experiences. The regular tourist destinations have become boring for them, they have already visited many churches and museums, popular beach resorts and perfectly renovated "old towns". They want to live the local life, to get familiar with local culture and traditions, and to discover the pristine beauty of nature. For them, holidays have become more than just periods of rest and relaxation – they are now opportunities for learning and self-development as well.
Maybe the promotion of "authentic tourism" could be a new chance for this beautiful village? Even if the summer is short, it might be an interesting source of additional income for the decreasing population. Of course, it would be a big mistake to build a hotel or fancy restaurant here. But I believe that there are people who would love to spend a few summer weeks in this typical Durmitor village, helping the farmers with their daily activities or hiking/biking in these spectacular surroundings… (photo 7).
As far as we are concerned, we will certainly spend a weekend over there with our camper!