Traveling by car along the Albanian coast is an amazing experience. Many new tourist resorts are rising from the Adriatic Sea: in towns like Velipoja, Shengjin, Dürres and Vlora, hundreds of new apartment buildings and hotels are under construction. Infrastructure is developed in the form of palm-lined promenades, wide boulevards and sunny squares with pretty street cafés. New districts are constructed according to strict urban-planning standards.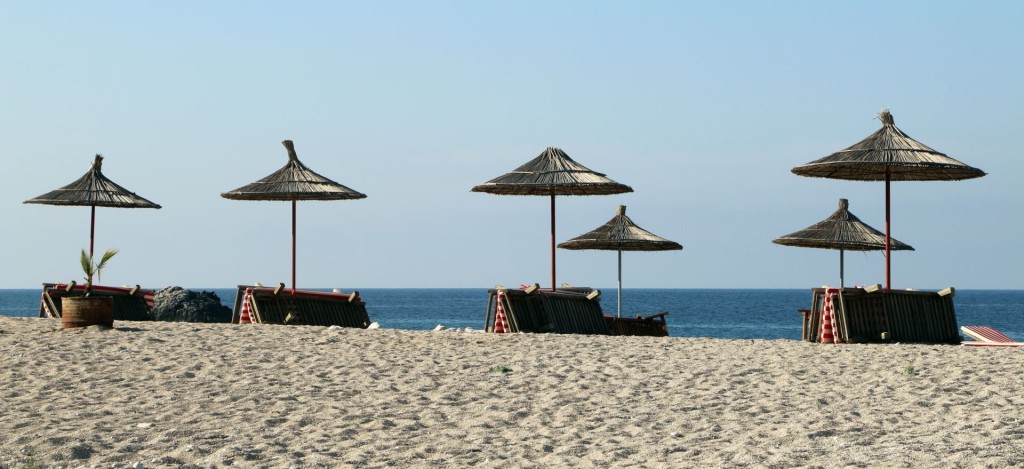 Many tourists come from Kosovo and are interested in a beach holiday with good food and a vibrant nightlife, all according to the formula "sea, sun, sand". But what about those foreigners, who visit Albania searching for adventure, pure nature and quiet beaches?
I would recommend them to follow the coastal road south of Vlora down to Saranda. At a distance of 125 km (at least three hours driving), this road offers one of the most scenic and spectacular views along the Adriatic and Ionian coasts (photo 1). Although we had visited this part of Albania before, we enjoyed our camper trip as if it were the first time.
From Vlora, we followed the rocky cliffs and transparent blue waters of the Adriatic Sea. South of Orikon, the road headed inland. Many small villages were scattered over the slopes of the mountains.
Gradually, the vegetation changed into pine forests: in Llogara National Park, typical flag pines could be seen, named for their flat tops. At the top of the Llogara pass, a large panorama point (1000 m above sea level) offered a breathtaking view of the Ionian Sea, with a steep slope lunging down to the water's edge. A picturesque switchback road with lots of sharp bends brought us closer to the sea once more, passing authentic villages and deserted beaches.
We found accommodation at Camping Kranea in Himarë, a small campground with lots of shade in an old olive grove,  directly on the long sandy beach (photo 2). A wonderful place indeed, and obviously very popular – most of the pitches were occupied, although the season has not even started. Dinner – what else but fresh mussels, a specialty of this region – in the cozy open restaurant was delicious.
Next day we continued our trip. The first stop was at the Porto Palermo Castle, not far from Himarë (photo 3). It was built by Ali Pasha of Tepelena in the late 18th century, although some sources state that it was built much earlier, by the Venetians. Porto Palermo looks like a fairy tale: on a little peninsula in a closed bay, it is surrounded by abundant vegetation, a lovely beach and clear water. The slopes of the mountains opposite the castle are covered by huge agavas, their flowers tall as trees.
Yes, nature is spectacular along this part of the Albanian Riviera and it was strange to see the long and almost deserted sandy beaches, sometimes serving as a resting place for cattle only.
There was hardly any traffic on the winding and rather dangerous road, at some streches full of potholes. Farmers were transporting their milk with horses and donkeys (photo 5). From time to time, shepherds with flocks of sheep and goats were blocking the traffic.
Approaching Saranda, the scenery changed again. Dozens of hills that looked like green pyramids appeared in front of us. A long time ago, the hillsides were terraced and planted with olives and citrus trees (photo 4). Their cultivation is still very important, but many olive groves and citrus terraces seem to be neglected and abandoned – is this way of fruit and olive growing too time-consuming and labor-intensive to be competitive with other countries?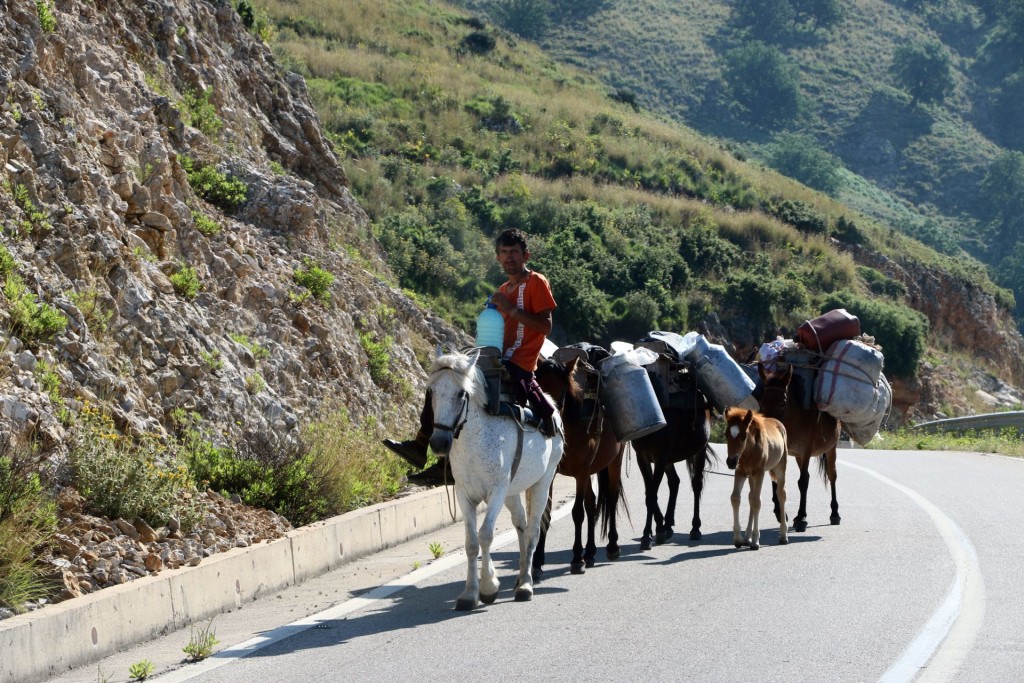 The townscape of Saranda showed up as soon as we reached the coast (photo 6). Another beautiful, sunny city opposite to the Greek island of Corfu. Mass tourism has started here many years ago.
But honestly speaking, I hope that the remaining part of the South Albanian Riviera can be saved from mass tourism development.
As the most important roads leading to Greece pass through the continental part of Albania (Gjirokastra) and good infrastructure along the coast is still missing, maybe this region will remain a hidden secret for adventurous nature lovers for another few years…