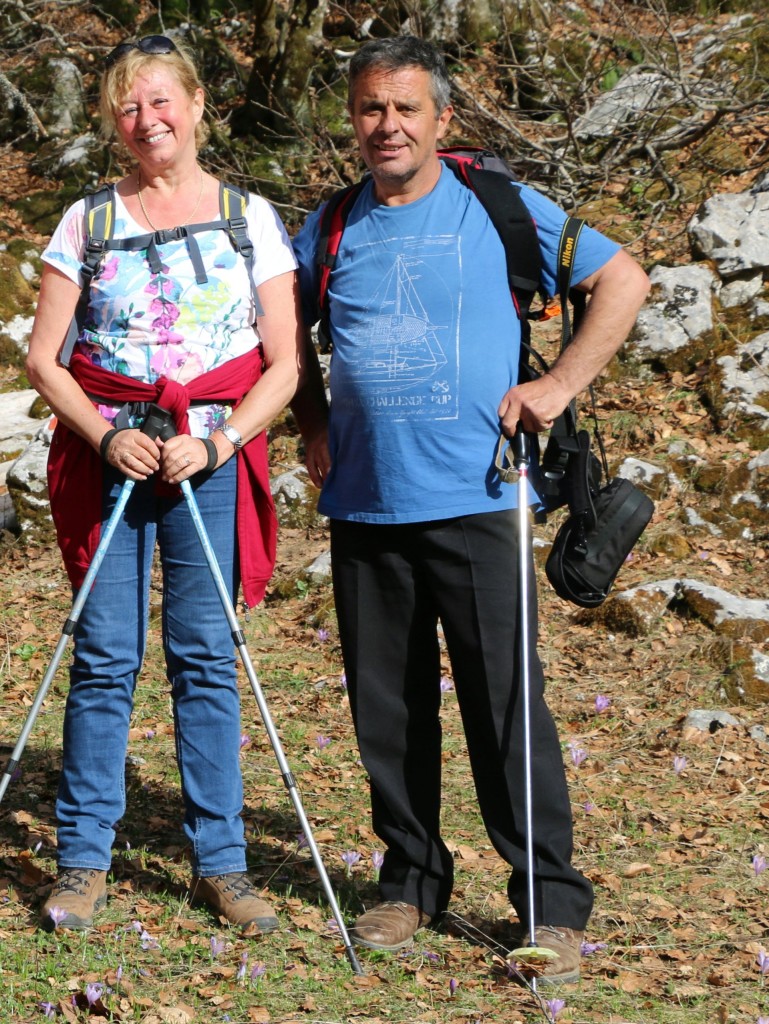 The last Saturday of April was a perfect day for a hiking tour in the mountains. It was not easy to decide where to go, as there is still snow at altitudes above 1500 m. We had heard a lot about the hiking possibilities and wonderful nature in Lepushë, a village situated in the Kelmend region in Northern Albania at an altitude of 1200 m. At a distance of around 80 km from Podgorica, it really seems close and indeed, the first (reconstructed) part of the Kelmend road from the Albanian border in Hani i Hotit to the village of Tamarë is excellent (see my blogpost: http://montenegro-for.me/2014/11/albania-tamare-new-kelmend-road/ ). But believe me, the remaining stretch – 23 km – from Tamarë to Lepushë is a disaster for your car. Don't even think about going there without a 4×4!
Tamarë is the place where the new asphalt road stops. You will need more than an hour or so to pass the dirt road that leads further to the north. No wonder, intensive reconstruction works are going on along this mountainous and winding road: hundreds of workers are building stone support walls and earth-moving machines are preparing the land for a new asphalt layer, but they will immediately get out of the way when they see a passenger car approaching.
Honestly speaking, we didn't even notice the bad and bumpy – sometimes also muddy – road, as nature in this area is absolutely awesome (see my blogpost: http://montenegro-for.me/2012/09/discover-kelmend-valley-in-albania/).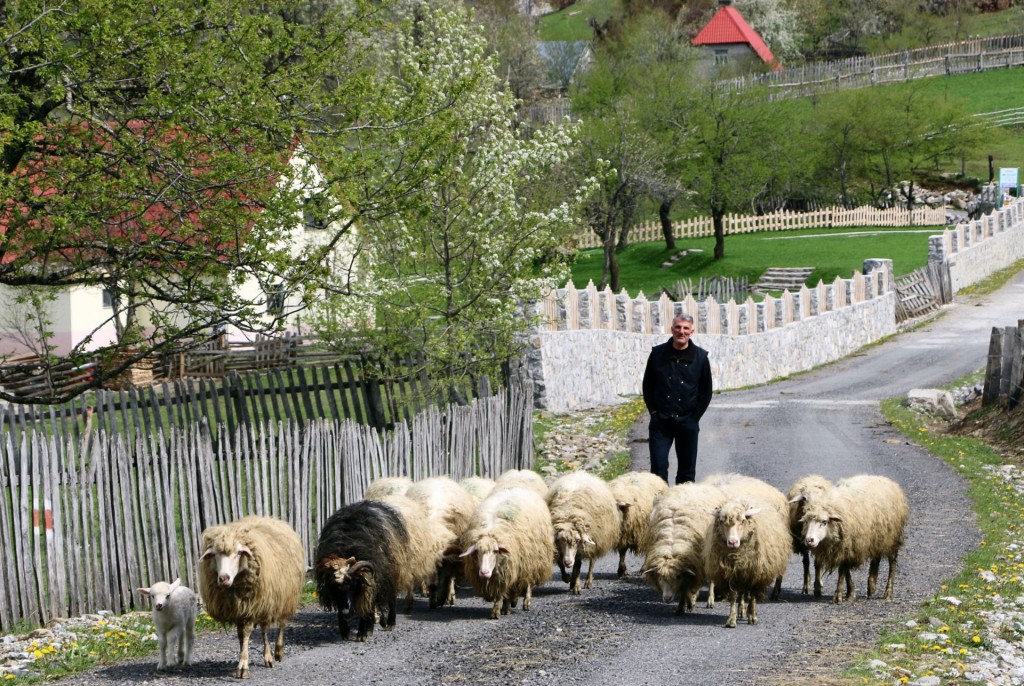 In Lepushë we were expected at the Alpini guesthouse of Luigj Cekaj, where we were cordially received with coffee and home-made raki on the balcony, from where the view of the quiet valley and the snow-covered mountains was spectacular.
We got a good hiking map with numerous trails in the Kelmend region, but as our company was not experienced, we asked Luigj to guide us on an easy/moderate hiking tour in the surroundings. Walking through the valley, we met shepherds with their flocks of sheep, jumped over brooks and climbed over wooden fences. The meadows were covered with a delicate carpet of spring flowers that contrasted sharply against the snow-covered mountains around the valley.
After a 20-minutes walk, the valley ended and a steep, narrow and well-marked trail took us uphill, along a mountain stream, through impressive beech forests and further to a small rocky saddle. It was a real surprise to discover a small forest clearing, surrounded by rocks and snow patches. A mountain stream crossed the glade, edged by yellow marsh-marigolds. This flowery clearing, named Gropa e Ujit ("water pits"), is also called Paradise Garden. What a beautiful spot!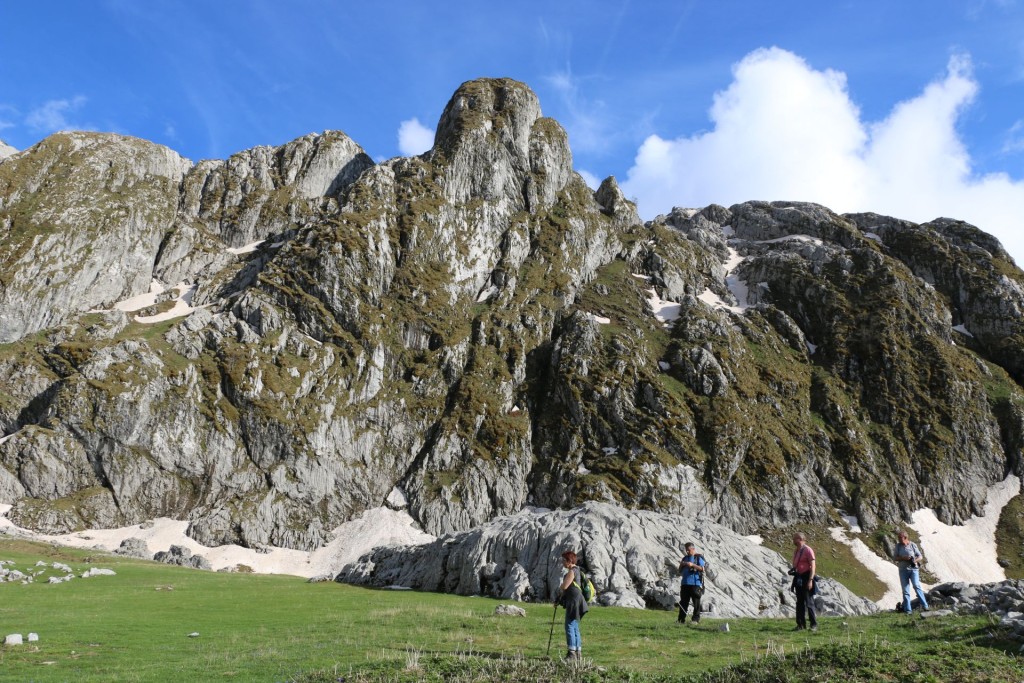 We passed the snow patches and continued our hike to the pastures at the foot of Mount Paja. Grassland, snow, strange-looking huge rocks and silence all around us… pure nature! Luigj told us that the Montenegrin Cursed Mountains (Prokletije) – Mount Valušnica – are just at the other side of this mountain.
Abandoned mountain huts were waiting for the flocks to come to the summer pastures and sheep pens, built in the shadow of huge rocks. It was time to go back to the valley, downhill, through grassy pastures, small snowfields and beech forests.
Altogether, for us it was quite an effort, but – thanks to our professional and patient guide Luigj – we made it!
Hospitality is a sacred law in Kelmend and we enjoyed the copious meal that was prepared by Luigj's wife. The night was very cold, but we were exhausted and enjoyed sleeping in the warm bed. Breakfast was served with a variety of home-made products: different types of marmalade (I adored the blueberry jam), cheese, yoghurt …. Delicious!
We left Lepushë with unforgettable memories. It took us a few hours to get back to Podgorica, but we were told that the road will be finished in September. With a good asphalt road, I am sure that Lepushë will become a popular mountain resort, also for the inhabitants of Montenegro.
Nature in Kelmend is astonishing. Hiking possibilities (best hiking season: June 1st-September 1st) are numerous. The hospitality of the people is amazing. The cuisine is delicious. So far, the area has not been spoilt by modern hotels and other tourist facilities. I hope that Kelmend will succeed in keeping all of its beauty and authenticity.