Is it possible to write a story about bridges? Yes, it certainly is! Although Montenegro is small, there are a lot of important and often turbulent rivers that cannot be passed without a proper bridge. Traveling around the country, I have seen many of them, some of them outstanding by their architecture, or history, or position … or even by the legends that are connected with them.
I'll present you 5 bridges that have impressed or touched me most, bridges that have captured my imagination or made me enjoy their magical atmosphere and harmony.
1. Đurđevića Tara Bridge: spectacular landscape and turbulent history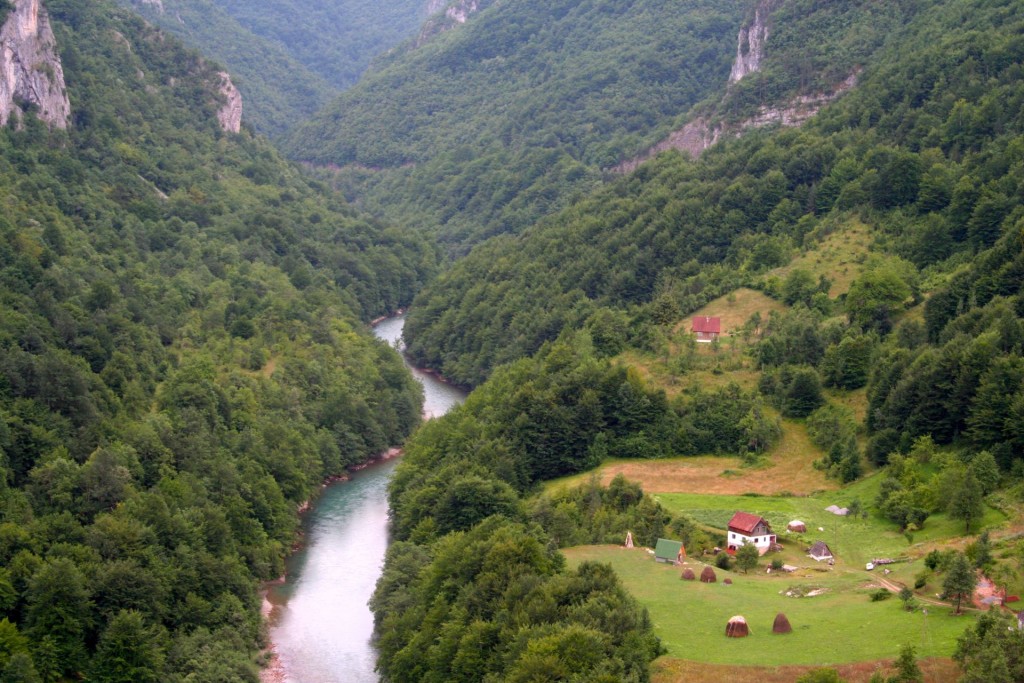 Maybe you can hardly believe it, but this bridge was the biggest vehicular concrete arch bridge in Europe at the time of its completion, just before WWII. And even after all these years, the Đurđevića Tara Bridge is a one of the highlights of Northern Montenegro. From the edge of the roadway, 172 m above the Tara River, you will have a spectacular view of the canyon in all its beauty. For Dutch tourists, the bridge is particularly attractive: it plays an important role in the Dutch novel "Het land achter Gods rug" (The Land behind God's Back), written by A. den Doolaard in 1956. This novel is based on the true story of engineer Lazar Jauković, who had participated in the construction of the bridge. In 1942, the Partisans decided to blow up the bridge, as they wanted to stop the Italian army. This task was entrusted to Jauković, who destroyed the bridge by placing explosives on the central arch. But when the engineer was eventually captured, Italian soldiers executed him on the very spot. A bust in his honor was placed next to the bridge as a witness of a heart-breaking war story.
2. Danilo's bridge in Rijeka Crnojevića: a romantic and peaceful place
The bridge over the Crnojević River is an important historical monument, but it has also got a special place in my heart. The bridge was built in 1853 by Prince Danilo, together with a one-storey house next to the bridge, popularly called Mostina (most=bridge). "Mostina" now houses a nice restaurant, where I have spent many beautiful moments and enjoyed excellent meals with family and friends. A romantic and quiet place, where you can sit for hours on the sunny terrace, observing birds and fishing boats on the water (see also http://montenegro-for.me/2013/03/from-cetinje-to-rijeka-crnojevica-the-old-trade-route/).
3.  Millennium Bridge in Podgorica: a landmark of the capital city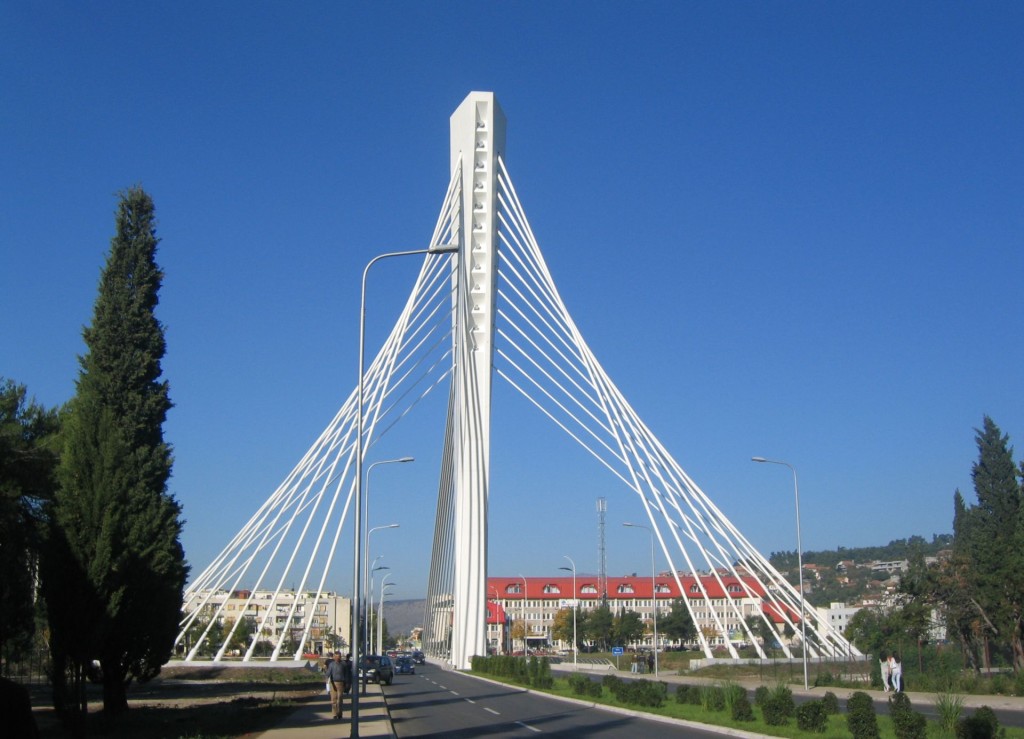 This cable-stayed bridge spans the Morača River and was – how funny! – not opened in 2000, as you would expect, but in 2005. With its length of 173 m and pylon of 57 m above the road surface, it has become one of the most prominent landmarks of Podgorica. Is it beautiful? Opinions are divided. There are a lot of similar bridges in the world, but I must admit that the Millennium Bridge is quite attractive, as it fits well into the urban environment of the capital city (see also http://montenegro-for.me/2012/11/podgorica-walking-tour/).
4.  Adžijin Most (Adžija's Bridge) near Danilovgrad: a Turkish bridge with a legend
I like Adžija's Bridge; it is an architectural masterpiece of elegance. This unusual bridge, made of hewn stone, was built by an "Adžija" (Hadzi) during the Ottoman occupation, but exact data about the year of its construction and the hadzi's name are not known.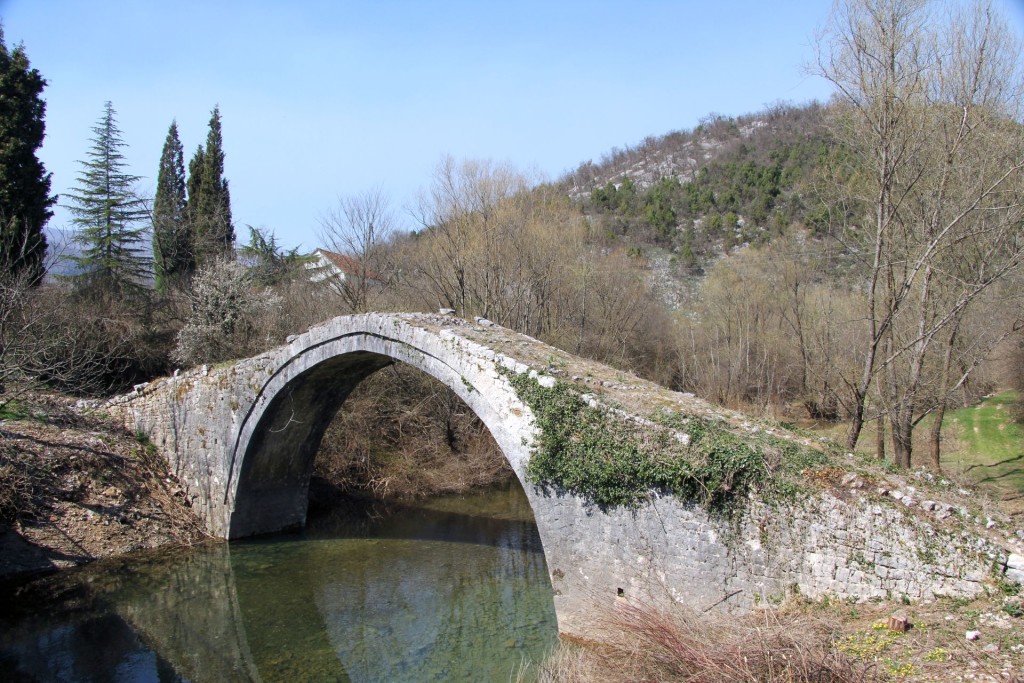 Once, the bridge was part of the caravan route from Shkodra to Onogošt (Nikšić) – nowadays, it is not used anymore, but you can find it on the right side of the road from Danilovgrad to Glava Zete. And it is not only a beautiful tourist site… According to a legend, nothing can separate a couple that has kissed under the Adžija's Bridge! (see also http://montenegro-for.me/2015/03/along-the-zeta-river-turkish-bridges-and-a-bronze-age-tombstone/)
5. Moštanica Bridge: Roman bridge in Nikšić
One of the oldest bridges in Montenegro is the Bridge on Moštanica in Nikšić, also known as the Roman Bridge. It was built by the Romans in the 3rd century AC. Made of hewn stone, it is 2.3 m high and the arch openings are 5.5 m each.
Although it was declared as a cultural monument in 1947, the environment looks rather neglected and the former Moštanica River has dried up. Fortunately, conservation works are now in progress, as this is a very interesting site – also due to the fact that there is an medieval graveyard (with "stećci") in the vicinity.
And finally, I would like to show you two more bridges as an addition, as I am fascinated by suspension bridges. One of them is situated in the picturesque setting of the Morača Canyon.
Until recently, it has been used by the (76!) inhabitants of the village of Rijeka Piperska, who didn't have any other connection with Podgorica. Nowadays, a new connecting road is under construction and the bridge is in bad shape. Passing it is extremely dangerous and risky!
Another beautiful suspension bridge over the Zeta River was recently reconstructed in Dobro Polje, along the old road between Danilovgrad and Nikšić. The bridge, almost 70 meters long, can be used by small cars and leads to a rural area with several small villages (see also http://montenegro-for.me/2015/03/along-the-zeta-river-turkish-bridges-and-a-bronze-age-tombstone/).
Isaac Newton once said: "We build too many walls and not enough bridges". Isn't that a good saying?