There are several reasons why Madrid is a nice tourist destination during the winter. First of all, it is not overcrowded, which enables you to visit the numerous museums and churches in a quiet and relaxed atmosphere. Second, the weather is not too hot for long walks and sightseeing. And there is a lot to see in Madrid…
Nowadays, low-cost carrier Ryanair offers many European flights at a low price, which makes it much easier to travel from Podgorica all over Europe. Several domestic travel agencies offer favorable package tours and we decided to make use of such services for a five-day city trip.
Although we had to make a stop-over in Brussels, the flight connections were good and we safely arrived – at midnight – on Madrid's airport Barajas.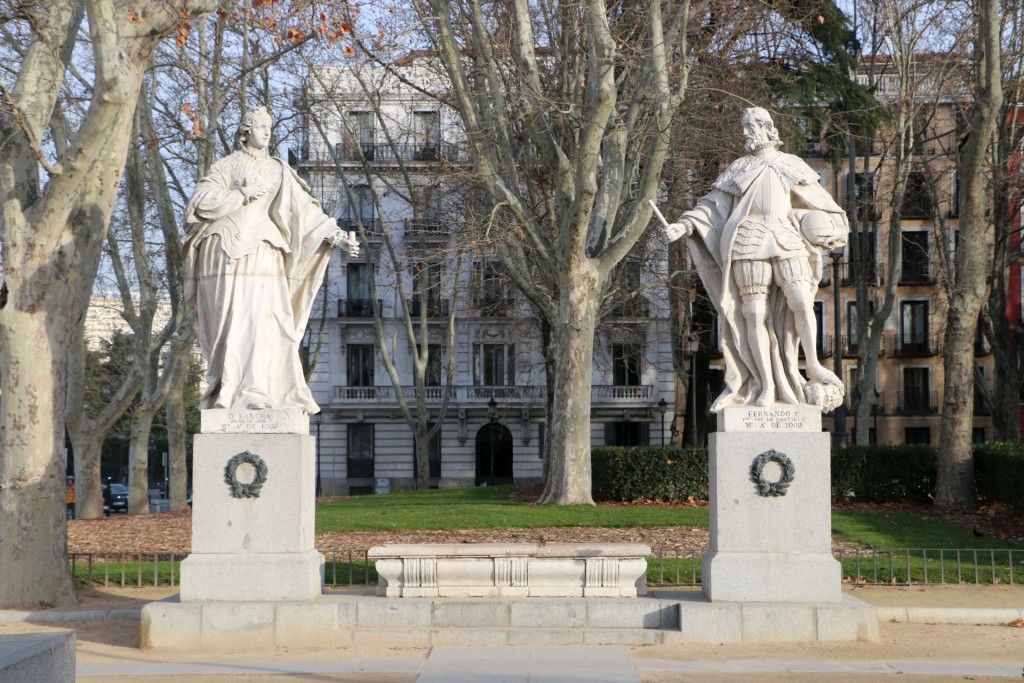 A taxi cab took us for € 30 (fixed price) in twenty minutes to Hotel Florida Norta in the central part of the city, near the Royal Palace (photo 1). The accommodation was satisfactory and the position of the hotel was excellent – opposite to the shopping mall Principe Pio that is housed in an old railway station.
As we always practice when making a city trip, we bought a ticket for the "hop-on hop-off" tourist bus (photo 2). This gave us the possibility to get an idea about the points of interest and to plan our three-day stay. We also bought a "Paeso del Arte" Card for the three most important museums. And off we went…
There are so many things to see in Madrid that I can mention only the highlights in this post. First of all, the huge Royal Palace (2,800 rooms) in Rococo style, built in the 18th century, and its surroundings. After exploring the nearby Sabatini Gardens and the beautiful Plaza del Oriente (photo 3), we visited the Almudena Cathedral just beyond the Palace. Witnesses of a great past!
Of all museums we visited, Museum Thyssen-Bonesmiza was the biggest surprise. As a matter of fact, we got a quick lesson in the history of Western Art from the 13th-20th century by seeing great master-pieces of lesser-known painters, but also lesser-known paintings of great masters: Rembrandt, Monet, Chagall, Picasso, Dalì and many other artists. It was a great experience indeed.
The old part of Madrid, La Latina, deserved a long stroll through the narrow streets with beautiful old façades (photo 4) and hidden squares like El Rastro. Plaza Mayor, built in the 16th century, appeared to be a fascinating place, surrounded by old painted buildings (photo 5). We also watched the street artists on the Puerta del Sol square and explored the market on Plaza San Miguel.
Of course, the Prado Museum with its huge collection of Spanish Baroque art (Velazques, Goya, Murillo, Caravaggio…) is a highlight for all tourists. Personally, it was particularly impressed by Goya's lugubrious "Black Paintings".
It was a great moment to see Picasso's famous "Guernica" in the Reina Sofia Museum.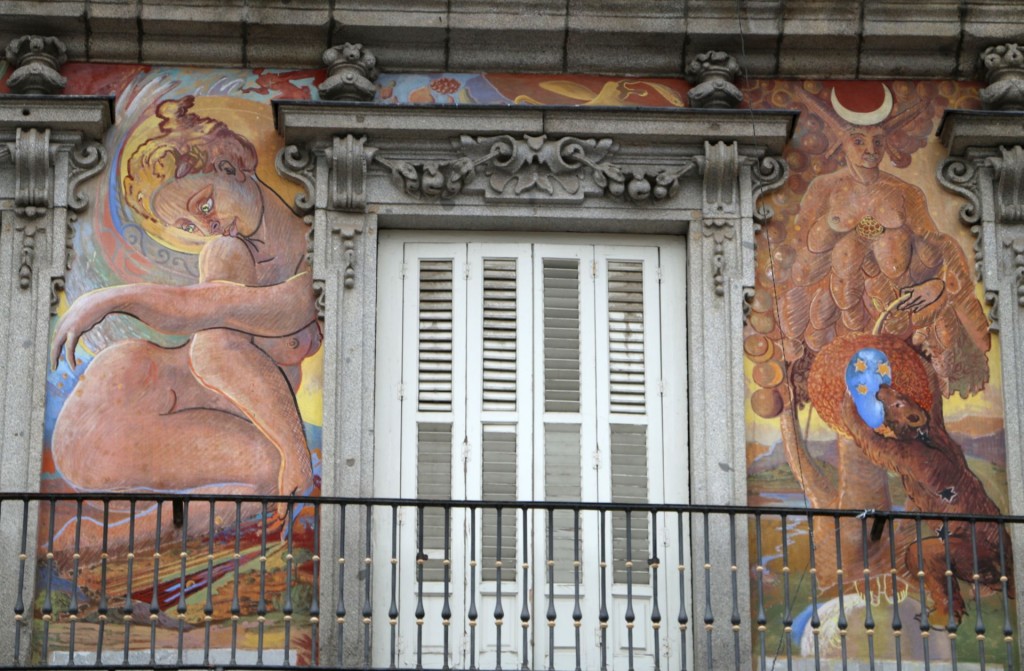 The remaining collection is interesting for lovers of modern art. It was astonishing to see so many young school children in all museums (photo 6). Very disciplined, in school uniforms or with colored scarves, the groups were accompanied by teachers and you could find them sitting quietly in front of famous paintings, breathlessly listening to their teacher's explanation. Nice to see that Spain obviously pays much attention to cultural education.
What else could I say about Madrid? Spacious boulevards, hectic traffic, many police with machine guns on the streets (fear of terrorist attacks?) and friendly, open people. And don't forget to visit the Plaza de Espana with the bronze sculptures of Don Quixote and Sancho Panza (photo 7)!
The food? Not spectacular, but you can eat good tapas in Calle Baja or Calle Alta (La Latina) or, which is even better, in Calle Huertas opposite to the Prado Museum. We had a tapas plate for two persons in a typical Spanish "taberna" for € 20.
Altogether, we had a wonderful time in Madrid. I would certainly recommend the trip, but take care where you book! Our trip was organized by Globe Travel and, among many Montenegrin couples on the plane, we were the only ones who had to travel separately: our boarding passes, received on the evening before departure, referred to seats in different rows on all flights. Our protests were ignored. Not very serious, isn't it?