There are many places where Catholics and Protestants can celebrate Christmas, but Podgorica is certainly not the most attractive one. Most inhabitants belong to the Orthodox church, which means that their Christmas is celebrated two weeks later, on January 7th. That is the reason why we have spent most Christmas holidays abroad so far.
But this year we decided to stay "at home" in Podgorica. Unfortunately, it was really disappointing to see that "our" Christmas would not be celebrated at all: our foreign friends had left the country and everybody else would have normal working days, schools and shops would be open – and we felt a little bit "lost". An Albanian friend suggested us to spend Christmas' Eve in Shkodra, as this town has a large Catholic community and the atmosphere was expected to become quite festive (photo 1).
And so we left for Shkodra on December 24th, taking the picturesque road around Skadar Lake (photo 2). But we were not the only ones! There was a long queue at the Sukobin border – many Albanians working abroad, most of them in Italy, were on their way home to spend Christmas holidays with their families.
We had booked a small hotel in the town centre, Hotel Tradita, which is accommodated in an old traditional house and its rooms and restaurant look like a ethnographic museum (photo 3). The owner, a Catholic Malissore with a Muslim wife, had arranged a typical nativity scene (photo 4) in front of the picturesque building. He told us that there are even 8,000 mixed marriages in Shkodra. It is estimated that the proportion of Muslims and Catholics in town is around fifty-fifty, although the statistics for Albania show different figures: 70% Islam, 20% Orthodox and 10% Roman-Catholic.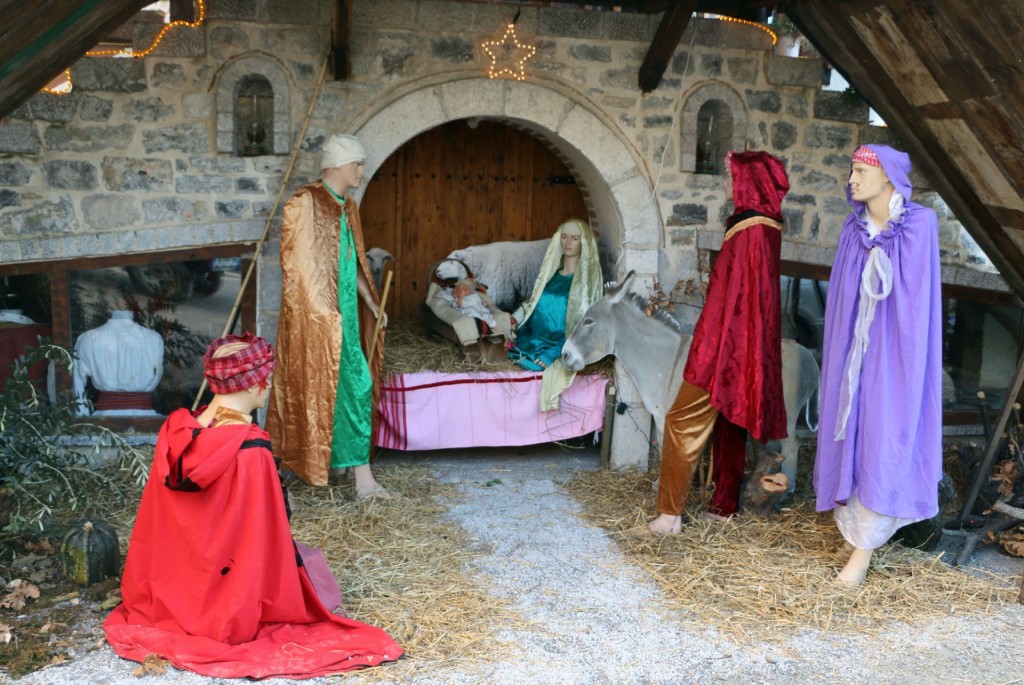 It is typical for Albania, once the first and only "atheist" country in the world, that religions have started to develop very quickly since the early nineties. But honestly speaking, I don't have the feeling that people are "deeply religious": they respect the religion of the family they are born into (similar to the Montenegrin idea of religion), but they don't know much about the real meaning of their belief. Indeed, they celebrate the holy days and they respect the Catholic traditions of marriage, death and baptizing. And – what is most important – they show a high level of tolerance for other religions. In that respect, Albania can be considered as an example for many other countries in the world.
Catholics celebrate Christmas Eve with their family and everybody attends the Holy Mass at 10 PM. After that, the real celebration begins. Muslims visit their Catholic friends, club and pubs open their doors for special "Christmas parties" with live music, and firework is let off at midnight.
It was a pleasant surprise to see the beautiful illumination in town. The pedestrian zone Sheshi or Kol Idromeno Street was brightly decorated. The city hall looked like a fairytale (photo 5), the palms like Christmas trees and all streets in the town center had got a festal look.
We had an excellent dinner at the well-known Vila Bekteshi restaurant. The prices in Shkodra are still ridiculously low, even if compared to Podgorica; we paid 10 € p.p. for a three-course meal with drinks.
Of course, we were quite curious: what would be our impression of the Holy Mass at 10 PM (photo 6)? It was a surprise to see the huge Cathedral congested with believers, most of them young people and families with small children. The Mass was served by the archbishop and broadcasted by an Albanian TV station. Although we could not understand a word, we were impressed by the solemn atmosphere and the choir singing Christmas songs. Who had ever thought, thirty years ago, that this would happen in Albania?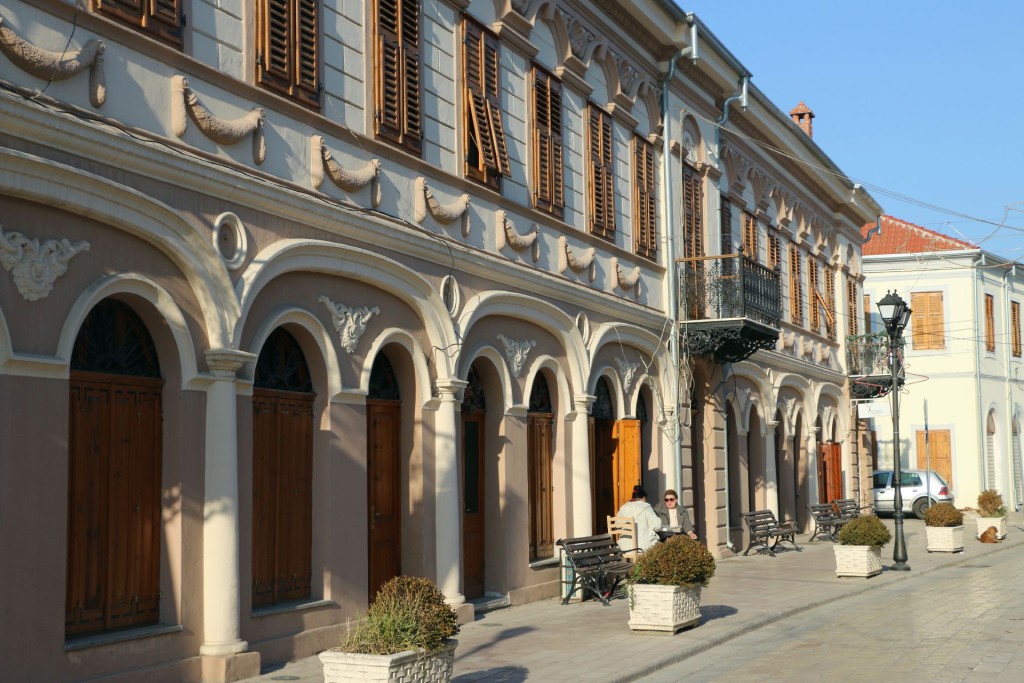 On Christmas morning we made a long walk through the town center. Each time when we visit Shkodra, we see progress, much progress. Old buildings restored and painted (photo 7), streets paved, parks and fountains clean and well-arranged (photo 8)… The weather was warm and sunny – a strange Christmas feeling for us, people from Northern Europe – and the pubs with open terraces were full of locals having their first cup of coffee. People were greeting us on the street with the words "Merry Christmas!"
And finally, believe me: Shkodra is gradually becoming an attractive city with a warm Mediterranean atmosphere, worth a visit at any time of the year!