The donkey farm that was founded by Darko Saveljić, ornithologist by profession, has often been in the news this year. Seven months ago, Darko started to purchase donkeys – often neglected and abused – with the wish to offer them a refuge and to protect the Balkan breed against extinction (photo 1).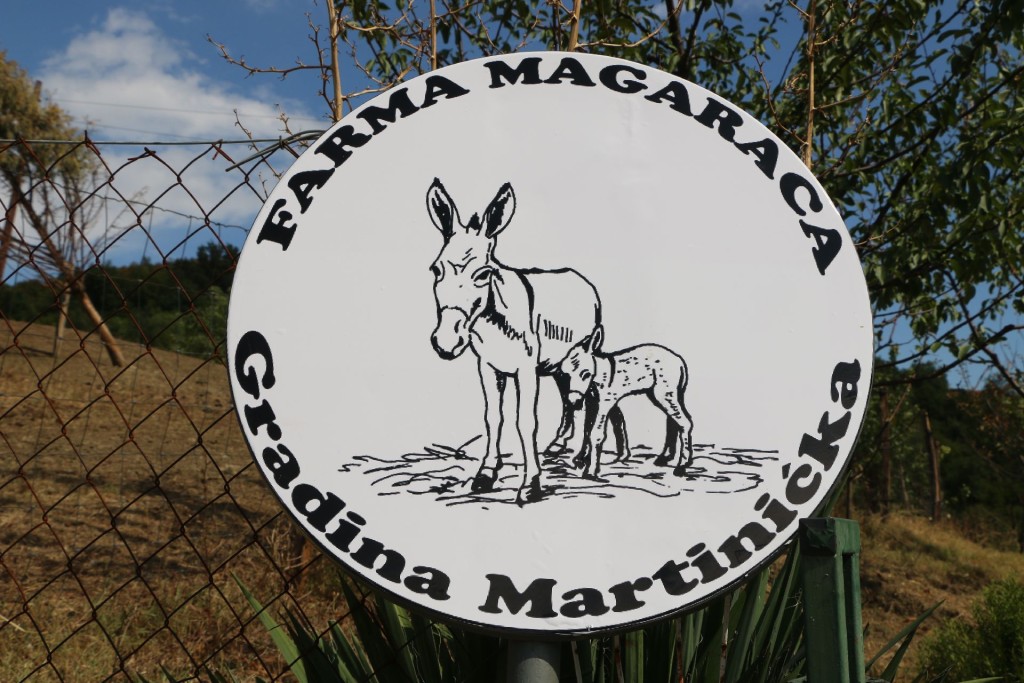 Once, donkeys were used for the transport of wood, agricultural goods and other heavy burdens. Once, they were the best friends of Montenegrin villagers. Nowadays, they are about to disappear and, according to the last Census, less than 600 donkeys are left in Montenegro. What a contrast with neighboring Albania, where you can still see hundreds of donkeys all over the countryside!
Another basic idea of the farm was to produce donkey milk that is highly appreciated (and expensive) as a powerful therapeutic medicine, in particular for children in the earliest infancy. It is mostly used when a child is of delicate health or recovering after a serious disease. Its healing virtues have been known since Antiquity, when doctors would recommend it to cure diverse affections: liver troubles, poisonings, fatigue, asthma, etc. By the way, already the Egyptian queen Cleopatra bathed in donkey milk to preserve her beautiful skin.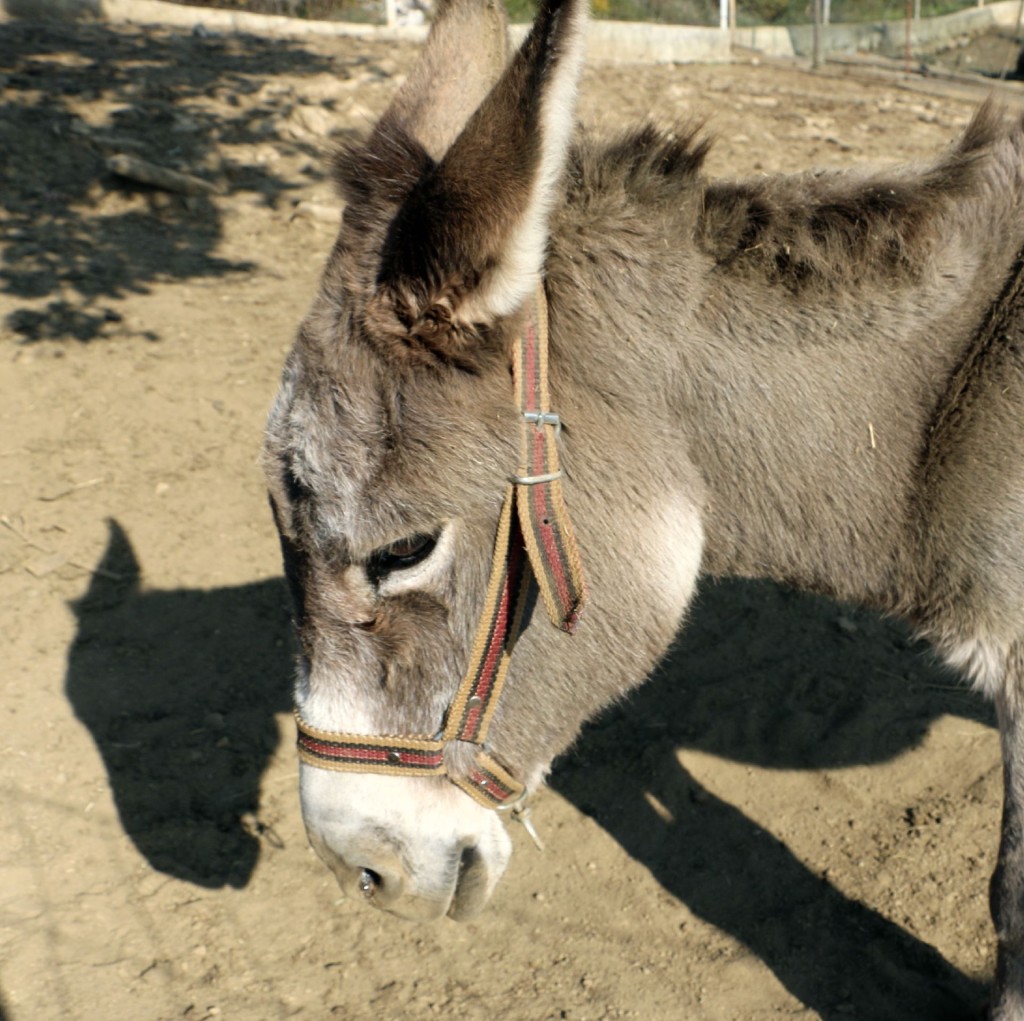 Last weekend we visited the donkey farm in Gradina Martinićka (see also The Hidden Secret of Gradina Martinići), which is situated at a distance of 17 km from Podgorica, between Spuž (see also: The Forgotten Fortress of Spuž) and Danilovgrad. The property has a marvelous position, just above the valley of Bjelopavlići. It is not so easy to find, but if you follow the signposts for Gradina Martinićka (Градина Мартинићка) when traveling from Podgorica to Danilovgrad , you will certainly arrive in the right place. Just keep left at the signpost Ђурков до – Савељићи on the junction where the asphalt road stops: a narrow dirt road takes you uphill to the farm (photo 2). You will see a beautiful house, surrounded by fertile land, vineyards … and a lot of donkeys around.
After our arrival, we were "introduced" to Sneška (photo 3), a newcomer. Almost blind, her legs destroyed by years of carrying heavy burdens, she is now "retired" and quietly enjoys her last years.
The other donkeys are already used to visitors – in particular families with children, but also tourists and representatives of foreign embassies. Visitors are expected on Sundays between 10 AM and 1 PM, provided that they have announced their visit in advance (phone no. 067 245006). The farm is also a popular excursion goal for kindergartens and elementary schools.
Although an entrance fee is not charged, visitors are requested to bring 1 kg of carrots or apples or 2 loafs of dry bread per person. For the time being, the farm doesn't have any revenues, but investments are also needed during the winter. Darko hopes to cover a part of the expenses by the new milk production that will start again in August 2016. He has also prepared some small souvenirs, such as lavender bags and towels with the trademark of the farm, for those who are ready to support the sanctuary (photo 4).
Recently, one of the first inhabitants of the farm – Marta – was killed by a wolf that succeeded in entering the property in the dark. A sad story! Now the donkeys are kept within a pen above the house during the night, behind strong fences.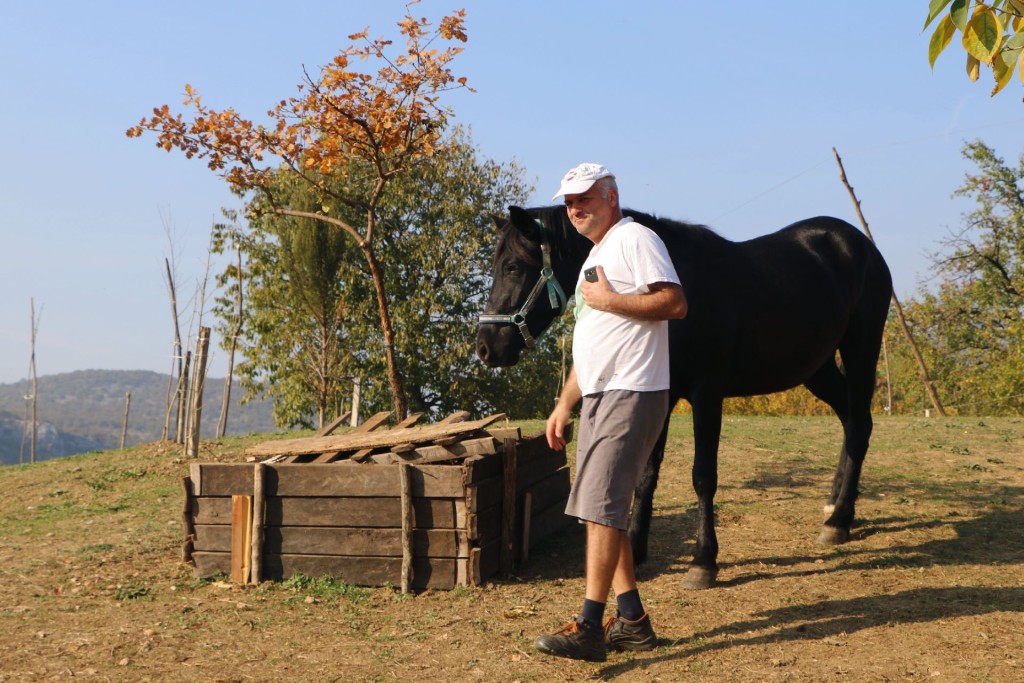 But in the meantime, the farm has got a new inhabitant: Ruška, a horse that was bought on the Podgorica cattle market, heavily neglected and sick. Now she is a beauty with a shiny black skin and a gentle character, the pride of her owner (photo 5)!
After having enjoyed the real Montenegrin hospitality of the Saveljić family (pure apple juice, home-made cake, dried figs…), we returned to Podgorica, convinced that this donkey farm, the only one in Montenegro, is an excellent initiative. Donkey sanctuaries exist in many countries, even in neighboring Croatia on the peninsula of Pelješac, where the donkey farm is part of the tourist offer and thus generates income.
But as the number of donkeys will certainly be growing in the future, how will the Saveljić family succeed in covering the expenses? I would propose a solution, at least for the old "retired" donkeys – currently there are 3 or 4 of them. These animals deserve a few good years, after a hard life of abuse, hunger and hard work. Would it be a good idea to start an adoption campaign for the old donkeys? Food for one animal costs around 30 € per month. I appeal to all good people or organizations (foreign companies, embassies, for instance?) to adopt a donkey. They are so cute (photo 6)!