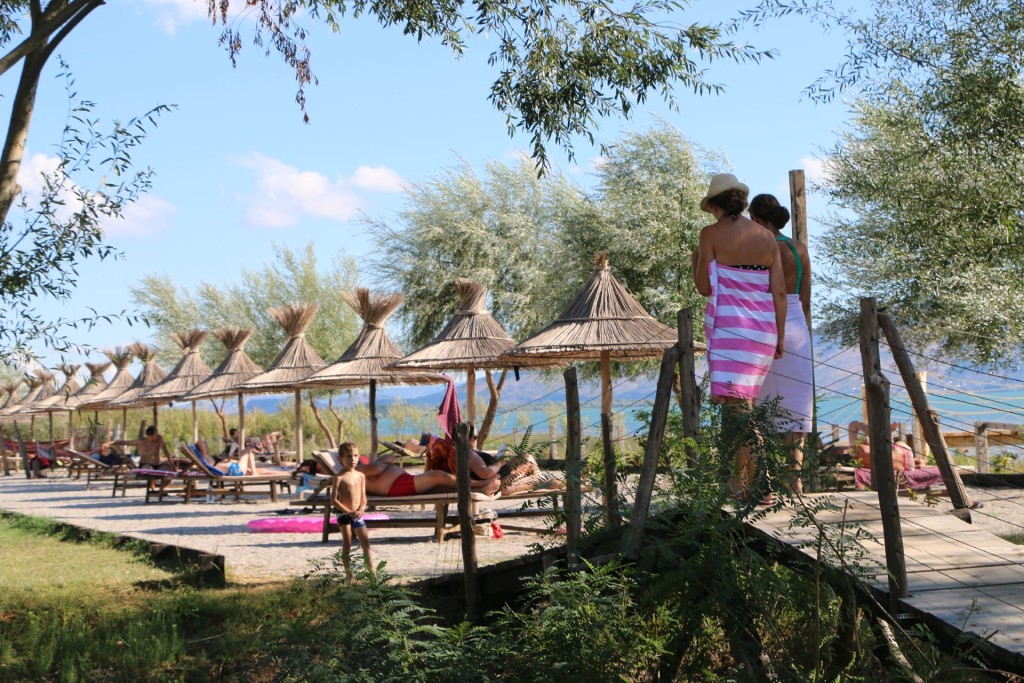 When so many foreign guide books describe the boat ride on Komani Lake (photo 1) as one of the highlights of a journey through Albania, there must be a reason. That is why we wanted to show my daughters this wild and unique landscape, situated at a few hours' drive from Podgorica. In 2010 we had passed the Lake by ferry with our camper, but nowadays it is also possible to participate in an organized day trip.
As starting point we took Lake Shkodra Resort, by far the best campsite of Albania, situated 7 km north of Shkodra. This is one of the places where you can book for a Komani Lake day trip.
The price is € 40 p.p., transfer and lunch included; you can also book online for the boat trip only (email:mariomolla@outlook.com).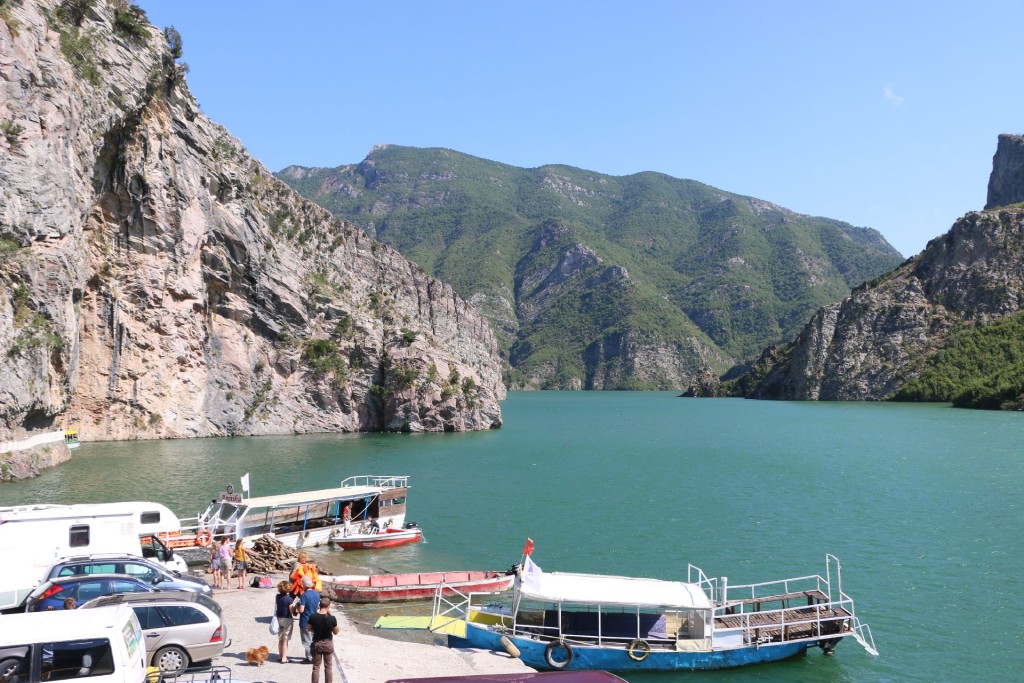 It was a warm and sunny day in August; a nice opportunity to refresh ourselves in the lukewarm water of the lake and to relax on the beach (photo 2).
After a good traditional dinner we went to bed early, as the minibus would leave at 8 o'clock in the morning.
Traveling by minibus is Albania is always an adventure and this drive to Komani Lake was a strenuous two-hour undertaking. After passing through a few villages we started climbing, the road becoming narrower, the potholes larger and the abyss profounder. The bus slowly made its way around the hairpin bends, skirting mountain slopes and lakes. Nature was almost untouched in this area. To reach Komani we climbed to the top of the dam, emerging into a narrow tunnel, wide enough for one vehicle only; there was no lighting at all…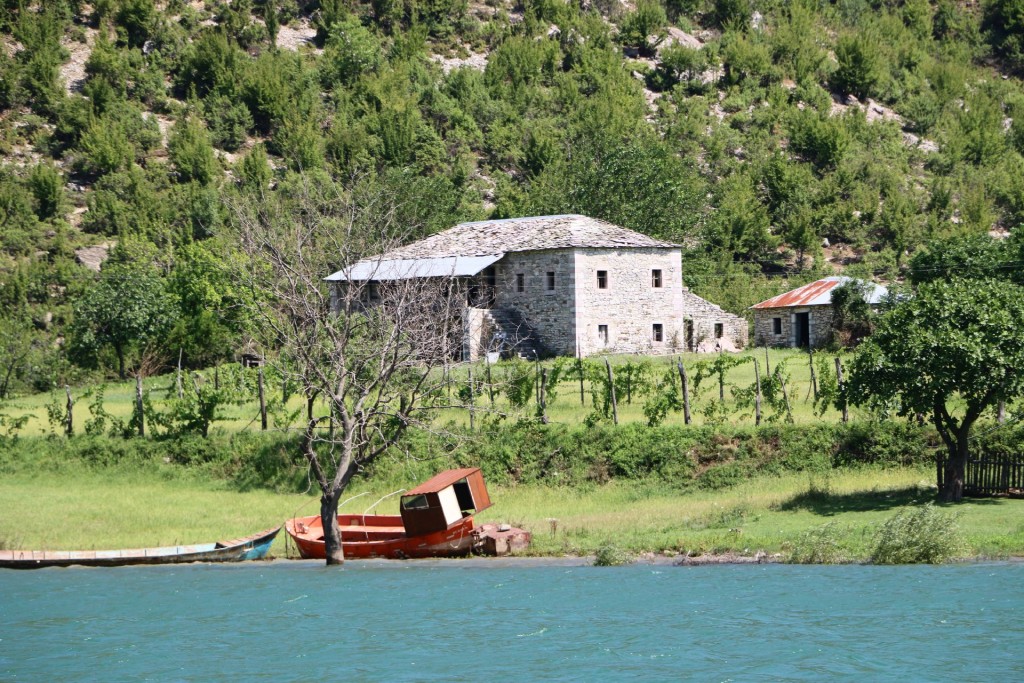 Komani itself consisted of a few shabby buildings – restaurant and pub included – and a concrete slab overcrowded with people, cars and two-three campers (photo 3). They all wanted to be transported across the lake.
By the way, Komani Lake is part of a huge hydro-electric power system constructed in the 1970s and 1980s. The old ferry boat that had connected Komani and Fierze for many years stopped running in 2012, as the new A1 highway from the Albanian coast to Kukes and further to Kosovo made it redundant. But after a complete makeover, the ferry line restarted its activities in May 2015. The line is known for its breathtaking views of the mountain gorges, unscheduled stops along the way for serving locals, and the peculiar atmosphere of both locals, foreigners, and even animals being fitted on board up to full capacity. It departs every day at 12:00 (noon) from Komani and arrives in Fierza at 14:00, which makes it impossible to return on the same day (the departure from Fierza to Komani is at 09:00 with arrival in Komani at 11:00).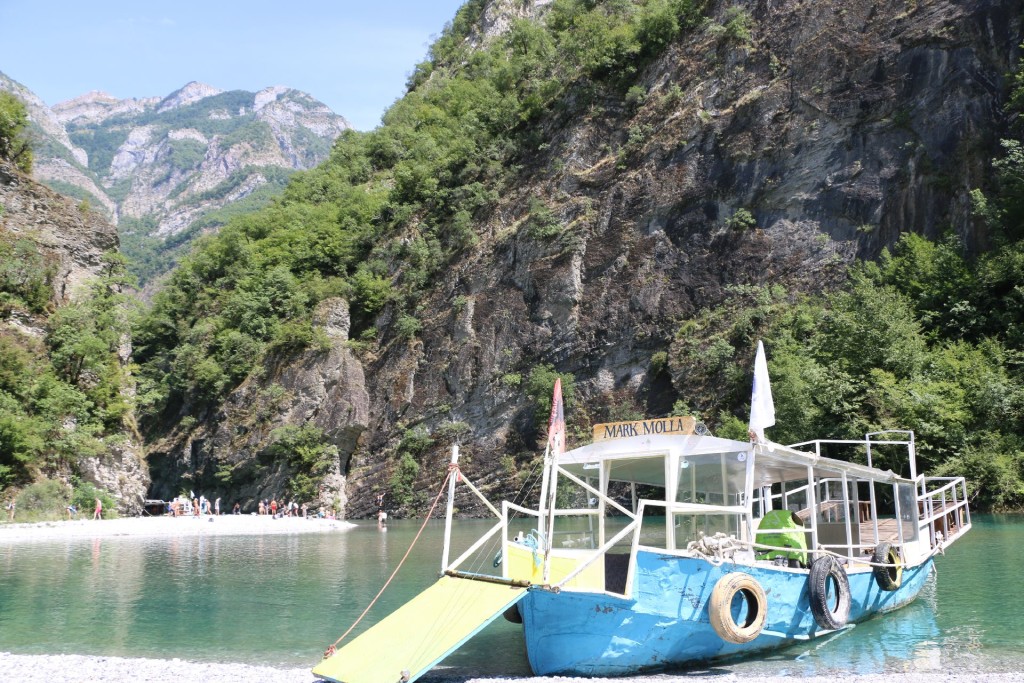 That is why we decided for a boat ride with Mario Molla's excursion boat. Departure was at 10:00. We took a seat on the wooden benches and from the narrow and twisting lake, with its sheer cliffs right down to the water, we could admire the magnificent mountains around us with 1000-1500 meter high peaks.
The scenery was breathtaking. There were hardly any signs of human activity on the shores. At some places we saw old stone houses with small pieces of land, used by the farmers to pasture their livestock and grow their maize and other crops (photo 4). It must be a harsh existence in these lakeside hamlets, where the only form of transport is a boat and where in bad weather and especially in the winter season, you are completely cut off from any form of civilization.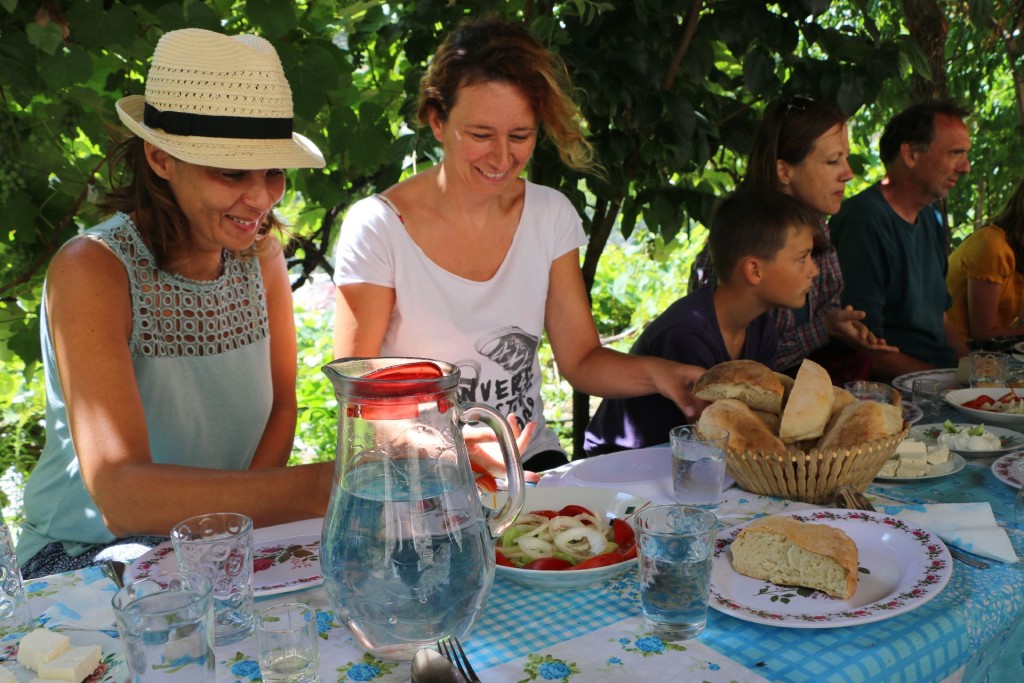 Passing through the canyons of Stena and along the Island of Peace, we finally arrived at Shala River, where we took a break at a wonderful place: a kind of pebble beach where the Shala River joins the Lake (photo 5).
Finally we returned to a guest house on the shore, where we got a traditional lunch (photo 6). Fish from the lake, a very tasty bean soup, vegetables and bread… And another relaxing hour could be spent sunbathing on the shore or swimming in the lake.
The boat ride back offered great panoramas – now from the other side (photo 7). We arrived in Komani at 17:00 and I must admit, after the drive by minibus back to Lake Shkodra Resort and further to Podgorica we were absolutely exhausted. But believe me, it was worth the effort!