Traveling by camper is a perfect way to experience a country and its inhabitants. It gives you the possibility to talk to local people, to visit tourist attractions and discover poor abandoned areas, to be close to nature and find secret places in the form of unknown medieval monasteries and old authentic villages.
For us, exploring Bulgaria by camper was a special challenge, as we knew that there would be only a few "real" campsites in the country. In spite of the fact that camping is very popular in Western Europe – there are almost 100,000 registered campervans in the Netherlands only! -, this type of tourism is still quite unknown in the Balkan countries (except for Croatia).
In Bulgaria, many campsites are located on the grounds of former communist workers' "rest and recreation settlements", with neglected wooden cottages and dirty outdated sanitary equipment. Some of these settlements have been transformed into festivity centers for weddings and other celebrations, providing camping facilities at the same time. However, since Bulgaria has become a memberstate of the European Union (in 2007), quite a lot of foreigners have settled in this beautiful country and British citizens have established several comfortable campsites, in particular in the continental part of Bulgaria.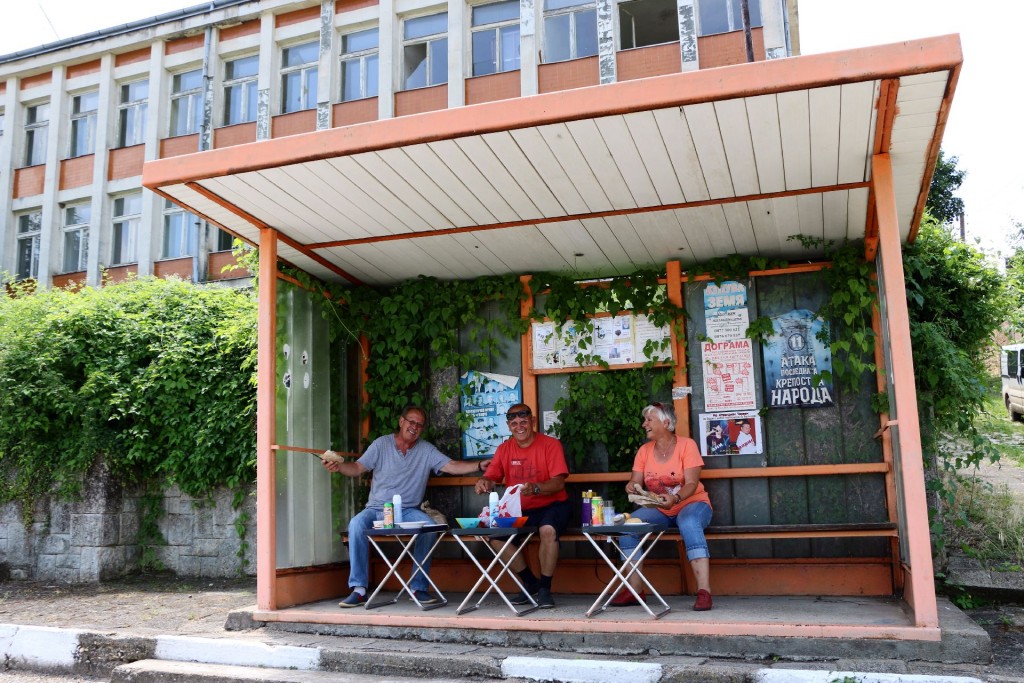 I have great memories of our stay on Lake Batak at Christopher's Eco Camping Batak (photo 1) – a fantastic place where we could enjoy a superb sunset! Another special experience was the Trinity Rock camping farm near Veliko Tarnovo, on the bank of the Yantra River.
Why camping in Bulgaria, where appropriate facilities are so difficult to find? There are a lot of good reasons indeed: traveling by campervan gave us the possibility to explore the whole country. We were free to take the roads less traveled: sometimes very narrow indeed (photo 2), sometimes full of potholes and other obstacles. We took a break in a weird empty village where we had lunch in the shade of an abandoned bus stop (photo 3). We socialized with strawberry pickers who were happy to embrace us (photo 4), offering us a full basket of strawberries.We wanted to pay – but no chance, that would be an insult!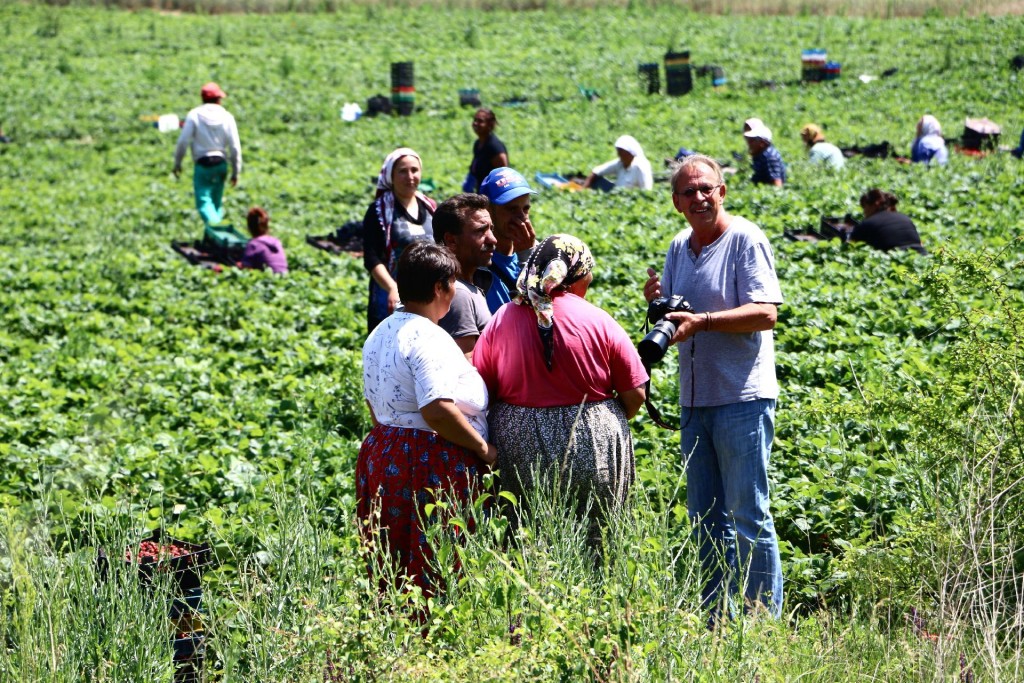 In a period of almost six weeks, we have crossed Bulgaria from north to south, from east to west. Together with our Dutch friends, who traveled with car and caravan, we have visited beautiful old towns and villages, remaining silent in hidden medieval churches and monasteries. We have admired spectacular rock formations and other natural phenomena. We have talked to different people, learning that many of them are not happy with the changes that resulted from EU membership. The food was delicious, almost everywhere. And cheap! A good meal did not cost more than 5-7 €, including a glass of beer or wine.
Highlights? No, neither the famous Rila monastery – which is certainly very impressive and amazing -, nor the Thracian tombs; neither the UNESCO-protected town of Nessebar nor the Black Sea Coast with its – often ugly – resorts. I was touched by the less known Plakovo Monastery, populated by one monk only and hidden in the forests (photo 5). I was surprised when I walked through the authentic village of Dolen, without souvenir shops and tourists – just old houses and cobbled streets as they used to be (photo 6). Traveling along the narrow-gauge railway from Bansko to Velingrad with the highest train station of the Balkans (Avramovo, 1267 m above sea level) was a real adventure; and hiking among the rocks of Belogradchik and Melnik was a surrealistic experience. And of course, let's not forget the beauties of Plovdiv and the Rose Festival of Kazanlak. But honestly speaking, my best memories of Bulgaria will refer to its friendly and open people, its marvellous monasteries and old villages, its beautiful mountains…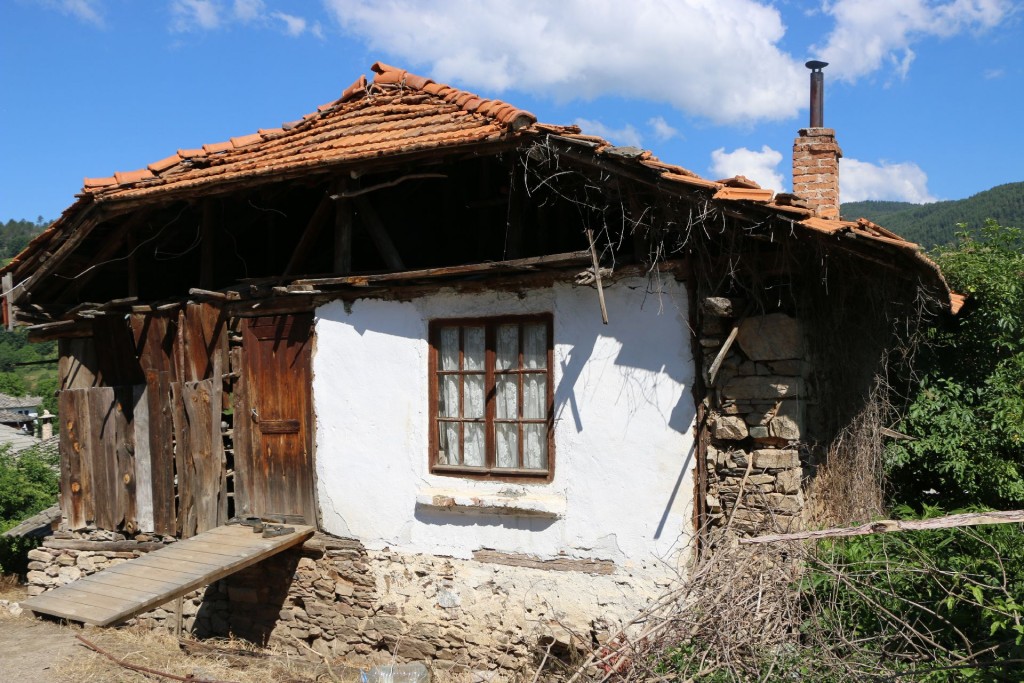 Can you understand why I don't like to travel by bus or by plane? Why I don't like to stay in hotels? Why I don't like organized tours? Because it is so nice to eat chicken skewers and shopska salad in a village tavern with a plastic table cloth and a waiter who doesn't speak a single word of a foreign language. Because it is so good to buy tomatoes and cherries along the road and to discover storks and their nests on electricity poles (photo 7). Because it is so beautiful to see vast fields of sunflowers and high mountains covered with snow even in June… while you are driving your campervan!