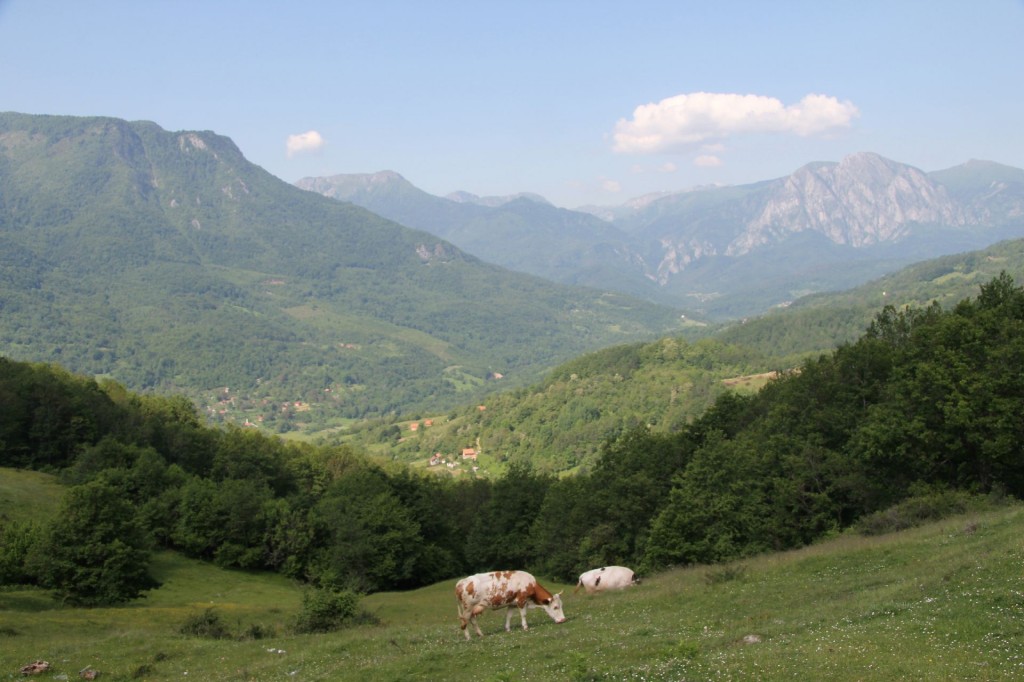 On our last camper trip to Bosnia & Herzegovina we spent a night in Camp Drina near Foča. Branko, the friendly owner of this beautiful camping site on the bank of the Drina river, prepared an excellent meal (grilled trout) and gave us a lot of information about the surroundings. His friend Sića, a certified mountain guide, joined us later and told us many stories and legends about the region. It was interesting to hear that medieval tombstones ("stećci") can be found all over the mountains, often on inaccessible high plateaus that can be reached by experienced hikers and mountaineers only.
Although the town of Foča itself is not so interesting – it was heavily damaged during the Bosnian War when all mosques were destroyed –, the surroundings offer many possibilities. Rafting on the Tara and Drina river is getting more and more popular, but hiking and biking in Sutjeska National Park is also attracting many foreign visitors.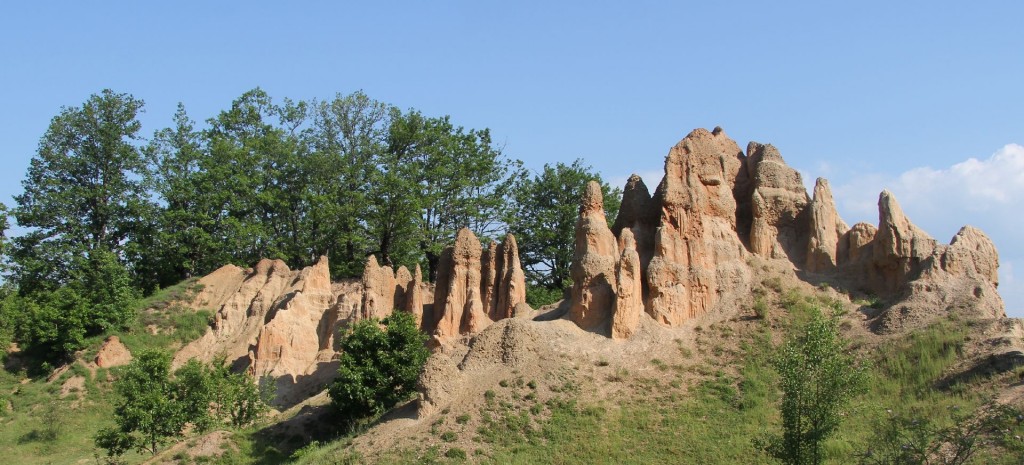 Nature is magnificent in this part of Herzegovina. We had never heard of the Sand Pyramids, or Pješćane piramide as locals call them, but Branko advised us to make a short detour and to visit this natural phenomenon. And so we did! It took us less than an hour by car.
The narrow asphalt road from Foča to Miljevina took us uphill, showing us a typical mountain scenery, interrupted by small Muslim cemeteries. We did not see any local inhabitants or tourists. After around 9 kilometers, the Sand Pyramids suddenly appeared in front of us.  What a surprise to see such a stunning masterpiece of nature! The combination of summer heat, winter frost, rain and wind has created a rarely seen geo-morphological phenomenon after a long period of selective erosion.The Pyramids seemed more like a picture from the Wild West than a part of the green mountains around Foča and the Upper Drina Region! And of course … they were very photogenic!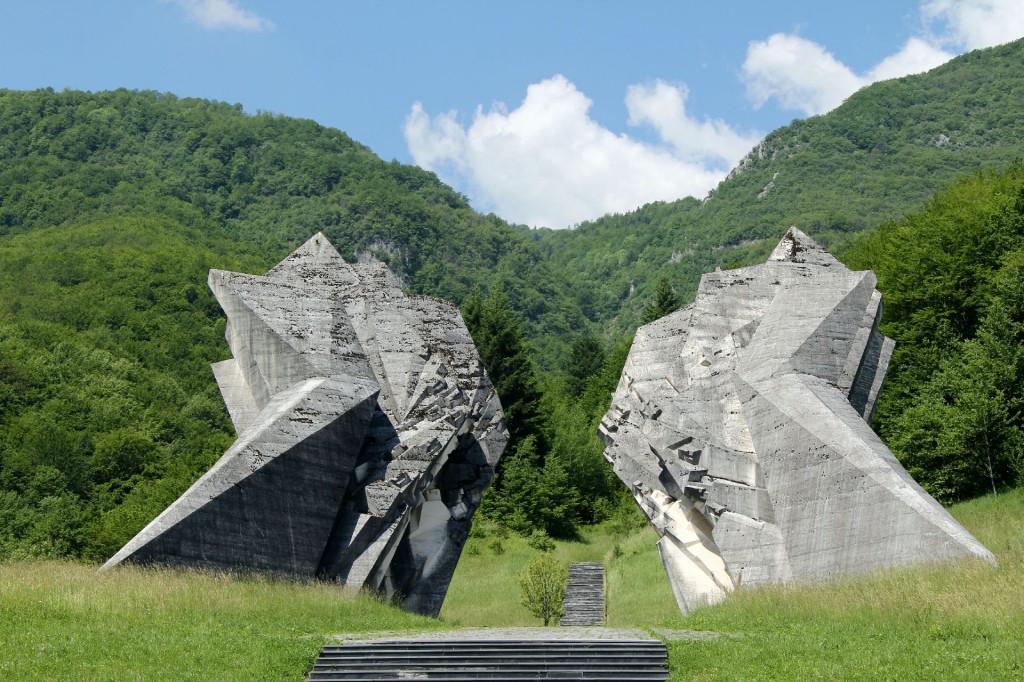 Next day we continued our trip through the Sutjeska National Park. Sutjeska is a paradise for nature lovers. It is dominated by 2,000-meter peaks – Zelengora, Maglić and Volujak – in every direction. The National Park is 34 kilometers from the center of Foča and is well-connected by the main road to Trebinje. It contains a protected natural reserve, the Peručića primeval forest, an attractive waterfall called Skakavac (75 m high), high mountains and eight mountain lakes of glacier origin.
We did not have the possibility to make a hiking tour, but I was eager to visit the Memorial Complex of the Sutjeska Battle. I visited this place, located in Tjentište, with my parents when I was a child. I also remember that this was a popular destination of school excursions when my children went to school. Why?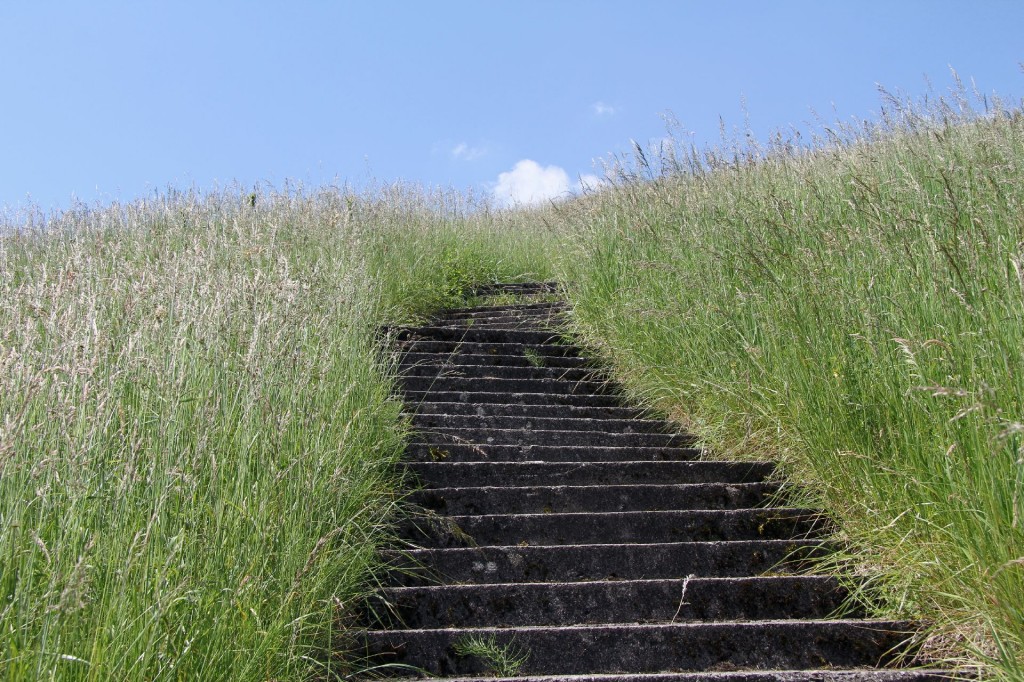 Well, one of the bloodiest battles in World War II, known as the Sutjeska Battle (1943) or "Case Black", was fought in the wider region of Tjentište. To commemorate this battle, a Memorial Complex was built with a huge monument, made by the sculptor Miodrag Živković. Opened in the early 1970s, the park and the monument along with the ossuary (3301 Partisan fighters died here) and the museum constituted one of the most attractive and elaborately designed destinations for groups and individuals travelling within Yugoslavia.
Nowadays, everything has been abandoned. The Sutjeska Hotel near the monument is empty and dilapidated. The museum is closed and the stairs leading uphill to the monument (more than 250 steps) are overgrown with grass. I still remember the bright white color of the monument – now it is gray and attacked by moisture. History has changed… The principles of unity and brotherhood do not exist anymore. Other monuments have appeared in former Yugoslavia, reminding us of the last Balkan Wars. What a pity!