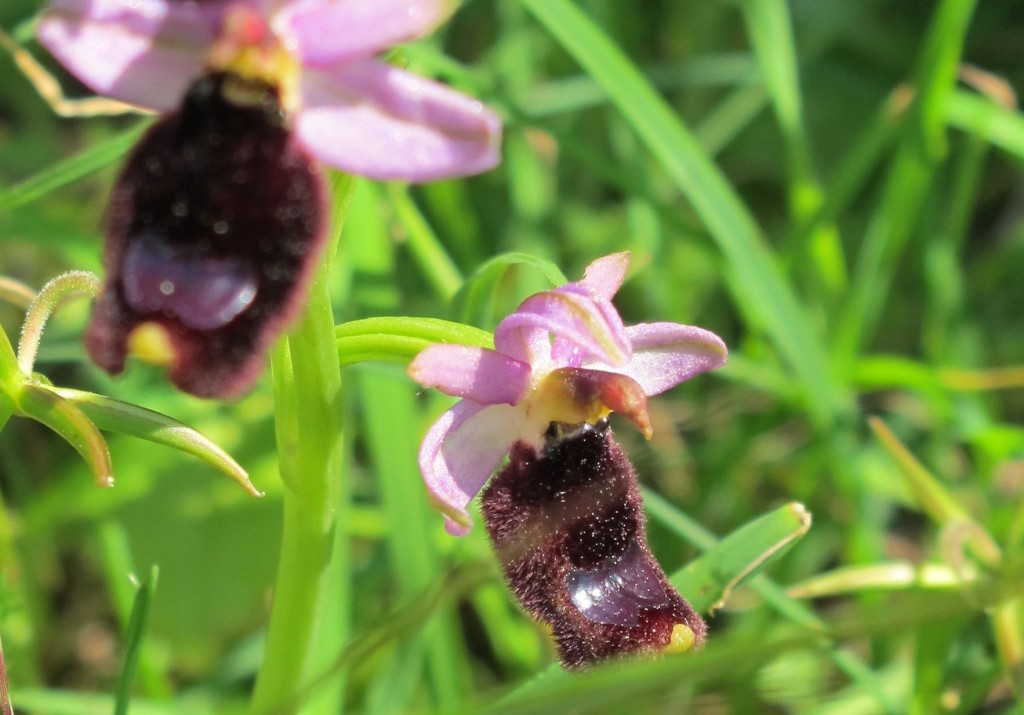 For me, spring is the most beautiful season in Montenegro. Being a nature lover, I really enjoy seeing meadows filled with wildflowers and delicate wild orchids along the hiking trails. A few years ago I discovered the incredible beauty of orchids and I became more and more focused on photographing and identifying individual species. And I am not the only one! Many tourists from Western Europe are interested in wildflower tours. The Dutch travel agency SNP organizes flora tours to Bulgaria, Turkey and Greece, with a special accent on an 8-day orchid tour to the peninsula of Gargano in Italy, which is accompanied by an expert-biologist. In this region you can find 82 species of wild orchids. But also travel agencies from Germany, Great Britain and other countries have started to organize such specific tours and they are getting more and more fans.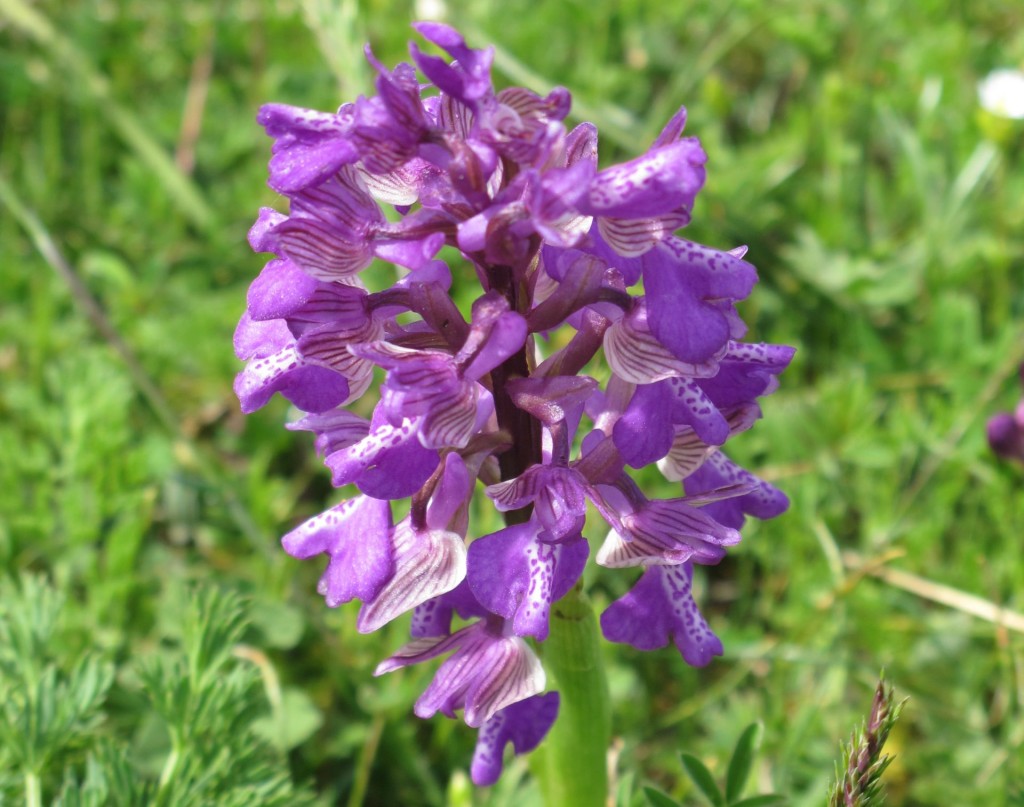 The name orchid come from orchis, which means "testicle": instead of roots, orchids have a pair of tubers that resemble testicles. Within this group, the ophrys species are most interesting. Ophrys is Greek for "eyebrow". According to a legend, these flowers provided a brown dye which the Romans used to day their eyebrows and hair. Ophrys was first mentioned in the book "Natural History" by Pliny the Elder (23-79 AD).
Most ophrys orchids are found in the Mediterranean region. As they are dependent on symbiotic fungi, it is almost impossible to transplant then. That is the reason why they are protected and they should never be removed from their habitat!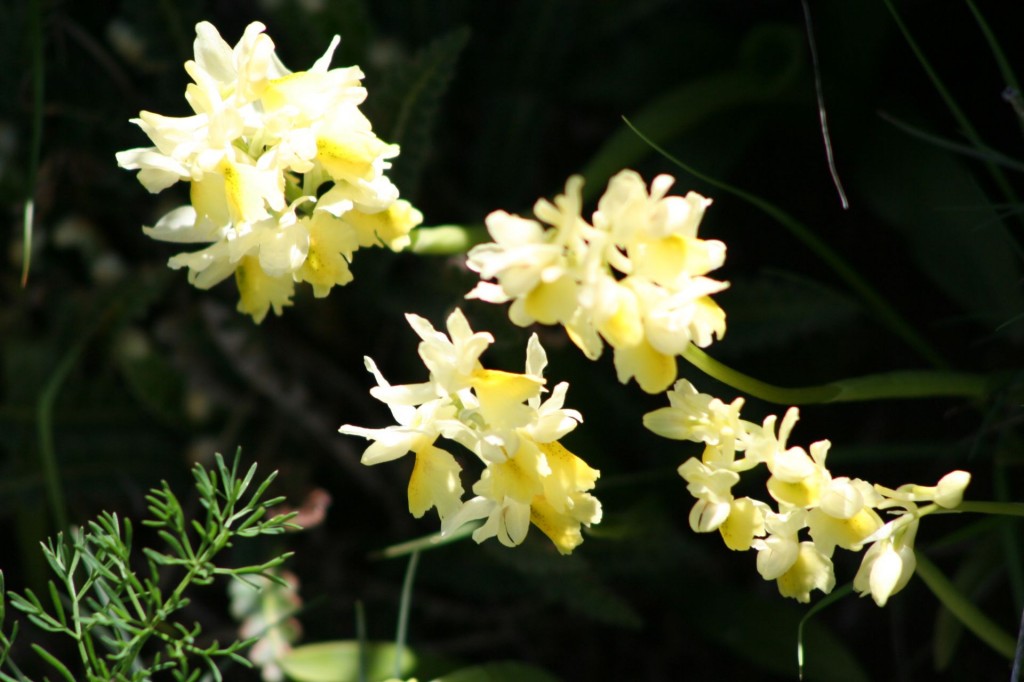 Why are these plants so remarkable? That is easy to discover. The most famous one is the bee orchid (Ophrys apifera – photo 1). Isn't it true that this orchid looks like a female bumblebee visiting a flower? This sight attracts the male bee which tries to mate with the flower, in the process of which the bee is covered in pollen and then proceeds to spread it around. Clever stuff! There are also fly orchids, spider orchids, mosquito orchids and wasp orchids. I have seen such orchids at several places along hiking trails, in the mountains and forests of Central Montenegro.
A variant is Bertoloni's bee orchid (Ophrys bertolonii – photo 2). This is a very rare plant, I have seen it only once: I discovered it last year near a small spring along the hiking trail from Lovćen to Kotor.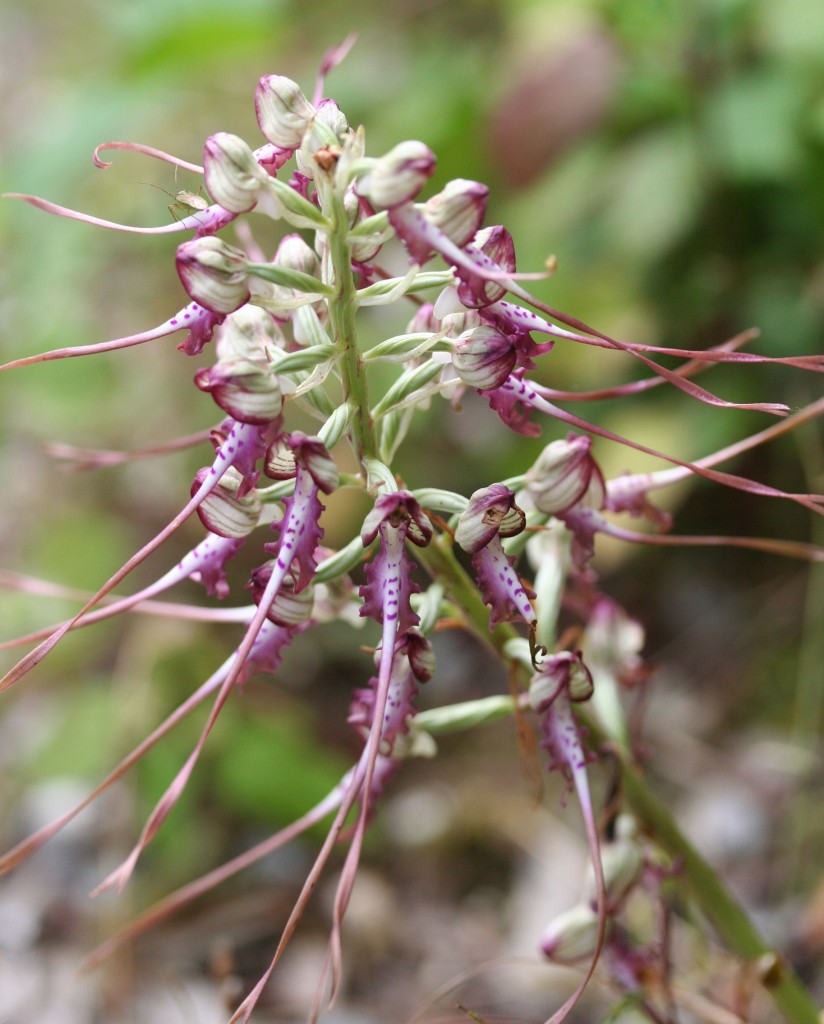 The most common orchid in Montenegro is the early purple orchid (Orchis mascula). In April and May you can see fields (e.g. in the valley of Bjelopavlići) full of these purple flowers (photo 3). That also refers to the yellow elder-flowered orchid (Dactylorhiza sambucina – photo 4), which can often be found along walking trails, e.g. on the Mountain Transveral along the coast, around Fort Kosmač, on the Vrmac hill or in Lovćen National Park… The specific Latin name "sambucina",  refers to the smell of Elder emanating by some plants of this species.
Less frequent are the lizard orchid (Himantoglossum hircinum). The flowers are said to look like lizards, with a long twisting tail and two "legs" formed from the lips, and the petals and sepals forming the "head" (photo 5). The specific name "hircinum" is Latin for "goat-like"; this refers to the strong, foul smell of the flowers. In most other European languages it is called male goat orchid.
The monkey orchid (Orchis simia – photo 6) is a flower that is characterized by either monkey faces or monkey bodies. The best thing about these orchids is that they smell like a ripe orange.
This is only a small selection of wild orchids. My photo collection contains dozens of different orchids, and all of them can be found in Montenegro. I am sure that it would be a good idea to organize wildflower or orchid tours for foreign tourists, as many of them are interested in this specific type of nature tourism. Anybody interested?