In Podgorica, traffic is chaotic, the streets are overcrowded and traffic jams are frequent. Pedestrians pass the streets wherever they can and don't pay regard to the traffic lights (which is quite understandable, as at some places the green light lasts only 10 seconds or so). Drivers do not obey the regulations, jump the red lights, use their cell phone, honk, yell, shout and curse …. But what is the biggest problem in Podgorica's traffic? Yes, you already know, the lack of parking space.
Although I often take a walk, sometimes I am forced to drive my small Peugeot. It is not easy to pull it out from the crowded parking lot near my apartment. And I can just hope that I will get the possibility to put it back later without suffering any damage. I know that such a place will be available after working hours only, but even then I am not sure. What to do when a muscular young man with black sunglasses in a big four-wheel drive just occupies the place I had discovered earlier? I can only get angry, but that does not make sense.
Living in Moskovska street, I have always used the parking lot behind the "Russian building" in Bulevar Svetog Petra Cetinjskog. Cars are parked chaotically here, one vehicle sometimes takes the space that is normally needed by three cars. But the situation is not much better at regular lots, e.g. near Sat Kula. Why would a free Montenegrin accept the limitation of some stupid white lines?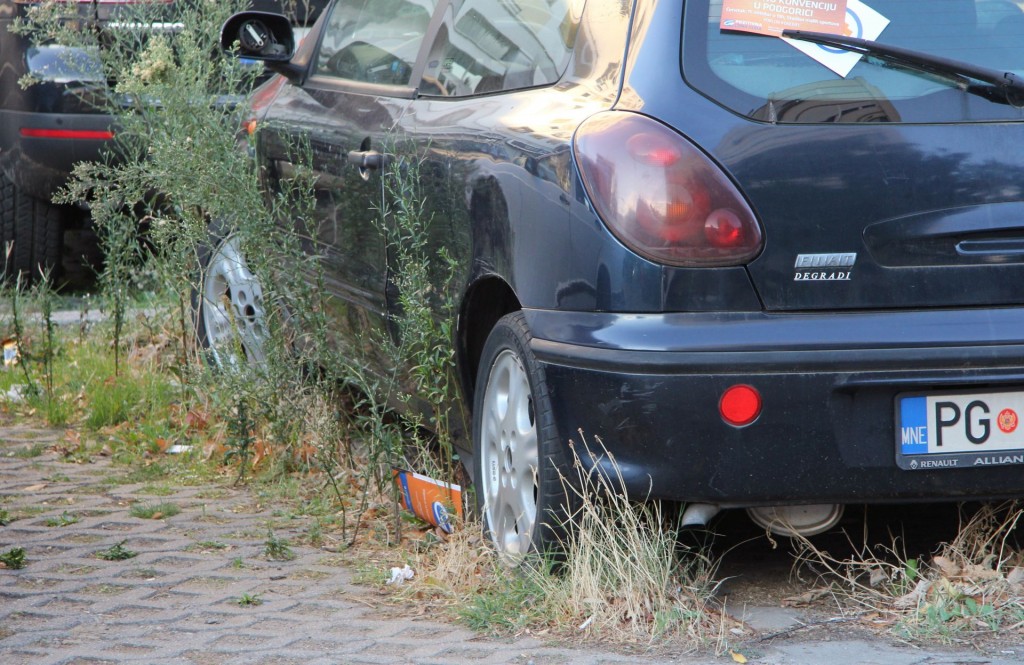 The "spider" frequently circulates around the parking lot, elevating and taking away the cars that are parked on the sidewalk. However, nobody removes the vehicles that have been parked here FOR MONTHS (or maybe years …?). One of them is completely overgrown with grass and plants, another one has flat tyres, the third one shows the sign "FOR SALE". But this is obviously not the task of the communal police!
It would be interesting to know whether somebody is responsible for cars that are not used any more (except by cats as a resting place – see photo), that are abandoned or without valid registration. I am sure that many new parking places would be created by removing these vehicles!
By the way, do you know that Podgorica has around 85,000 motor vehicles? That means one vehicle for two inhabitants! So I am not surprised that certain shops or offices try to keep cars away from their entrance by putting big obstacles on the sidewalk. I would do the same!
Fortunately, I have found a better parking solution now. After having collected a lot of documents, I succeeded to buy a parking card for Moskovska – Zone I at the price of 10 € per month. This is good for me, but what about all those people who cannot prove that they own an apartment in their district, those who hire a flat or work at an office in the building near-by? Or those who simply cannot afford it? Parking in Podgorica remains a problem, as most buildings do not provide a particular parking lot for their tenants. So help yourself!