It is always interesting to take the roads less travelled in Montenegro. That is why we decided to explore the area around Nikšić in search of medieval tombstones, also called "stećci". At the same time, it was our wish to participate in the UNDP project "Foursquare for Development": our research should contribute to the creation of tourist routes in the northern part of Montenegro.
Apart from Bosnia and Herzegovina, Croatia and Serbia, "stećci" are also located in the north and north-west of Montenegro. Their origin is linked to the period between 12th and 16th century. They are genuine works of art, of varying size: from thin stone slates to gigantic stone blocks. Monumental "stećci" in Montenegro are mostly found in the area of the municipality of Nikšić gravitating to Hum (Eastern Herzegovina). The decorative elements appearing alone or in combination with other motifs (hunting scenes, wheel dancing, etc.) are characterized by ornamental zig-zag ribbons, spiral twigs and twisted bands in the form of a rope. As for architectural motifs, the semicircular Romanesque arcades with different types of pillars are the most common ones.
On the first day of our trip we explored the western part of Nikšić municipality. According to internet data, many "stećci" can be found in small villages around Velimlje, but also in the immediate surroundings of the town itself. Our first stop was in Moštanica, around 3 km west of Nikšić. Moštanica is  famous for its old bridge, but most people do not know that – behind the church and graveyard – there is an extensive site with around 100 medieval tombstones.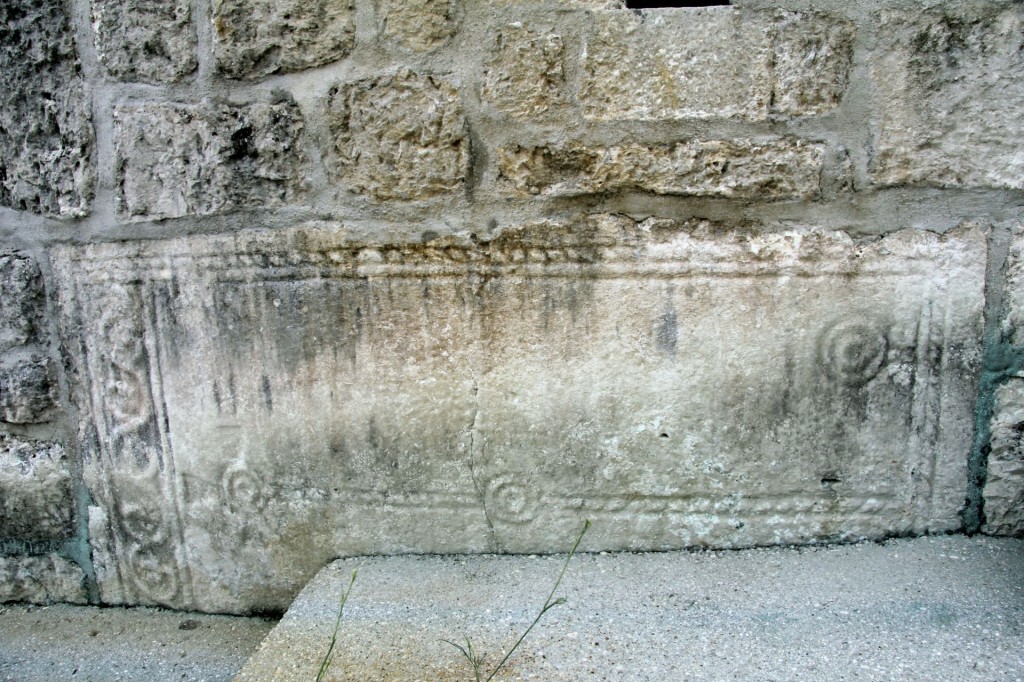 Another interesting site is the church of the village Broćanac Nikšićki, south of the lake Slansko jezero. It clearly shows that "stećci" have been used as building material for the church. One of them can be seen in the wall, decorated with spirals and twisted ropes.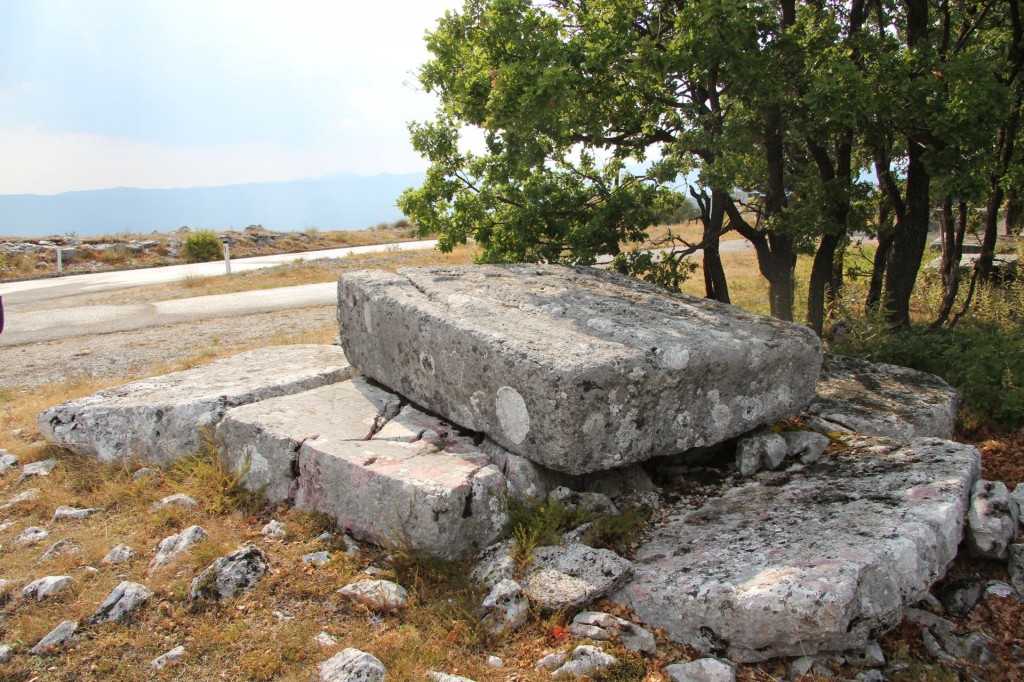 Travelling along narrow asphalt roads through the villages of Petrovići, Vraćenovići and Velimlje was a special experience. The road leads you through a barren landscape with poor and lonely villages. Hardly any traffic, no agriculture, only here and there some cattle and sheep. The last village before the Bosnian border on the road to Bileća is Vraćenovići. Near the graveyard you can find two sites with huge stone slates and one block with arcades, and another site is just behind the graveyard on a hill.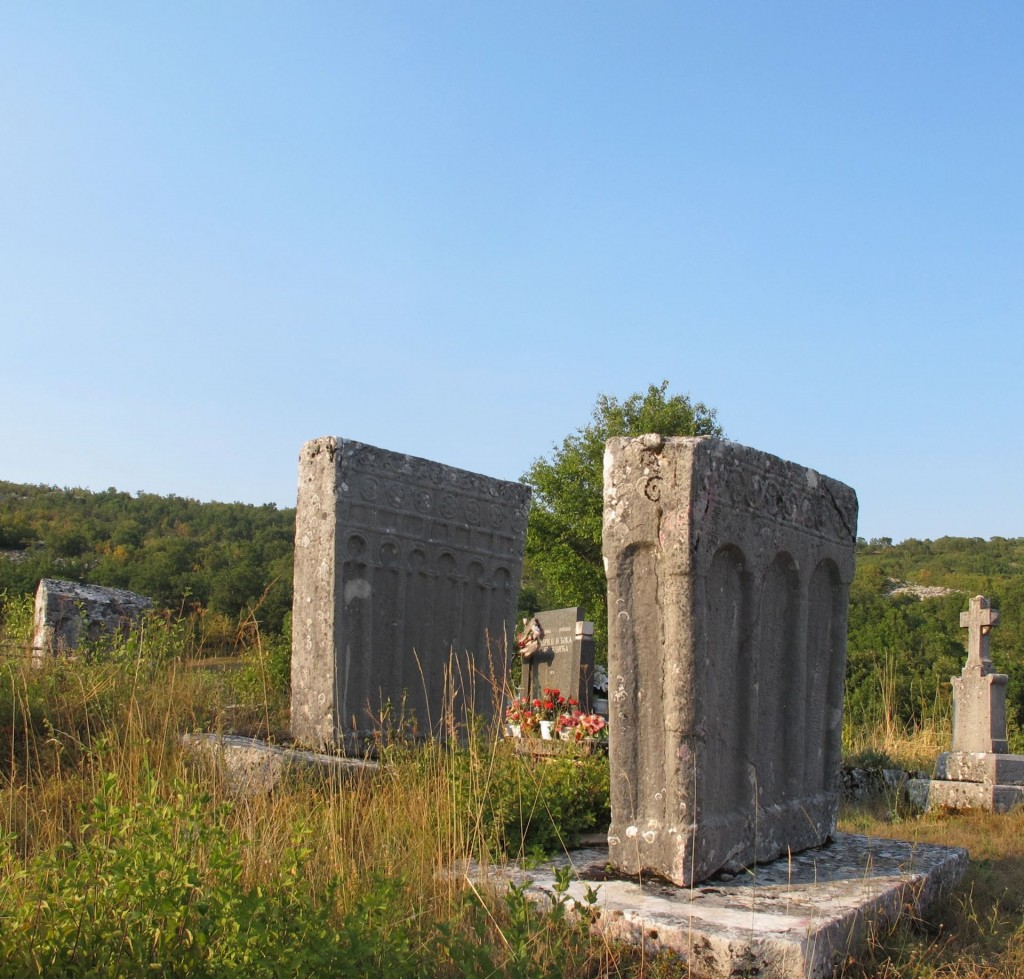 As we wanted to avoid passing the border, we drove back to Petrovići and then further to Velimlje. This is an authentic part of the country with nice villages and scenery. Several sites with "stećci" can be found near Velimlje, but the most beautiful one is the graveyard on the left side of the road (signpost to Miljanići) with two huge vertical stone blocks decorated with arcades, and one tomb in the form of a sarcophagus – and many other tombstones among the more recent graves. Several "stećci" with inscriptions and decorations were used as building material for the church and can be seen in the walls.
Using Nikšić as point of departure, this is a nice day trip that shows you an unknown  part of Montenegro with an authentic landscape and nice small villages.